Is This Why Kat Von D Was Fired From Miami Ink?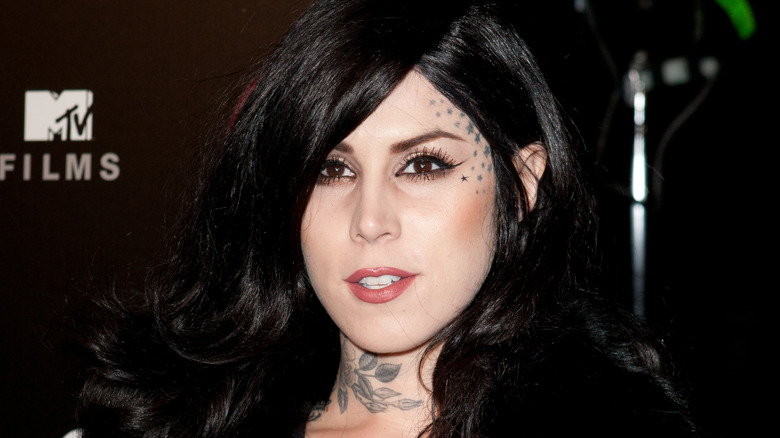 Photo Works/Shutterstock
Popular reality TV show "Miami Ink" on the TLC network followed a group of five tattoo artists as they set up shop in the trendy South Beach area of Miami, Florida. A breakout star from the series was tattoo artist Kat Von D. In 2008, "Miami Ink" fans were shocked when Von D was suddenly fired from the tattoo parlor and left the show, which ended shortly thereafter. Quickly offered a spin-off series called "LA Ink," also on TLC, Von D returned to her California hometown, and for this reason, her sudden departure was chalked up to a bad case of homesickness. "LA Ink" was in production for only four seasons.
The possible truth about why Kat Von D was fired from her first reality show reveals there's a lot more to know about this controversial TV star than what appeared on the screen. Most troubling of all are allegations that "Miami Ink" producers downplayed several instances of anti-Semitic behavior on Von D's behalf, such as writing an anti-Semitic slur on her own headshot, which she then gave to her boss on the show Ami James, who is Jewish, per TMZ.
She had also been romantically linked to TV star, motorcycle mechanic, and customizer Jesse James, captured on video in 2010 performing a Nazi salute in Nazi uniform, according to New York Daily News. Since leaving "Miami Ink," Von D has also been criticized for her affiliation with the anti-vaxxer movement which she denies, the Los Angeles Times reports. 
Von D also had substance abuse issues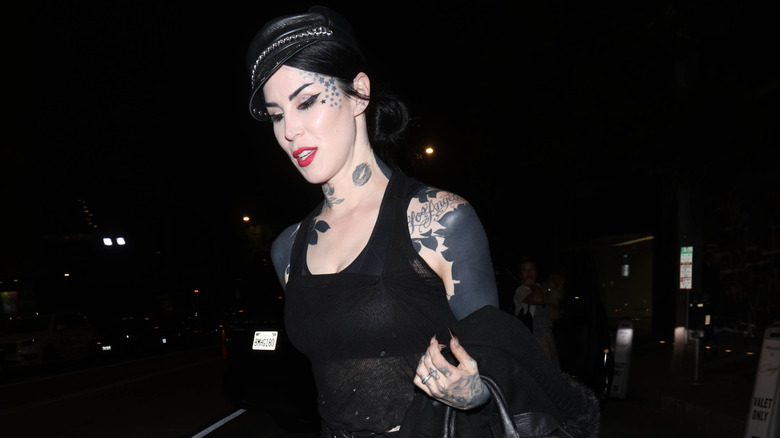 Jfizzy/star Max/Getty Images
According to Screen Rant, Kat Von D is also currently managing her recovery from substance use disorder, but while she was filming "Miami Ink," Von D was allegedly drinking heavily. In addition to alcohol, Von D was also misusing diet pills at the time. According to Detox to Rehab, Von D has been sober since 2007, and in 2012, she spoke to Rosie O'Donnell about her recovery, "Personally, being sober means that I operate better and I function better; I believe I am meant to be that way," she said. "Perhaps I can lead by example by showing that if I can do it, you can do it too," Von D explained. 
"I had made a promise to myself that if there was ever anything in the way of my ability to tattoo that I would cut it out. When I realized that drinking was getting in the way, I woke up one day and said I don't want to drink anymore, and it stuck," Von D said. In 2020, she also distanced herself from Kat Von D Beauty, the cosmetic company she founded. Despite Von D positioning the executive shake-up at her company in positive terms, sharing on Instagram, "This past year has been of great change for me," many speculate that several of the issues Kat Von D faced in her new endeavors were similar to what producers confronted while filming the show that made her a star, per New York Daily News.
Von D is no stranger to conflict
Besides Von D's own personal issues during her time filming "Miami Ink," Screen Rant also reported on how she and shop owner Ami James were often at odds during the first two seasons of the show and he ended up sending her packing. Von D seemed to understand it wasn't a good fit, saying, "It didn't end up pretty, and it was time for me to go home," (via Living Magazine). She also called the show "monotonous and repetitive" in an interview with Inked Magazine in 2008. More recently, Von D is dealing with a legal conflict in relation to her work. 
In 2022 photographer Jeff Sedlik brought a copyright infringement suit against the tattoo artist and reality TV star over a 1989 photograph he took of the jazz musician Miles Davis, a copy of which showed up in a Von D tattoo, New York's Fox 5 reported. Typically such reinterpretation of a work of art might be protected under fair use, but in the first case of its kind, experts determined on Sedlik's behalf that Von D's version was copied, which justified a suit against her, per the Copyright Alliance. 
Von D wrote in a legal filing, "Holding tattoo artists civilly liable for copyright infringement will necessarily expose the clients of these artists to the same civil liability anytime they choose to get tattoos based on copyrighted source material, display their tattooed bodies in public, or share social media posts of their tattoos. That is not the law and cannot be the law." As of 2023, the court case was ongoing.
If you or anyone you know needs help with addiction issues, help is available. Visit the Substance Abuse and Mental Health Services Administration website or contact SAMHSA's National Helpline at 1-800-662-HELP (4357).