Everything We Know About President Biden's New Cat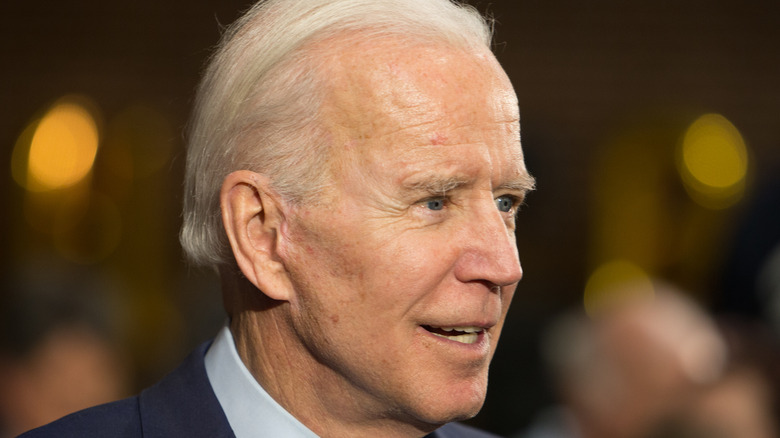 Trevor Bexon/Shutterstock
Typical news feeds can seem all jammed up these days with gloom and doom headlines. That's why breaking reports of President Joe Biden and his family welcoming a new pet cat to The White House came as a welcome relief — because regardless of which side of the political spectrum you fall on, who doesn't love some pictures of a cat? Making the new furry member of the Biden family extra poignant is that the Biden family lost their German Shepherd Champ back in June, and their other dog, Major, lives away from The White House in a less stressful environment, as CNN reports.
Also notable for those interested in Presidential trivia: The new Biden cat is the first cat to take up residence in The White House since the administration of George W. Bush, but the cat won't be the only four-legged resident at 1600 Pennsylvania Avenue while Biden is President. The Biden family had already welcomed a new German Shepherd puppy named Commander before deciding to add a cat to the family.
Her name is Willow
The new Commander in Kibble is a 2-year-old short-haired tabby with green eyes and a gray and white coat, named Willow, after First Lady Jill Biden's hometown, Willow Grove, Pennsylvania, as USA Today reports. This was not the farm cat's first introduction to the Biden family. Her first encounter with the Bidens was back in 2020 when Willow jumped on stage during Jill Biden's remarks at a Presidential campaign stop in Pennsylvania, the state where both Joe and Jill Biden are from.
On the news of the adoption, first lady spokesperson Michael LaRosa said, "Seeing their immediate bond, the owner of the farm knew that Willow belonged with Dr. [Jill] Biden," and Willow had been fostered friends of the Bidens since April of last year, according to CNN. LaRose continued, "Willow is settling into the White House with her favorite toys, treats, and plenty of room to smell and explore" (per USA Today.) How Willow and the Biden puppy Commander are getting along remains unconfirmed.