Here's Who Inherited Gianni Versace's Money After He Died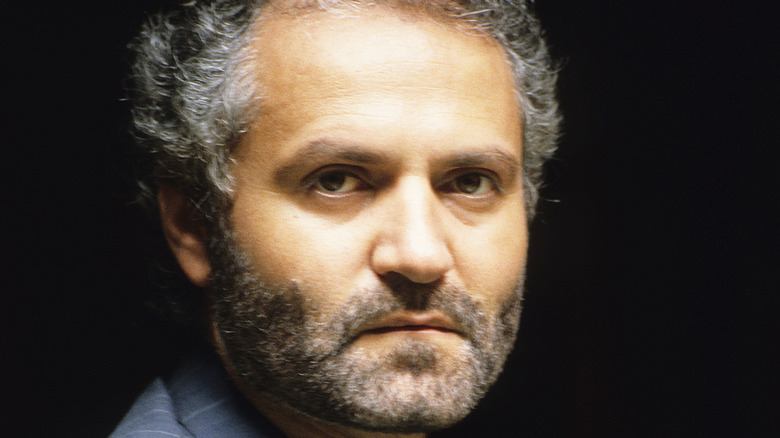 Leonardo Cendamo/Getty Images
High-fashion brand Versace began as a family-run business and became a ubiquitous name for sleek modern apparel. During his lifetime, Gianni Versace and his siblings Donatella and Santo were the driving forces behind the Versace brand in the 1980s and 1990s.
Gianni grew up watching his mother make dresses, and was inspired to work in Italian clothing workshops to hone his craft (via Britannica). In 1987, Gianni launched Gianni Versace SpA, with Donatella as the Vice President and Designer, and Santo as the CEO. The Versace siblings' sense of fashion was groundbreaking, sexy, and daring — Versace models walked the runways in brightly-colored suits, babydoll dresses, and bondage gear. Meanwhile, Gianni became friends with elite celebrities like Cindy Crawford, Madonna, and Elton John, bringing Versace clothes to the red carpet.
Tragedy struck when Gianni was killed on July 15, 1997, in Miami, Florida. (per Biography). He had recently returned from a Paris fashion show and sought respite in his Ocean Drive mansion. Gianni was coming back from a walk, magazines in hand, when he was shot by 27-year-old Andrew Cunanan.
Cunanan was a fan of Gianni's who was on a killing spree. Gianni had been his fifth victim. His family, friends, and the fashion community worldwide mourned the sudden loss of the 50-year-old fashion icon. His funeral was held in Milan and attended by nearly 2,000 people including Princess Diana, who would die weeks later. Versace would hold its first show in Milan three months after Gianni's death as tribute.
Gianni Versace's surprisingly young beneficiary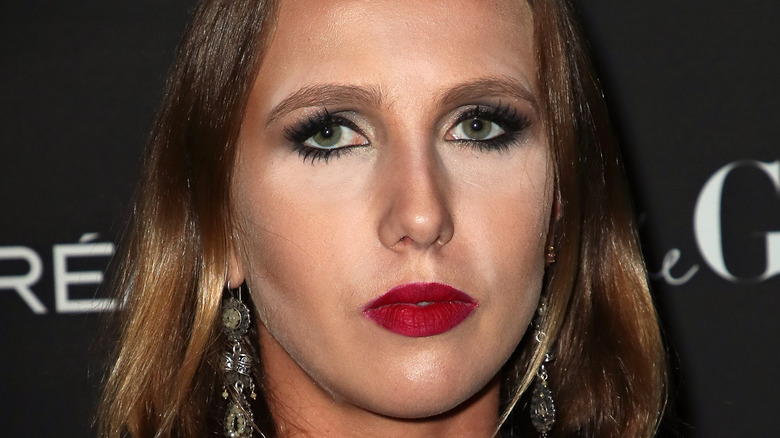 David Livingston/Getty Images
The Versace brand stayed in the family after Gianni's death, with Donatella taking on a 20% share of the company, and becoming the brand's Artistic Director. Santo, the company's President and Chairman, received a 30% share in the company. Gianni's wishes also surprised everyone; he willed 50% of the company to his niece Allegra, even though she was only 11 when he died.
According to The Guardian, Allegra was bewildered by her uncle's decision to give most of the company to her. But Gianni had fights with Donatella and Santo in the 1990s and felt Allegra was the only one who truly understood his feelings. The two were close friends. Gianni doted on her and called her "my little princess."
Since Allegra was a child when she was bestowed half the international fashion house, her mom, Donatella, remained in charge of Allegra's Versace shares until she turned 18 (via Business Insider). In addition, Allegra reportedly inherited a "villa in Lake Como" and a townhouse in New York. Her younger brother, Daniel, is said to have received his uncle's art collection which included works by Picasso and Henri Matisse. Celeb Answers reports that Gianni left his longtime partner, Antonio D'Amico a $29,000 weekly stipend. In 2018, it was announced that handbag designer Michael Kors had purchased Versace for a whopping $2.12 billion. Donatella and the Versace family would, however, "retain a role in the company" as part of the deal.
Allegra Versace's life beyond fashion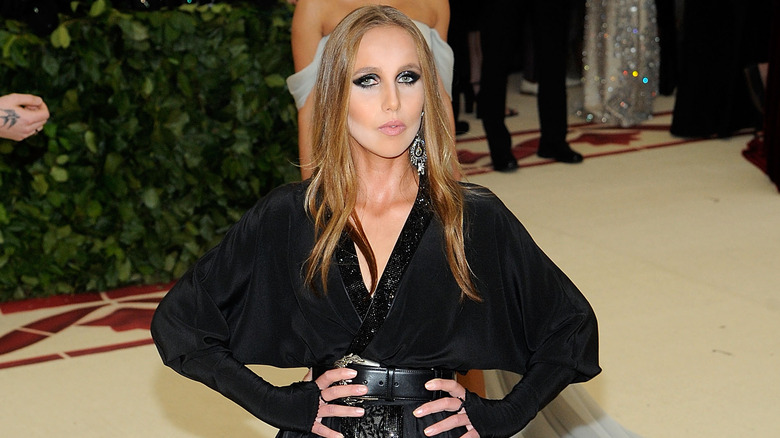 Rabbani And Solimene Photography/Getty Images
In adulthood, The Guardian reports that Allegra shifted her focus away from Versace and instead traveled to the United States to explore opportunities beyond the world of fashion. She reportedly attended Brown University and UCLA. According to PopSugar, she studied theater and starred in small independent films. Despite this, Allegra has always preferred "anonymity" and has spoken about her disdain for being a Versace. It's why she sometimes goes by Allegra Beck, her father's surname (via New York Gal). Even when she turned 18 and inherited her share of Versace, she showed little interest in running the company and allowed her mother, Donatella to do so.
The Chronicle writes that Allegra lived a luxurious childhood but suffered greatly when her uncle Gianni died. In her teens, she became reclusive and developed anorexia. Although she herself has never spoken about her disorder, her family released a statement in 2007 that said she was receiving medical care to "overcome this illness."  Despite her alleged aversion to glamour and fame, she has worked "anonymously" with fashion designers organizing shows.
Now 35, little is known about Allegra's life. She has commented that she "hates" Los Angeles and splits her time between Italy and Soho. Allegra is rarely photographed by paparazzi and was not featured on the FX show "The Assassination of Gianni Versace: American Crime Story" to respect her privacy. In 2011, it was reported that she was designing for Versace. It's believed Allegra's net worth is now around $900 million.
If you are struggling with an eating disorder, or know someone who is, help is available. Visit the National Eating Disorders Association website or contact NEDA's Live Helpline at 1-800-931-2237. You can also receive 24/7 Crisis Support via text (send NEDA to 741-741)