Joe Exotic's Surprisingly Long New Prison Sentence Explained
2020 was one of the craziest years in recent memory. From a global pandemic and toilet paper hoarding to a murder hornet invasion and the government's UFO report, the year was quite eventful. In the midst of all this chaos, we also got "Tiger King." Thanks, Netflix.
"Tiger King" is a docuseries focusing on the practices of animal park owner and self-proclaimed "Tiger King" Joe Exotic and his fellow big cat business owners and enthusiasts. The show takes you down an absolutely bonkers but kind of addicting rabbit hole, providing insight into the world of animal parks and rescues, especially those involving big cats. However, things take a dark turn when it is revealed that Joe Exotic is caught up in a murder-for-hire scheme to take out one of his rivals, Carol Baskin. Additionally, there are accusations of cruelty against the animals that he kept in his private zoo.
Not the outcome he was hoping for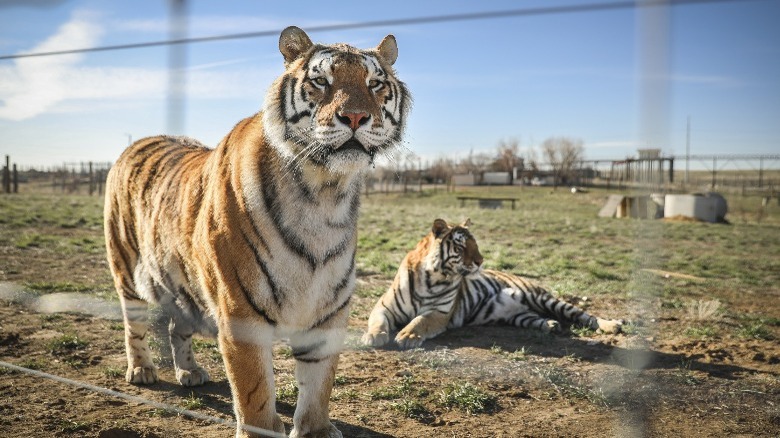 Marc Piscotty/Getty
Though Joe Exotic's alleged actions were filmed as part of a TV show, he was actually charged with several federal crimes in real life. According to The Sun, he was convicted on multiple charges — including attempted murder for hire and animal abuse — in January 2020. Following his conviction, he was sentenced to 22 years in prison. While for most, that would have been the end of it, the Tiger King was not going down without a fight.
Joe Exotic still has his supporters and those who believe he was set up. According to the Associated Press, an appeals court ruled in 2021 that his sentence for the murder-for-hire plot should be shortened. As a result, on January 28, 2022, Exotic had a chance to plead his case and ask for leniency based on a number of factors, including his prostate cancer diagnosis. The federal judge ultimately resentenced Joe Exotic to 21 years in prison. While it is technically shorter, it's still over two decades in length.
Due to the reported initial miscalculation of his initial prison sentence, it was possible that his prison term could have been shortened down to 17 years (per TMZ). The appeals court obviously disagreed, and while Exotic is reportedly understandably disappointed, his attorney has said that "the show is not over."