Where Did The Tradition Of The Gatorade Shower In Sports Come From?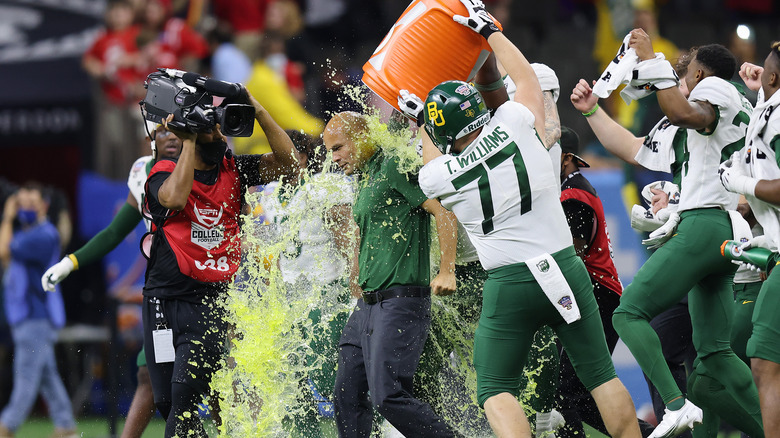 Jonathan Bachman/Getty Images
It seems like a tradition born in an advertising agency's office: Football teams dumping Gatorade on their coach after winning an important game. In fact, though the folks at Gatorade were obvious fans of the practice — "I think I've died and gone to heaven," said Bill Schmidt, Gatorade's head of sports marketing, after hearing John Madden talk about the drenching on TV — the ceremony in fact developed organically, from the athletes themselves, according to Mental Floss.
The first actual Gatorade shower on record came courtesy of Chicago Bears players during the 1984 regular season, when lineman Dan Hampton worked with his teammates to drench Mike Ditka after they beat the Vikings. But today, the practice is most associated with the New York Giants, and the theatrics of defensive tackle Jim Burt and linebacker Harry Carson.
In the 1985 season, according to Forbes, Giants head coach Bill Parcells' job was on the line, and he told his players as much. They needed to win. As a motivational tactic, he was especially hard on Burt, who faced a tough matchup in Washington's Rick Donnalley. After one tough practice, Burt told Parcells that, while he could handle the pressure, he hoped Parcells would be able to do the same.
The New York Giants popularized the tradition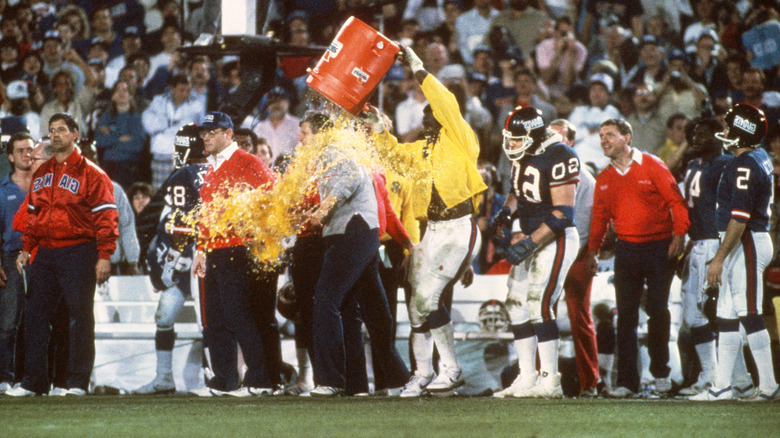 Focus On Sport/Getty Images
The Giants ended up winning the game against Washington, and in a moment of celebration — and comeuppance — Burt grabbed the Gatorade jug off the sidelines and dumped it over the head of Parcells, according to Forbes. The coach, thankfully, only responded by grinning.
Though they only finished second in the NFC East that year (per Pro Football Reference), Parcells was kept on as coach. The next season would be a big one for the Giants, and though Burt put his dunking days behind him, his teammate Harry Carson kept up the practice. After every Giants win, Carson drenched Parcells with Gatorade, culminating in their victory in Super Bowl XXI. In the fourth quarter of that game, when the Giants had a clear lead, Carson put on his disguise — a stadium security jacket — and snuck up to his coach before dousing him. The Super Bowl Gatorade shower was born.