How Many Languages Does Vladimir Putin Speak?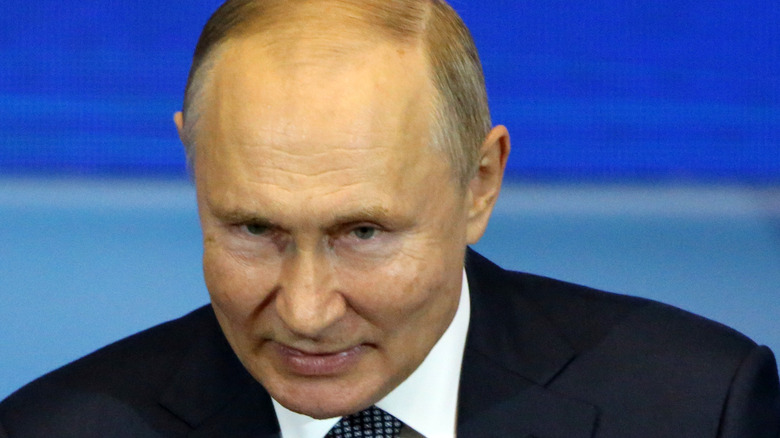 Mikhail Svetlov/Getty Images
Russian President Vladimir Putin is renowned for his salty language. According to the Moscow Times, these quips are somewhat endearingly referred to in his home country as "Putinisms" (not to be confused with the autocratic "Putinism" political ideology). In the early 2000s, Putin press conferences were filled with zingers, bawdy sayings, and prison slang that left some — Russians included — truly baffled by what Putin was saying. He once threatened to slaughter all the Chechen rebels that were "cornered in the s***house," per the Guardian, and angrily told a reporter pressing him on the matter: "If you are prepared to become the most radical Islamist and are prepared to get circumcised, I invite you to Moscow. We have specialists that deal with this problem."
However, in the language of diplomacy, Putin speaks Russian more formally, as well as German and English — the three languages he is known to speak. As a former KGB agent who was stationed in Dresden, Germany for five years in the 1980s, Putin became fluent in German. He reportedly improved his language skills because of his well-documented friendship with former German Chancellor Gerhard Schröder, according to Deutsche Welle. Although Putin is comfortable conducting discussions of political nature among German-speaking officials, diplomatic protocol requires him to revert to his native language and use an interpreter when aides are present to make sure all understand what is being said.
Putin has English skills but he's not fluent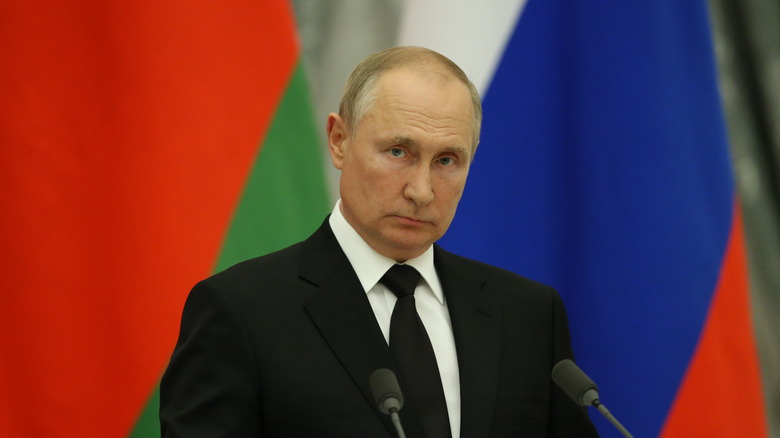 Mikhail Svetlov/Getty Images
Vladimir Putin rarely speaks English in public, leading many to believe his English language skills were few, if not non-existent altogether. But that all changed in 2018 when then-president Donald Trump privately met with Putin during the G20 summit in Buenos Aires, Argentina. According to The Hill, during that one-on-one meeting, no interpreters or aides were present. Not only did that raise issues about breaking protocol, it also brought into question Putin's English capabilities since Trump does not speak Russian.
"In free discourse, at the sidelines of summits, he often speaks in English," Kremlin spokesperson Dmitry Peskov told the state-run Rossiya 1 television channel (via Newsweek). "But during negotiations and when he is conducting an official meeting, of course, he communicates through a translator." Peskov added that Putin "practically understands English completely and sometimes even corrects the translators."
However, it may be the case that Putin has situational fluency. During his conversations with filmmaker Oliver Stone for the four-part documentary series, "The Putin Interviews," the Russian president used a translator and responded to questions over the course of a dozen interviews in Russian. He occasionally said a few expressions in English, per Metro. For his part, Putin is more modest, saying, according to Express, "I get by in German and I can express myself more or less in English."