Is Lucille Ball Haunting Her Old Home?
Avalon/Getty Images
On April 26, 1989, beloved sitcom star and Hollywood sweetheart Lucille Ball died of a ruptured abdominal aorta at the age of 77 (per Style Caster). However, even after being gone these past 33 years, it would appear that Lucy's still got some 'splaining to do. Since her death, residents of Ball's iconic Beverly Hills home claim to have had paranormal encounters with what they believe to be sweet Lucille's ghost revisiting the house.
She's not the only classic Hollywood superstar to allegedly haunt their original residence posthumously. Ozzie and Harriet Nelson's home is rumored to still be occupied by its long-deceased man of the house some 50 years later (via The Agency). Who can blame them? Classic Hollywood is a magical place in hindsight. We still get to relive it via movies and TV shows that actors like Ball and Nelson gave us during their lives. Why shouldn't they be afforded the same luxury in their own way?
Lucille the friendly(?) ghost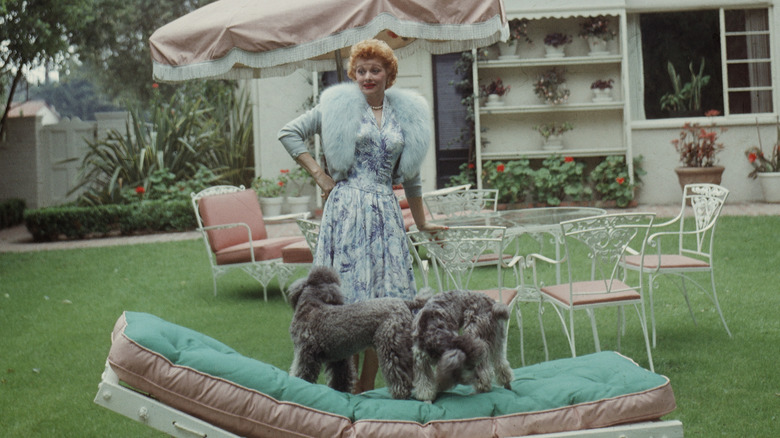 Gene Lester/Getty Images
It would appear that if Lucille Ball is in fact haunting her former mansion on Roxbury Drive, she's disgruntled about something. Reports of unusual happenings within the walls of the house include broken windows, loud voices resonating from the attic, and furniture inexplicably moving around. A friend of the late "I Love Lucy" star claimed to have spotted a "tall, slim redhead peering through the fence" while passing by in his car one afternoon. When the person (or apparition) turned to face him, he recognized her immediately as Lucille Ball (via House Beautiful). 
However, some feel that her (possible) presence is hardly a nuisance and more of a continuation of her quirky charm that defined her life as a star. "Lucille's ghost is said to be playful but seldom intrusive," Seek Ghosts shared. "It appears she hangs around because she loves her old neighborhood (Per Showbiz Cheat Sheet)."