What Was The Last Album Marvin Gaye Recorded Before He Died?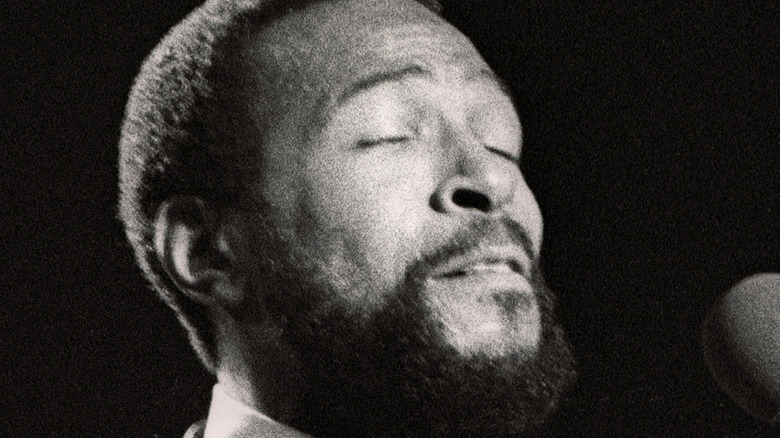 Gie Knaeps/Getty Images
The final years of Marvin Gaye's life will always be overshadowed by the cruel and horrifying circumstances of the legendary soul artist's untimely death. On April 1, 1984 — the eve of his's 45th birthday — Gaye was shot and killed by his own father, Reverend Marvin Gay Sr., with whom he had been living for months in a spiral of growing domestic abuse and violence (via Biography).
Gaye's father had been a strict disciplinarian during his formative years, and tensions escalated during his return to the family home. By this time, Gaye had struggled with drug addiction for a number of years, and had also suffered from depression. It was with the sense that he was beginning to lose control over his life and career that he chose to return to live with his parents. In 1981, Gaye had also severed ties with his longtime record company, Motown — with whom he had released his greatest albums, including 1970's "What's Going On" and 1973's "Let's Get It On" — following his anger at their editing and rush-releasing of his album "In Our Lifetime?" without his approval, according to Albumism.
In such a milieu, it might feel safe to assume that the follow up to "In Our Lifetime?", 1982's "Midnight Love," might have been a low point for the artist. Despite everything, however, the last album Gaye released in his lifetime proved to be anything but a flop.
'Midnight Love': a Marvin Gaye classic
Though recorded during a period of personal and professional turmoil, Marvin Gaye's final album, "Midnight Love," was a huge commercial and critical success following its release in March 1982. Though the record didn't feature a hit title track — as did, say, "What's Going On" — it was supported by a monster single: "Sexual Healing," a sultry, reggae-infused smash which peaked at No. 3 on the Billboard Hot 100 chart, according to Albumism. It eventually won the singer the first and only Grammy Award of his career.
The same source notes that for "Midnight Love," Gaye took cues from many of funk's leading lights, such as Cameo, Prince, and Rick James, and incorporated the spirituality of his previous two records to create a sex-positive and vibrant record that aligned perfectly with contemporary trends while staying true to Gaye's artistic roots. "Midnight Love" went to No. 7 on the Billboard album chart and No. 1 on the R&B chart, eventually going triple platinum. It was named in several critics end of year lists, with the NME naming "Midnight Love" their album of the year for 1982. Rolling Stone later placed "Midnight Love" among the best albums of the 1980s, and it remains among Gaye's most celebrated work, as well as his most commercially successful studio album.