This Arizona Hotel Is Said To Be One Of The Most Haunted Places In America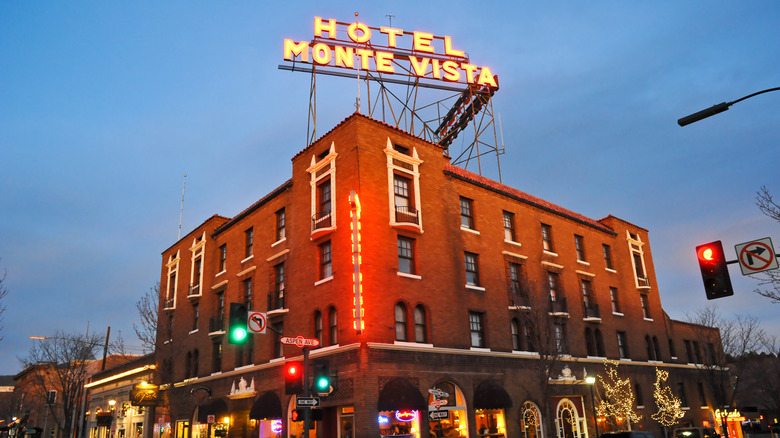 PICTOR PICTURE COMPANY/Shutterstock
Located in Flagstaff, Arizona, The Hotel Monte Vista opened on New Year's Day in 1927. Built to accommodate the city's burgeoning tourism industry, the hotel quickly developed a sumptuous reputation. As prohibition was in full swing, a speakeasy opened for guests and locals alike (via Legends of America). That same year, Mary Costigan, the first American woman to receive a radio broadcasting license, hosted her show from the Monte Vista. Into the 40s and 50s, Westerns became popular and were filmed in the surrounding area, so the hotel's celebrity guests included Bing Crosby, John Wayne, and more.
In fact, Phoenix Ghosts writes that it was John Wayne who first reported a ghost sighting at the hotel. Per KTAR News, Wayne was in room 210 when he heard a knock on the door, only to open it and find no one there. He allegedly told staff he had several encounters with a "phantom bellboy." Many believe that the Monte Vista's diverse guests and distinct history have fostered several hauntings. The hotel — to put it lightly — has seen its fair share of chaos, including shootouts and even murder.
The many ghosts of The Hotel Monte Vista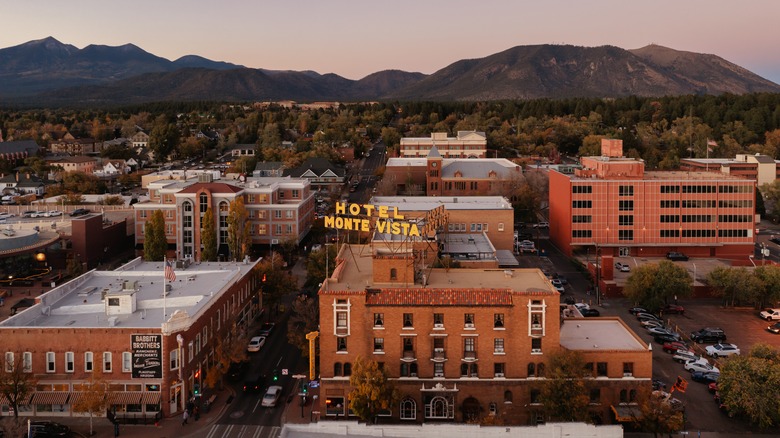 Manuela Durson/Shutterstock
According to The Hotel Monte Vista, one of the hotel's most famous ghosts is none other than the "phantom bellboy" that John Wayne encountered. He did, however, note that the spirit was harmless and rather friendly. Then there's the ghost of a bank robber that reportedly greets guests by saying "good morning." Per Phoenix Ghosts, the unnamed man robbed a nearby bank and was shot in the process. He and his accomplices managed to get to the Monte Vista for one last drink. Sadly, he died at the hotel's bar and has perhaps decided to stick around.
A more sinister story involves two prostitutes who were murdered by a man in room 306. KTAR News writes that their remains were then thrown out of the window. Guests have said that they still feel the women's presence and have had dreams of being "strangled" One of the stranger hauntings is that of room 220 by The Meat Man, a former tenant from the 1980s who hung "raw meat from the chandelier."
The man died in the room and was found days later. A maintenance worker doing repairs allegedly left the room for a few minutes, only to return to find it in disarray (per Legends of America). There have been several other reported hauntings, some with no backstory to explain the phenomena. The Hotel Monte Vista is now listed on the U.S. Register of Historic Places. Guests are encouraged to ask staff about their own ghostly encounters.