This Was Julian Assange's First Prison Visitor
In 2012, Julian Assange (above) appealed his extradition to Sweden, where he faced charges of sexual assault. This was the second time such charges were brought against the controversial WikiLeaks founder; the first case lacked sufficient evidence to move forward, according to Britannica.
Since launching the WikiLeaks website in 2006, Assange maintained a divisive position in society: Some saw the Australian computer programmer's efforts to release classified documents as a public service to the global community, while others likened Assange to a terrorist and a threat to American national security (via The Guardian.)
Assange's extradition appeal was denied at the time, and in response, he sought asylum in London's Ecuadorian embassy, where he stayed for seven years in virtual solitary confinement. In 2019, Assange was given a 50-week jail sentence in London's Belmarsh Prison for breaching bail regarding the case in Sweden, as Daily Mail reports. After Assange was transferred from the embassy to Belmarsh, a number of public individuals came forward both to criticize and support the digital journalist, who some saw as a political prisoner. Assange's unlikely first visitor in Belmarsh prison illustrates what a polarizing figure Assange was then, and continues to be today.
Pamela Anderson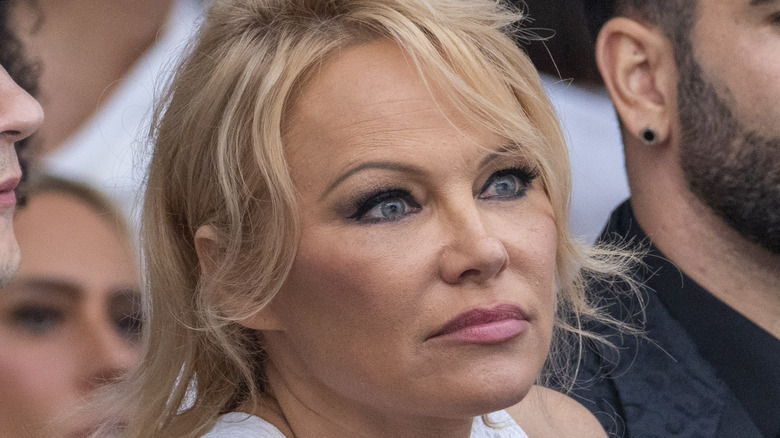 Arnold Jerocki/Getty Images
Pamela Anderson is known for modeling in Playboy and as an actress, starring in the hit television series "Baywatch." Anderson is also politically active, and chose to visit Assange during his time spent living in London's Ecuadorian embassy. Anderson also signed a petition requesting that the British government not comply with Sweden's extradition request, which would allow Assange to stay in the country. And for this reason, Anderson was the first person to visit Assange in his Belmarsh prison cell, accompanied by WikiLeaks editor Kristinn Hrafnsson, as Daily Mail reports.
After spending time with Assange in prison, Anderson wiped tears from her eyes, calling Assange a "good man" and an "incredible person." She continued, "I can't imagine what he has been going through ... It is going to be a long fight and he deserves our support ... He has sacrificed so much to bring the truth out and we deserve the truth," she said (via Daily Mail). The conditions in the prison were reportedly appalling, according to a Newsweek report.
Today, Assange remains in Belmarsh prison, and in 2021 the U.K High Court ruled Assange could be extradited to the United States. Assange and his legal team planned to appeal the ruling, according to the BBC.