Ted Bundy's Startling Justification For His Crimes
On August 16, 1975, Highway Patrol Sergeant Bob Hayward pulled over the driver of a tan Volkswagen who was seen loitering outside the home of teenage girls in Granger, Utah. At least three young women in the area had disappeared, and a 19-year-old woman had reported an attempted kidnapping, putting the community on high alert. While searching the car, Hayward found a crowbar, a ski mask, handcuffs, pantyhose and an ice pick, according to Deseret News. Hayward had just caught America's most notorious serial killer, Ted Bundy (above).
According to Biography, Bundy was arrested for evading police, but that wasn't enough to hold him. A few months later, Bundy was selected in a police lineup by a woman he had attempted to kidnap, Carol DaRonch. He would eventually admit to raping and murdering 36 people, including a 12-year-old. The South Florida Sun Sentinel claimed he could have killed as many as 100 women. Not long before his eventual execution in 1989, he finally gave investigators a motivation for the dozens of murders.
Pornography addiction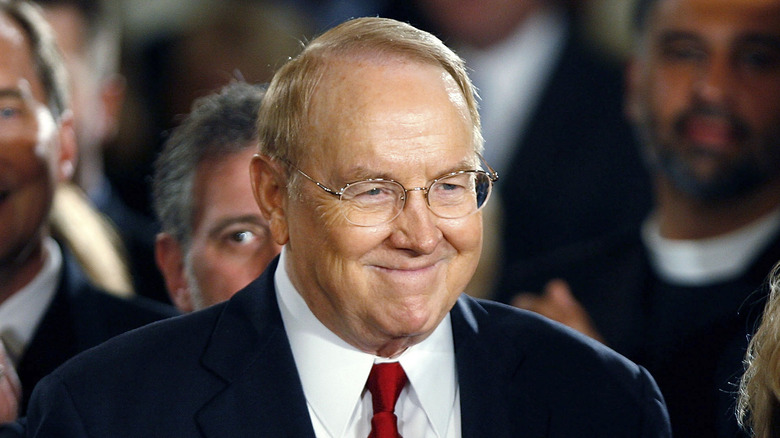 Chip Somodevilla/Getty Images
In an interview at the Florida State Prison just one day before his execution, Bundy tearfully blamed his addiction to pornography for fueling his violent rapes and murders. According to the Los Angeles Times, it was Bundy who first requested the interview. He had been exchanging letters with Dobson since 1987, and ministry officials say that Bundy contacted Dobson through Florida attorney, John Tanner, who had a prison ministry at the time. Reverend James Dobson (above) sat down and listened as Bundy described encountering "soft-core" pornography at the local drug store as a teenager, according to Rolling Stone. Bundy then described how he would rummage around the neighborhood, picking up more explicit material. Dobson, who was a member of the federal Attorney General's Commission on Pornography from 1985 to 1986, listened as 42-year-old Bundy described how "Pornography ... was the fuel for his fantasies to do the things he did," the Chicago Tribune reported.
In the interview (on YouTube), Bundy tells Dobson, "The most damaging kinds of pornography are those that involve sexual violence, because the wedding of those two forces, as I know only too well, brings about behavior that is just too terrible to describe." The interview triggered opinion articles throughout the country about the connection between the serial killer and the role of porn as a motivating factor. One op-ed featured in the Los Angeles Times was penned by Jerry Kirk, founder of the National Coalition Against Pornography, which said, "according to the final report of the 1986 Attorney General's Commission on Pornography, 81% of those studied 'said their biggest sexual interest was in reading pornography.'"