Inside Snoop Dogg And Tupac's Friendship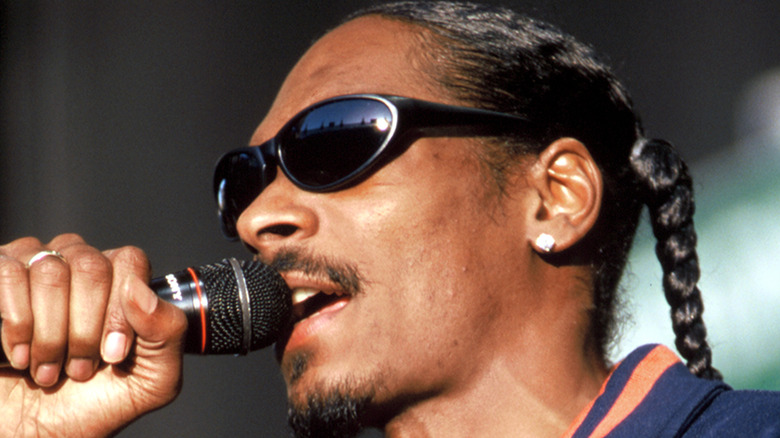 Tim Mosenfelder/Getty Images
Snoop Dogg and Tupac Shakur were some of the most iconic rappers in the '90s West Coast scene. While they have vastly different styles — Snoop's sleepy stoner drawl versus Tupac's layered gangster rap — they both signed to Dr. Dre's Death Row Records. Musically, they vibed together, with Snoop featured on Tupac's, "2 Of Amerikaz Most Wanted" song from the first double-release album in hip-hop history, "All Eyez on Me" (per Okay Player). Many years after Tupac's death, Snoop performed the song in front of the 2012 Coachella audience, alongside a hologram of Tupac.  
But they were more than just collaborators; the two were actually close friends (via HipHopHero). In 2017, Snoop gave a heartfelt speech to induct Tupac into the Rock & Roll Hall of Fame, where he performed the song they recorded together again (per People). There, he called Tupac his "brother" and explained that they were even born in the same neighborhood in 1971.
East Coast versus West Coast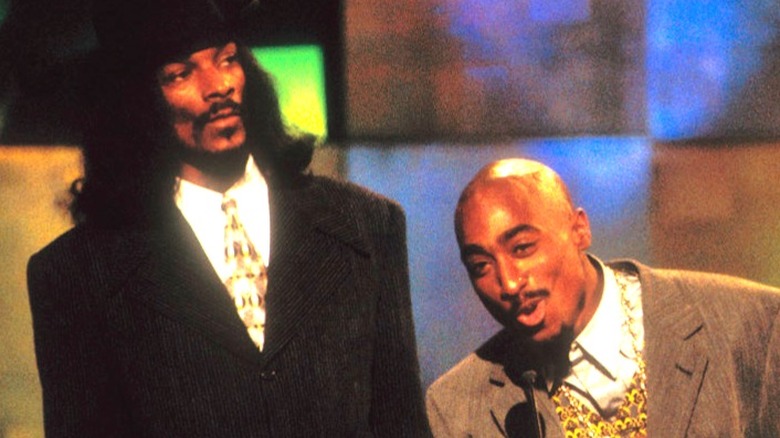 Frank Micelotta Archive/Getty Images
All that said, the two weren't always on good terms. The last time Tupac and Snoop Dogg saw each other before Tupac's 1996 death, they had a rift over something Snoop had said about the Notorious B.I.G. and Puff Daddy in an interview. Although Biggy and Puff Daddy were considered East Coast rivals, Snoop Dogg transcended their iconic rivalry to call them "homeboys." Apparently, that was enough for Tupac to ignore Snoop the next time they saw each other, which according to HipHopHero was on a plane ride.
The bad feelings didn't stay around for long, though. In 2020, Snoop shared a video of him talking about his relationship with Tupac on Instagram. Snoop said he learned something about work ethic from his fallen friend. Tupac showed him to get out of his head and keep moving, to "Let the engineer mix it and master it, not fall in love with it, but fall in love with the craft of being able to do it and continue to do it."