The Haunted History Of Ozzie And Harriet's Home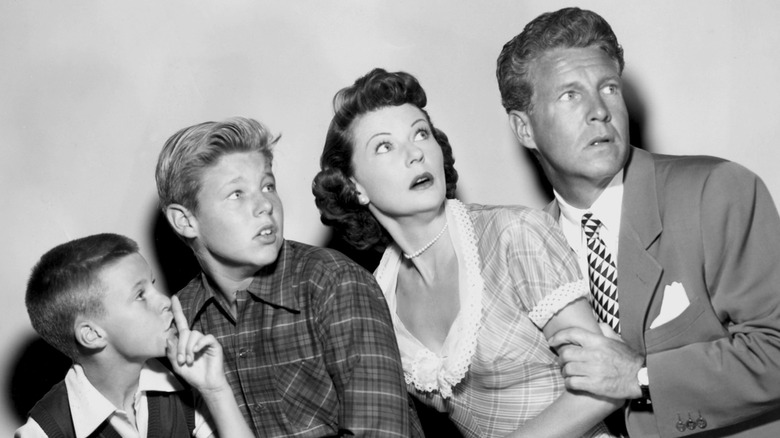 Michael Ochs Archives/Getty Images
Meet Ozzie and Harriet Nelson and their two sons, David and Ricky (though many of you probably already have). They're the archetypal American family and, arguably, with the success of their sitcom, the American dream realized. Their beloved television series "The Adventures of Ozzie and Harriet" ran from October 2, 1952, to April 23, 1966, and was the longest-running live-action sitcom on record until being usurped by "It's Always Sunny in Philadelphia" in 2021 (via Preview). Now meet their ghost. While the show was filmed on sets, the exterior shots seen in the opening credits were, indeed, the Nelson's real home and great pains were taken to ensure that the sets looked like the real thing, reports Yahoo! News. 
Now, about that ghost. Stories of the haunted Ozzie and Harriet home (their real one) have proliferated throughout the past several decades as homeowners have come and gone. According to those who have spent time within its walls, bedsheets flying off of slumberous subjects in the middle of the night, locked doors opening entirely on their own, and rosy aromas inexplicably creeping into the air out of nowhere seem to be par for the course in the old Hollywood home (per Yahoo! News).
The ghost of Hollywood past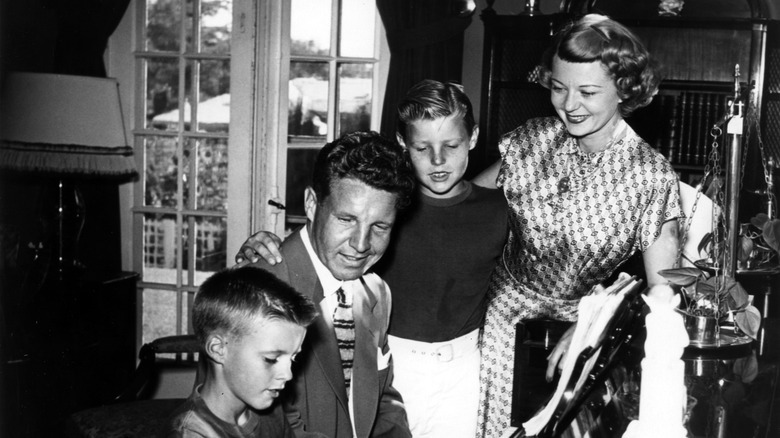 Michael Ochs Archives/Getty Images
In 1975, Ozzie Nelson died at the age of 68 from liver cancer at home in his bed — the same home where the television series was famously shot for nearly 15 years. Many suspect that he never actually left, and that the ghostly phenomena that's ensued since is Ozzie himself maintaining his standing as man of the house. According to Eric Lowry, the home's listing agent, Ozzie loved to indulge in a big bowl of ice cream right before bed. After his death, occupants would wake in the early morning to find the drawer containing the ice cream scooper pulled ajar. "His only vice was ice cream — and oh boy, what a vice!" Harriet herself shared with reporters back in 1981 (via Yahoo! News).
The fabled Ozzie and Harriet house has been sold three times since they left, and it isn't against routine for sellers to forewarn prospective residents of the otherworldly house guest they could be moving in with prior to the sale (per The Agency).