Why Quad Jumps In Figure Skating Are So Hard To Land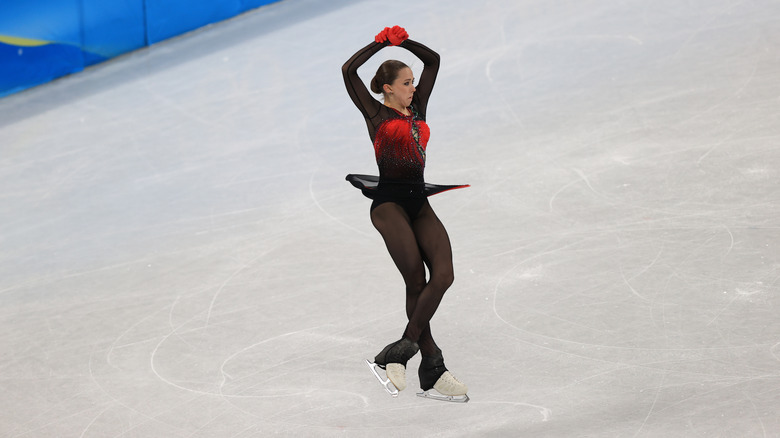 Amin Mohammad Jamali/Getty Images
A quad jump is achieved when a figure skater jumps and spins in the air four times, according to NBC New York. Described as a "high-risk move," this is no easy feat — not even for Olympic figure skaters. PopSugar reports that quadruple jumps are "predominantly performed" by men. Although their intricacy once made them a rarity in the men's figure skating world, they are now a mainstay. At the 2018 Winter Olympics, Nathan Chen, also known as the quad king, set a new record when he made six quadruple jumps (via Time). As explained by Scientific American, this is an astonishing accomplishment due to the complexity of the jump.
To pull off a quad, a skater must be in the air for at least .65 to .70 seconds. Within that minuscule amount of time, they must somehow "rotate themselves four times," as PopSugar explains it. If this wasn't hard enough, they have to land gracefully with a force that can be at least seven times more than the skater's body weight. In other words, the jump pushes the body to the extreme. 
James Richards, a biomechanist, believes that the quad, "is the physical limit" in terms of figure skating jump, per Scientific American, and Olympic figure-skating coach, Tom Zakrajsek, told the outlet that some have even described it as feeling like their "intestines end up in their throat." Despite the fact that men have dominated quadruple jumps, The Cut writes that at the 2022 Winter Olympics, it would be women who were taking the reins.
Kamila Valieva makes history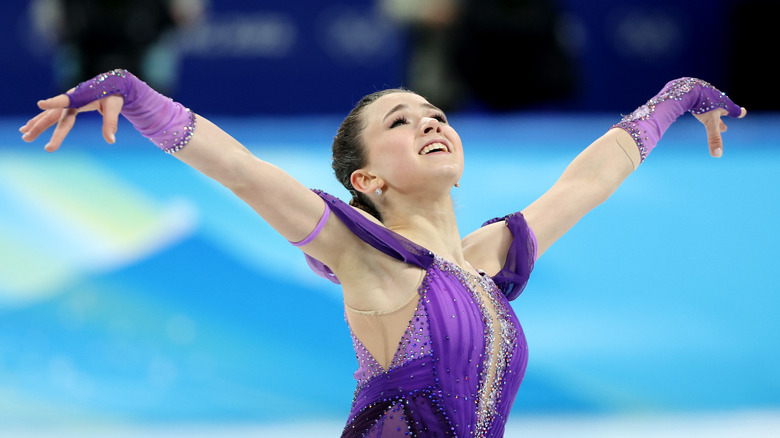 Harry How/Getty Images
The Cut reports that much has changed since the 2018 Winter Olympics. For one, it seems to be a common impression that a female figure skater must achieve at least one quad to win big. Former Olympic figure skater, Mirai Nagasu, called this concept "unfathomable." Why the transition?
The International Skating Union altered its scoring system in 2004, effectively giving quads a much higher score than other jumps. In addition, skates have been improved upon to make landing a quad easier than before. On February 7, 2022, Olympic History was made when Kamila Valieva became the first female ever to complete two quads at the Beijing Winter Games (via NBC News).
Per NBC New York, the 15-year-old Russian first landed what is called a salchow quad before doing a "quad toe loop in combination with a triple toe loop." Although Valieva attempted a third, she fell. Despite the flub, she earned her team gold. One commentator noted that the moment would be talked about "for the next 100 years."
Others, including American figure skaters, have said they do not have the skills yet to achieve a quadruple jump. As quads put an immense strain on the body, it's believed that Americans are not willing to risk "long-term" physical and emotional stress "over one competition," per The Cut. Nonetheless, PopSugar writes that this could eventually impact the figure skating world severely as it could mean "artistic merit" in the sport could become less important as the focus on achieving quads to win becomes more significant.
Previous quad record breakers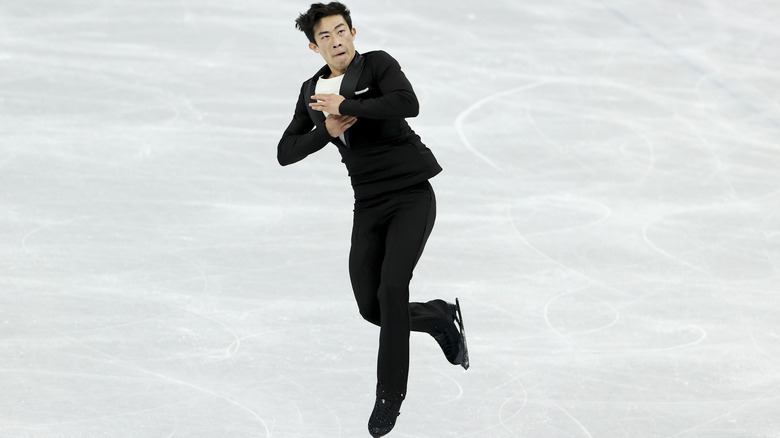 Jean Catuffe/Getty Images
According to Team Canada, Kurt Browning was the first person to "successfully land" a quadruple jump in at the 1988 World Figure Skating Championships. The first attempt made by a woman was in 1990 by Surya Bonaly (via NBC Sports). Despite being able to land quads in practice, she was unable to do so in competition. It's believed Bonaly tried to execute a quad toe loop and quad salchow "at least 13 times" between 1990 and 1996. Even so, little credit or praise was given to her.
In 2001, female figure skater Sasha Cohen landed quads during practice but decided against attempting them during competition. InStyle reports that in 2002, Miki Ando, then 14, made history when she became the first woman ever to land a quadruple jump in competition at the Junior Grand Prix Final. She later stated the quad for her was no big deal as it was a natural progression from single, double, and triple jumps. "Quad King" Nathan Chen (seen above) became the first man at the age of 16 to land four quadruple at the U.S. Figure Skating Championships in 2016 (via NBC Sports).
As for women, it would be 15 years until anyone would land a quad after Ando's. PopSugar writes that in 2018, a then 13-year-old Aleksandra Trusova landed two, including a quad salchow and a quad toe loop in a "single routine." Per FiveThirtyEight, Alysa Liu became the first American woman to land a quad at the 2019 Junior Grand Prix. She was only 14 years old.