The Unusual Item The Cincinnati Bengals Are Bringing To The Super Bowl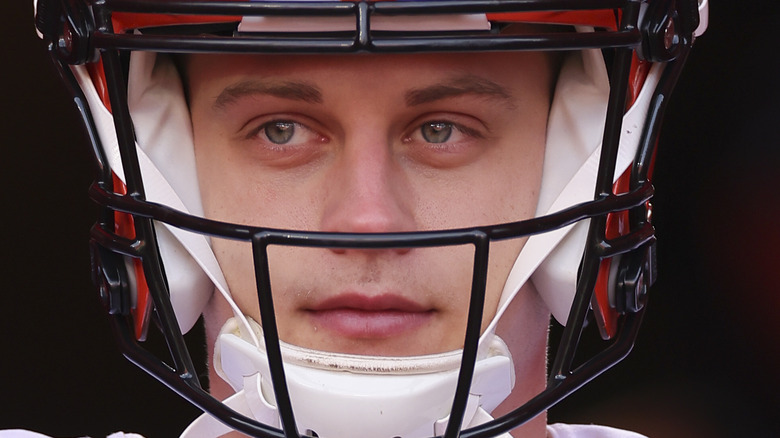 David Eulitt/Getty Images
There are many unusual good luck charms and superstitions associated with pro sports, such as Major League Baseball pitcher Wade Boggs insisting on eating chicken on game day, and the Milwaukee Bucks' attachment to their lucky fishing lure, per Bleacher Report. In Super Bowl LVI between the Los Angeles Rams and the Cincinnati Bengals, the Bengals will punctuate their charmed season by bringing along what has become an unofficial mascot for the team and symbol of good luck to the game.
Raising the stakes for the Bengals, led by QB Joe Burrow (pictured above), is that Super Bowl LVI is the first time that Cincy has made the NFL championship in more than three decades, and the Bengals are also among just a very few NFL teams to have never won the Lombardi, per The Guardian. What's more, the unusual item the Bengals are packing came about from the challenges faced by the team due to the COVID-19 pandemic. At this point, the common everyday object even has an online following all its own.
It's a plain-old three-tiered office cart
On account of the COVID-19 pandemic, coaches and players from the Cincinnati Bengals met with the media outdoors throughout the 2021 NFL season. To facilitate these fresh air press conferences, a plain-old three-tiered office cart was used as a place to put microphones and for reporters to put their own phones and other personal items. What was at first mocked by "Who Dey Nation" — as Bengals fans call themselves, per The Focus — soon took on a life of its own on social media.
As a matter of fact, the cart in question has its own Twitter feed and will be joining the team on the trip to Los Angeles for Super Bowl LVI, per CNN. The announcement was made through a video, with an accompanying Tweet that said, "The journey of a lifetime. Official: The Mic Cart is going to the Super Bowl." Reports the cart will start in the game remain unconfirmed.