What We Know About Lily Collins' Ghost Encounter
DFree/Shutterstock
"I would go downstairs and have a cup of tea, trying to figure out why I had woken up again. I started being woken up by flashes of images, like the aftermath of a struggle." Lily Collins, star of Netflix's 2019 Ted Bundy biopic "Extremely Wicked, Shockingly Evil and Vile" had a few things to share about her time on the set of the serial killer-inspired film. She reported having had a hard time sleeping throughout production, finding herself prey to chronic night terrors. However, it wasn't the movie's grisly subject matter that haunted her slumberous conscience — it was ghosts. Ghosts of Bundy's victims, no less (via Style Caster).
Alongside co-star Zac Effron (who played Bundy), Collins took on the role of Liz Kendall (real name Elizabeth Kloepfer), the infamous serial killer's ex-girlfriend. The story is indeed a gruesome one, and the subject matter is definitely sensitive — perhaps even to those residing in another dimension. However, she didn't feel threatened by the alleged apparitions. "I didn't feel scared — I felt supported. I felt like people were saying: 'We're here listening. We're here to support. Thank you for telling the story.' (per Elle)"
Ghosted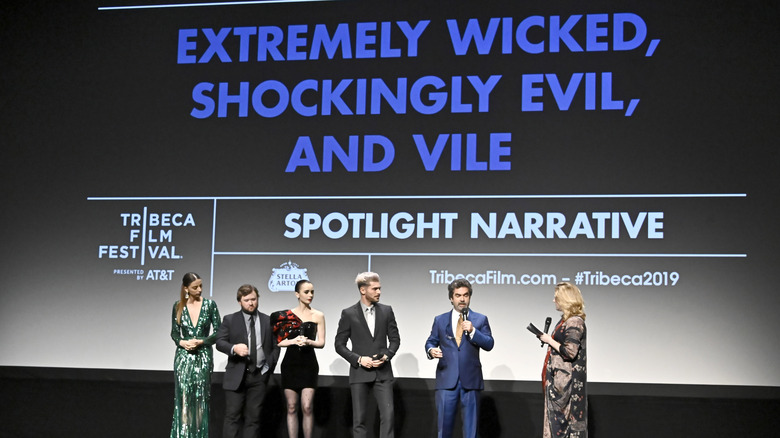 Astrid Stawiarz/Getty Images
Collins told The Guardian that she would wake at 3:05 a.m. each night during pre-production of "Extremely Wicked, Shockingly Evil and Vile." After investigating some of her suspicions, she ultimately came to believe that the victims of the late killer were trying to contact her for some reason or another. As for the punctuality of the spirits, most paranormal enthusiasts would recognize it as no mere coincidence. "I discovered that 3 a.m. is the time when the veil between the realms is the thinnest and one can be visited" Collins shared (per Elle).
Perhaps it had something to do with Collins' inability to fully sever the ties between herself and the woman she was portraying in the film. The actress told Daily Mail in an interview following its release, "I've never played a role in which I really have to separate myself from when I go home at night, and it was almost impossible. I'd like to say that I did it successfully, but I couldn't." (via Style Caster)