The Story Behind Mary J. Blige's Only No. 1 Hit, Family Affair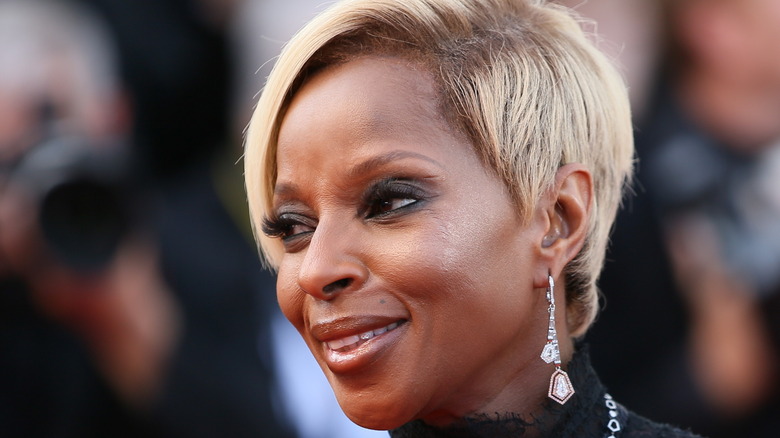 Denis Makarenko/Shutterstock
Mary J. Blige is one of R&B's most popular and influential artists. According to Biography, Blige faced a difficult childhood full of drugs and violence, but found herself signed to Uptown Records when she was just 17 years old after a recording she had made in a recording booth fell into the label's hands.
After some time spent as a backup singer, Blige released her debut solo album in 1992. The Sean "Diddy" Combs-produced album (titled "What's the 411?") became a major success and sold over 3 million copies. Blige would see continued success through the '90s. She released another album — "My Life" — which was another commercial and critical success to add to her growing resume.
In 1996, Blige won her first Grammy award for the song "I'll be There For You/You're All I Need to Get By," a duet with Method Man of the rap group Wu-Tang Clan. Even with all this success, her most famous song was yet to come.
Blige releases Family Affair
DFP Photographic/Shutterstock
In 2001, Blige released what is widely considered her career-defining — and maybe even genre-defining — song, "Family Affair." According to UDiscoverMusic, the song headlined her fifth album, "No More Drama."
The track was produced by legendary rapper and producer Dr. Dre and saw his production pair with Blige's powerful voice. "Family Affair' became Blige's first song to top the Billboard Hot 100 chart and the song would also score her another Grammy nomination.
"Family Affair" is regarded as one of the genre's seminal songs, but even Blige herself didn't grasp just how huge the song had become until one particular moment sitting on her tour bus. "I was on tour and the bus driver was a white boy who was listening to his country music radio station," she told BackstageOL (posted on YouTube). "I'm sitting at the front of the bus and 'Family Affair' came on. I got really nervous and said, 'Something different happened, why is my song on the country station?' 'That's when I realized that I was huge, because country is a big deal. The bus driver said, 'This is the best thing in the world. This is our song!'"
The documentary "Mary J. Blige's My Life" is now streaming on Amazon Prime (trailer on YouTube).