How Many Grammys Does Dr. Dre Have?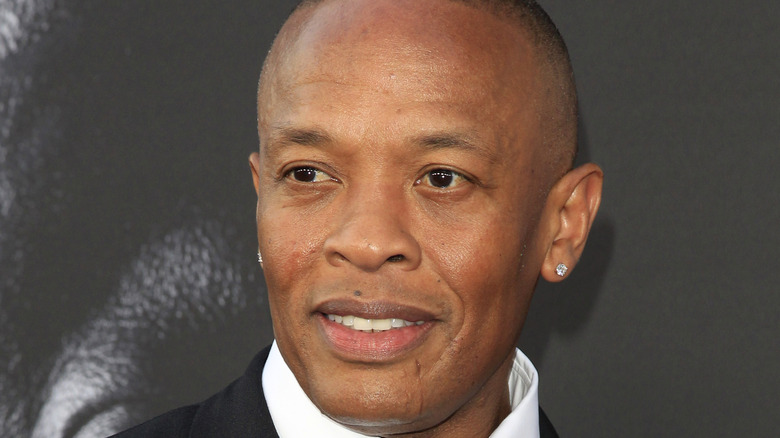 Kathy Hutchins/Shutterstock
Dr. Dre has been an acclaimed rapper and producer since his days in the seminal hip-hop group NWA, but has the Recording Academy recognized his greatness? As it happens, he has plenty of Grammy gold — the man born Andre Romelle Young has seven wins and a whopping 26 nominations, according to the Grammy website. His most recent award was for producing and mixing Anderson .Paak's album "Ventura," which won the award for best R&B album in 2020 (per IMDb).
Previously, Dr. Dre had won many of his awards for his longtime collaborative relationship with his earlier protégé Eminem. Later awards include best rap album, for "Relapse"; best rap performance by a duo or group, for "Crack A Bottle"; best rap performance by a duo or group, for "Forgot About Dre"; and best rap album, for "The Marshall Mathers LP." 
The same year "The Marshall Mathers LP" won best rap album — 2001 — Dr. Dre also won producer of the year, making him the first hip-hop producer to receive the award, according to Daily Rap Facts. His very first award was for "Let Me Ride," his 1993 solo track from his legendary solo debut, "The Chronic."
Dr. Dre also received a special honor from the Grammys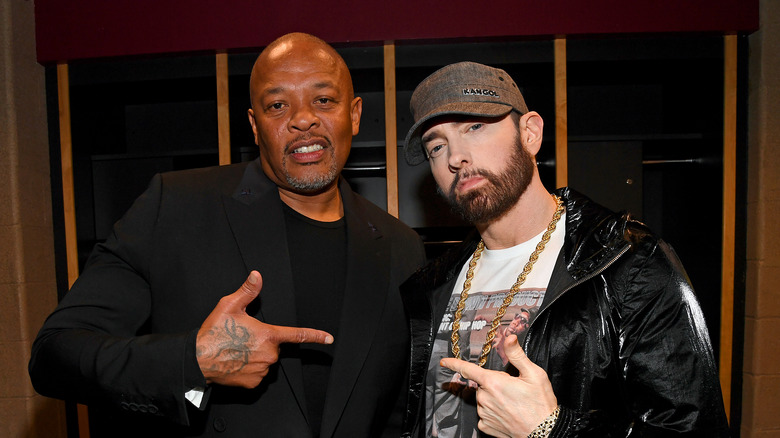 Kevin Mazur/Getty Images
Dr. Dre has been honored by the Recording Academy in other ways, too. The 13th annual Producers & Engineers Wing Grammy Week celebration in 2020 was held in Dre's honor, for the musician's groundbreaking work in producing and mixing, according to the Grammy website.
"Dr. Dre is an influential force in music," said Deborah Dugan, President and CEO of the Recording Academy, at the time. "Dre breaks boundaries and inspires music creators across every genre. His evolution as a producer solidifies him as a leader of the pack within our industry, and we watch in amazement as he continues to shape the future of music" (via Grammy).
The honor acted as a sort of lifetime achievement award for Dr. Dre, who not only launched Eminem's career, but also the careers of numerous other greats: Snoop Dogg, 50 Cent, and Kendrick Lamar all more or less owe their careers to Dre's keen eye (via Hot New Hip-Hop). 
"Producing and engineering has been fascinating to me since I was a kid," an ebullient Dr. Dre said in his acceptance speech. "We have the ability and the power to make people happy, excited, emotional, make people cry, give you goosebumps and create a lifetime of memories, and that's super powerful. That's what we do."