How Many Grammys Has Carlos Santana Won?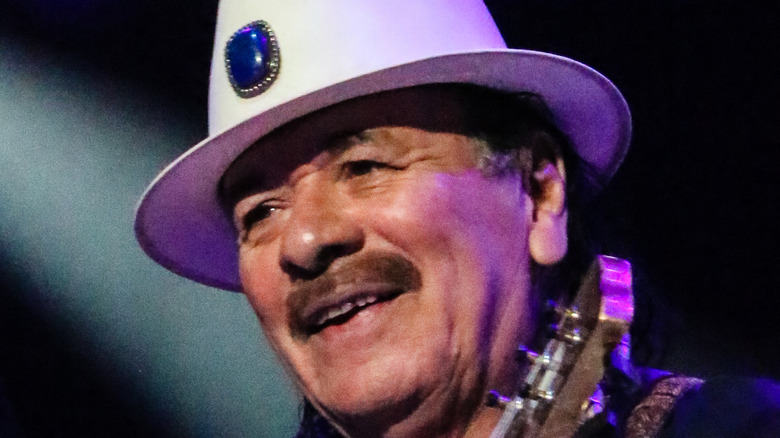 Myzz Frantastic/Shutterstock
Carlos Santana's career in the music industry to date has certainly been an interesting one. As Britannica reports, by 8 years old he was already an able player of the violin and guitar (though he soon discovered his preference for the latter), but his family's move to San Francisco around the time of his early teens changed his life forever. The great rock talents he played with there helped turn him into the celebrated musician he is today.
As his official website states, Santana and his band have won all manner of awards and accolades. An induction into the Rock & Roll Hall of Fame (in 1998), three Latin Grammy awards and 100 million albums sold around the world is absolutely no small feat. At the Grammy Awards, Santana has been equally successful.
As reported by the Grammy Awards, Santana (both the man alone and the band) has received 14 nominations and won 10 of the prestigious prizes. His first win came in 1988, when he took home the Best Rock Instrumental Performance (Orchestra, Group Or Soloist) award for his wonderful work on his classic album "Blues For Salvador." Santana's Grammy success was just beginning, though, and he would return with a bang.
Carlos Santana's "Supernatural" was a Grammy triumph
Myzz Frantastic/Shutterstock
Santana's celebrated 1999 release "Supernatural" is described by AllMusic's Stephen Thomas Erlewine as offering "some of Santana's best music of the '90s... a successful comeback." It also marked the artist's triumphant return to the Grammy Awards and by far his greatest success in that arena. The record won Album Of The Year in 2000, per the BBC, and in tandem with iconic single "Smooth," it won a total of eight Grammys. This feat, the BBC goes on, is even more impressive than it may sound: It equals the record set by Michael Jackson's legendary "Thriller."
At the 45th Grammy Awards in 2002, per the awards' official website, Santana bagged another shared prize. Along with Michelle Branch, Santana picked up the Grammy for Best Pop Collaboration With Vocals, for their joint effort, "The Game Of Love." This was a big year for the awards too, marked by appearances from heavy-hitters like Norah Jones and Tony Bennett. Simon and Garfunkel's Lifetime Achievement Award and the eventual reconciliation it ignited set the event apart as well.