This Is How Many Grammys Tony Bennett Really Has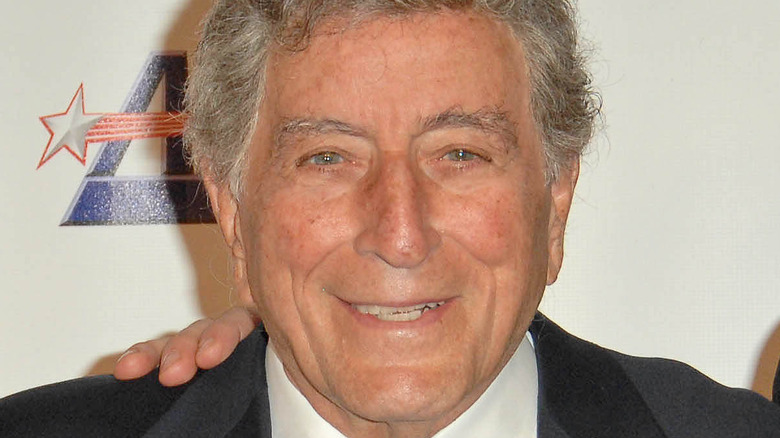 s_bukley/Shutterstock
Best known for the hit song "I Left My Heart in San Francisco," legendary singer Tony Bennett was a world-renowned crooner. In recent years, a lot of Bennett's newer music has been collaborations with singer Lady Gaga. Together the pair has released two projects, one in 2014 and another in September of 2021, per Entertainment Weekly. The announcement of his latest (and likely last) collaborative album was with Lady Gaga and is titled "Love for Sale." The album came out just a month after Bennett said he was fully retiring from performing (via NPR). In 2016, he was diagnosed with Alzheimer's disease, and he died in July 2023.
His health issues aside, Bennett was an iconic American entertainer for decades. He's sung jazz classics, and contributed to the popularity of contemporary music. He has over a dozen hit songs but surprisingly, none of them have taken a No. 1 spot, per Billboard. Since his career preceded the creation of the popular music chart, some have debated he could have scored the equivalent of a No.1 song (via Cheat Sheet). Kicking off his singing career in 1949, Bennett's career spanned 70 years. So obviously he must have the awards to show for it?
Tony Bennett's Grammys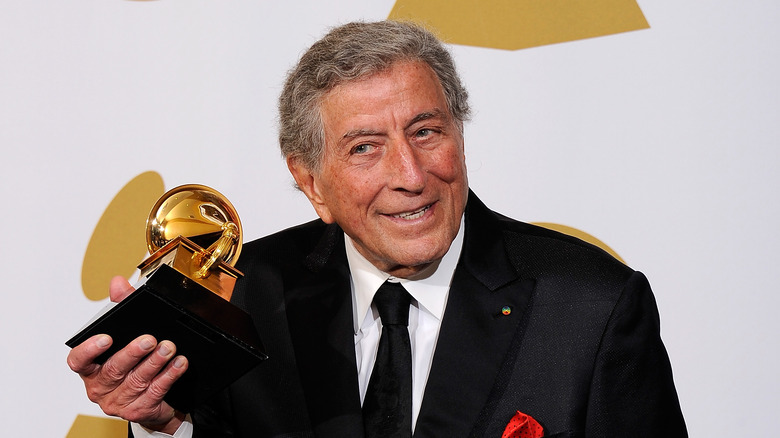 Kevork Djansezian/Getty Images
Tony Bennett was a highly decorated and award-winning singer. Since the early '60s, he's been a frequent guest and nominee at the premier American music award show, the Grammys. Bennett's first nomination for the esteemed award came in 1962 for his hit song "I Left My Heart in San Francisco." It was his first appearance, and he was nominated in three categories. He would win two out of the three, snatching his first of many Grammys.
His last nominations came in 2022, when he was nominated for five awards, and he took home the award for his last collab with Lady Gaga, "Love For Sale." Another fairly recent Grammy win was in 2015 for his collaborative project with Bill Charlap, for which the duo won best traditional pop album. The year prior, he won in that same category for his first project with Lady Gaga. Of course, in between the 1960s and 2010s, Bennett picked up more Grammy awards and nominations. In total, he has been nominated 41 times and has won 19 Grammys. That fact makes him one of the most Grammy-winning artists of all-time, per the award show's website.