The Items John F. Kennedy Was Reportedly Buried With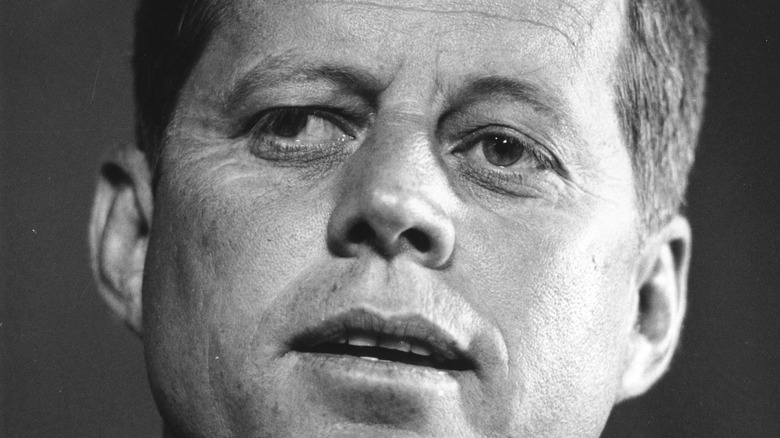 Keystone/Getty Images
Burying personal items with the dead has been a tradition in cultures from across the entire globe for centuries. The idea is that loved ones can have certain sentimental objects accompany them to the afterlife. West Valley Arts writes that these are referred to as Grave Goods. Although the items vary "depending on time and culture," they have included jewelry, food, pottery, and more. According to History, the ancient Egyptians went so far as to be buried with a pet. In some instances, they were even entombed with a servant or two (via Live Science). This was due to the belief that people needed to be buried with anything they may require in the afterlife.
In modern times, we've certainly scaled back on what we bury with loved ones. The Gardens of Boca Raton reports that things like books, photos, stuffed animals, and even another person's cremated remains are common items that people are now buried with. Other recurring themes include objects a deceased person may have enjoyed in their life. 
But you might be surprised to know that former President John F. Kennedy was interred with a lot of personal swag. When Kennedy was shot on November 22, 1963, the nation prepared to mourn while his surviving family members met to make final arrangements. A number of items were chosen to be tucked away in his casket just before the lid was closed, allowing the slain leader to have the sentimental objects with his body while it entered its final resting place (per MSN).
Included in Kennedy's casket was a scrimshaw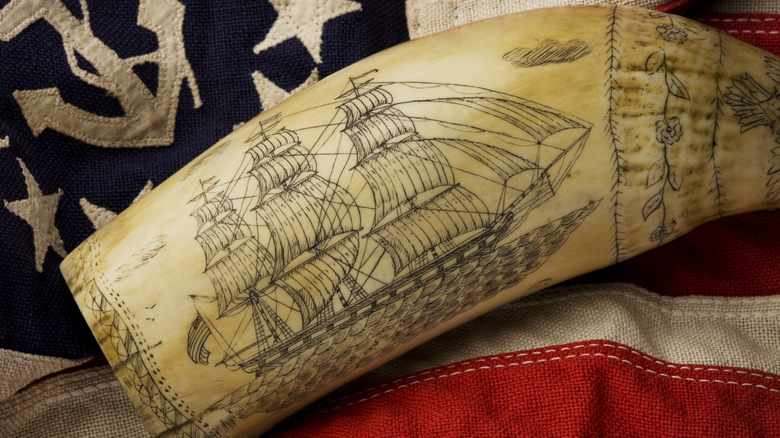 Jim Barber/Shutterstock
In life, John F. Kennedy was a collector of scrimshaw, which are ornate ivory carvings made from whalebone (seen above) and he kept a number of his pieces on display in the Oval Office (per Smithsonian Magazine). According to Boston Magazine, Kennedy loved the sea and his scrimshaw collection gave the room a "subtle nautical motif." It's believed that a high school friend, Kirk LeMoyne Billings helped the president "amass" his collection of more than 30 whalebone carvings. 
One of his favorite pieces was a 9-and-a-half-inch whale tooth that was engraved with the presidential seal. This work of art, carved by scrimshaw artist Milton Delano, was a gift that was commissioned by the president's wife, Jacqueline. She gave it to him on Christmas, in 1962. His family placed this work inside his coffin before Kennedy was laid to rest in Arlington National Cemetery. Letters from his wife and young children accompanied Kennedy's whale tooth into his grave.
In addition, a pair of gold cufflinks were added, and Kennedy's surviving brother, Robert, put in a silver rosary, along with a PT-109 tie clip. Considering the life he led and the various passions he held, many feel that the items Kennedy was buried with made for a great tribute to a man and a leader who was widely admired. Several pieces of his scrimshaw collection are now housed at the John F. Kennedy Presidential Library and museum. The Daily Mail reports that one of his scrimshaw went up for auction in 2021 for $30,000.
John F. Kennedy's grave was moved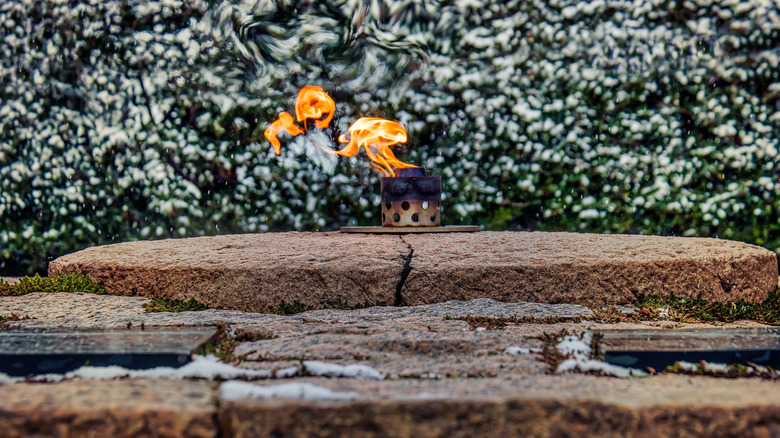 Bill Chizek/Shutterstock
John F. Kennedy is buried at Arlington National Cemetery rather than in his hometown of Brookline, Massachusetts. His wife, Jacqueline, wanted the public to be able to visit his grave, saying, "He belongs to the people," according to History. Britannica reports that Kennedy's body was placed in the U.S. Capitol to lie in repose and was visited by over 250,000 people. His funeral took place two days later on November 25, 1963, and was viewed by millions on TV. He was initially buried in a plot that was 20 feet by 30 feet. A white picket fence served as a border.
The gravesite quickly became a mecca for Kennedy's admirers. More than 16 million people paid a visit to JFK's grave over the next three years. The Kennedy family decided a larger memorial was needed. According to History, his gravesite was moved a few feet away from the original, taking a full two years to finish.
He was secretly reburied in a ceremony that was attended by his wife, his brothers Edward and Robert, and President Lyndon Johnson (via Smithsonian Magazine). JFK's two children who died at birth were also buried with him. The John F. Kennedy Presidential Library and museum writes that an eternal flame that was lit by Jacqueline continues to burn to this day. Although she remarried after his death, she was buried next to Kennedy after her death in 1994.