The Truth About Kyle And Kurt Busch's Complicated Relationship
Chris Graythen/Getty Images
Perhaps more so than in any other sport, racing tends to run in families. It's common to see the same surnames popping up over multiple generations of drivers. Names like Petty, Andretti, Earnhardt, and Schumacher have appeared on starting grids for decades.
Brothers lining up against each other is also fairly common. Terry and Bobby Labonte used to race each other in the NASCAR Cup Series in the 1980s and 1990s and became the first set of siblings to both win championships, while the Schumacher brothers — Michael and Ralf — raced each other in Formula 1.
However, in the 21st century, it could be argued that the most dominant siblings in racing are the Busch brothers; Kyle and Kurt. The two of them have combined for three Cup Series championships, Kurt in 2004 and Kyle in 2015 and 2019.
Siblings sometimes have complicated relationships — even if they aren't trading paint with each other at 200 miles per hour — and the Busch brothers are no different.
The Busch Brothers are intense competitors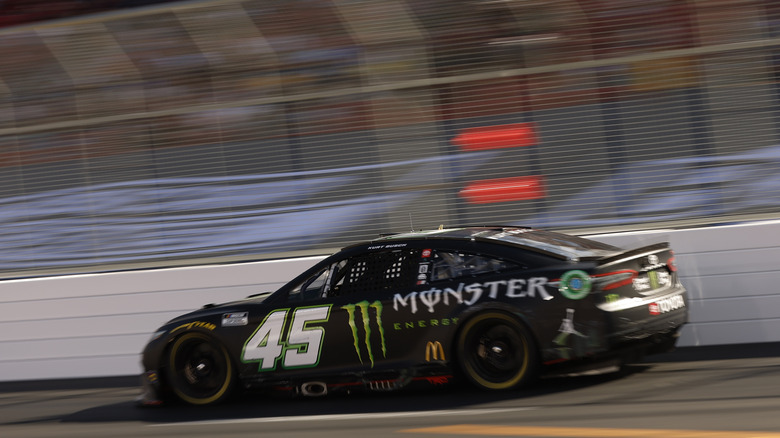 Chris Graythen/Getty Images
Kurt Busch was already a NASCAR Cup Series champion by the time his younger brother, Kyle, became a full-time driver in the series (via Racing Reference). Since then, the two have had run-ins over the years, perhaps most famously at the 2007 NASCAR All-Star Race.
While battling for position on lap 62 of the feature race at what is now Charlotte Motor Speedway, the Busch brothers made contact with each other, sending them both into the wall. Both of them had a chance to win the race which meant that their wreck cost them the opportunity of taking home a $1 million prize.
At times, their off-track relationship has been just as complicated, if not more so. In 2015, domestic abuse allegations were levied against Kurt Busch, according to Bleacher Report. While reporting on this story, news anchor Keith Olbermann mixed up the two brothers, which angered Kyle Busch, per SB Nation
This situation occurred in 2015, and according to a Kyle Busch quote from the time, it's clear the brothers were not all that close. "Couldn't tell you, I don't talk to him," said Kyle when asked how Kurt was doing. "Dead serious. Ask him yourself. Obviously, it's got to be painful for him and you don't ever want to see anybody go through this sort of thing. Besides not wanting to get too far involved in it, that's about all I want to say."
The relationship between the two seems to have thawed in recent years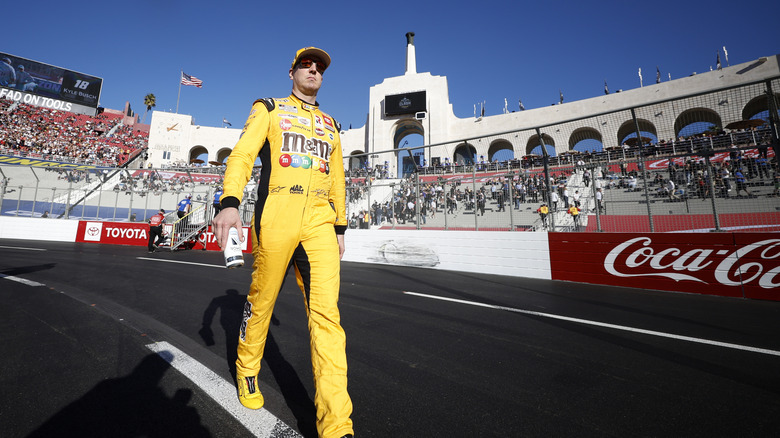 Chris Graythen/Getty Images
While both Kyle and Kurt Busch would still do whatever it takes if it meant being the first to take the checkered flag, it seems as though the Busch brothers have a warmer relationship these days.
In 2020, Kyle Busch was in the midst of an uncharacteristically tough season according to Essentially Sports. This prompted Kurt to offer some big brotherly advice to help him through it. "I'm like, 'Kyle, everything is different now with no practice. You've got to break these races down a little bit different,'" Kurt said. "So I was feeling like the older brother trying to throw some wisdom at him even though he's the most winningest driver in NASCAR."
Kyle would also mention that their relationship was improving in part because of the difficulties faced during the COVID-19 pandemic. "I think our relationship, through this COVID process, has gotten even closer because we're flying together and spending more time together ... I'm very thankful that everything is working the way it is now," he said.