Fans Are Fuming About The Coin Toss At The Super Bowl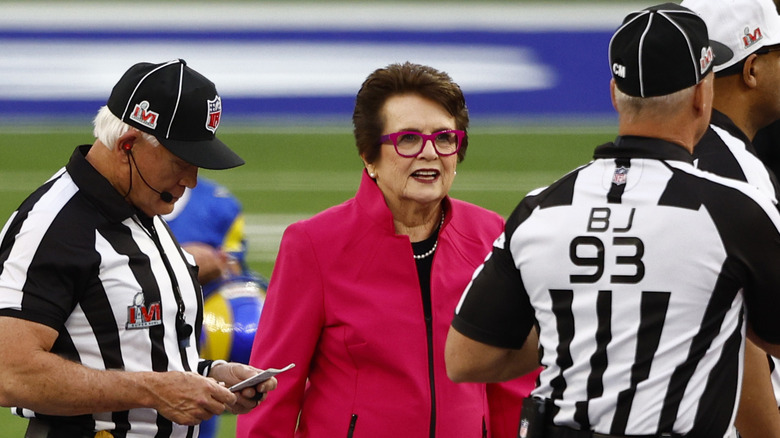 Ronald Martinez/Getty Images
Before Super Bowl LVI kicked off between the Cincinnati Bengals and the Los Angeles Rams, tennis star Billie Jean King — who is an advocate for better gender and LGBTQ+ representation in sports, according to Britannica — performed the ceremonial coin toss to determine which team would possess the ball first in the game. The Bengals won the toss but deferred to the Rams, as WSBTV in Atlanta reports.
In addition to a number of incredible accomplishments in the world of professional tennis, Billie Jean King founded the Women's Sports Foundation in 1974, according to that organization's official website. In more recent years, meanwhile, the NFL has been deeply embroiled in controversy since then-`49ers quarterback Colin Kaepernick knelt on the sidelines during the anthem to protest police violence (via The New York Times). King's appearance at Super Bowl LVI was read by some as a welcome sign the NFL valued these issues. Other football fans, however, disagreed.
Billie Jean King is not typically associated with football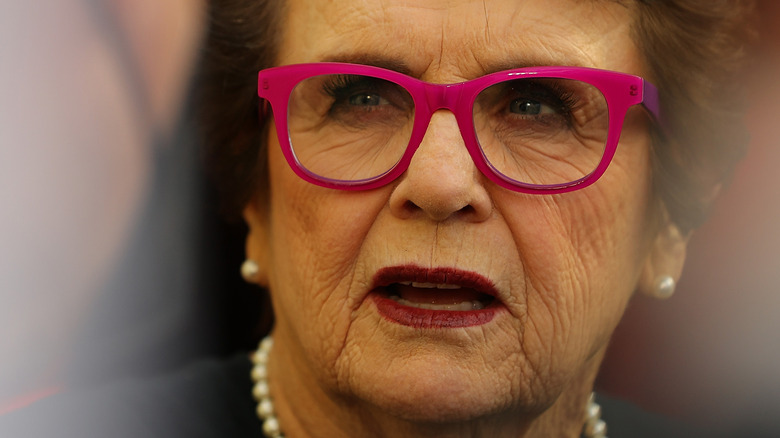 Kevin C. Cox/Getty Images
Some of the tweets in support of the Billie Jean King coin toss lauded the work of the legendary athlete on issues of inclusion and diversity. Especially considering an all-female flag football team also made an appearance. "Loved this. Football is for the girls!" one person said in a tweet, while another tweet read "I just love that this Super Bowl game began with a celebration of the importance and power of Title [IX] and the coin toss done by the incredible athlete Billie Jean King," via Twitter.
Not all the fans were so pleased, however. One person added, "Me trying to figure out how Billie Jean King got to be part of the Super Bowl Pregame ceremonies" (via Twitter). And "Billie Jean King relates to football how? (per Twitter). The unmentioned issue, though, is that Billie Jean King — a California native, per Britannica — lost the coin toss to the LA Rams' game rival, the Bengals.