Kendrick Lamar's Super Bowl Halftime Look Has People Making A Michael Jackson Comparison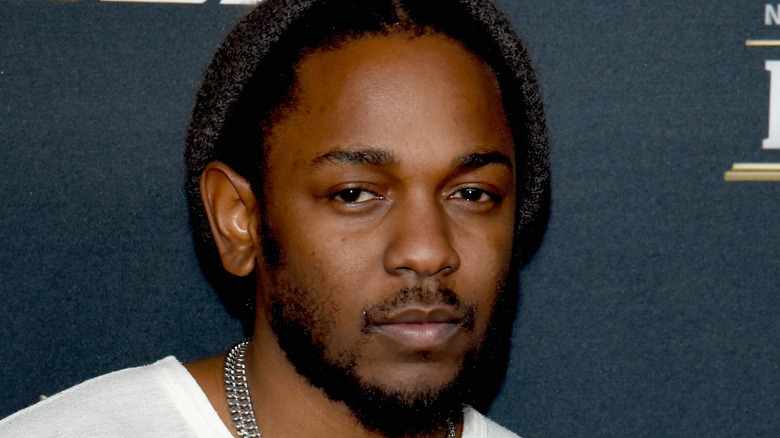 Tim Mosenfelder/Getty Images
Just about all of rap royalty rolled out for the 2022 Super Bowl Halftime Show, including Dr. Dre, Snoop Dogg, Eminem, and 50 Cent. Mary J. Blige carried the flag for women and R&B. Meanwhile, a slightly younger generation was represented by rapper and LA native, Kendrick Lamar. In other words, it was a lot of talent that America got to watch on one stage. As Yahoo News noted, the performers had earned a total of 44 Grammy awards between them, with Eminem leading the pack at 15. (How many Grammys does Snoop Dogg have? The answer may surprise you.) 
But of all that talent, the most surprising performance was certainly Kendrick Lamar's. Dancing before an army of imposing men clad in all black, himself dressed in a double-breasted get-up covered in faux military medals and braids, like Yukio Mishima's idea of a pop idol, Lamar looked quite a bit like Michael Jackson, who performed at the same venue in 1993. Jackson had the same fondness for outrageous, faux-military concert garb, as Harper's Bazaar makes quite clear.
Twitter pounced on the comparison. "Loved Kendrick's homage to Michael Jackson," said one user. "His outfit was perfection." "Dear [T]witter," said another, "Kendrick Lamar is our generations [sic] Michael Jackson."
Who is Kendrick Lamar?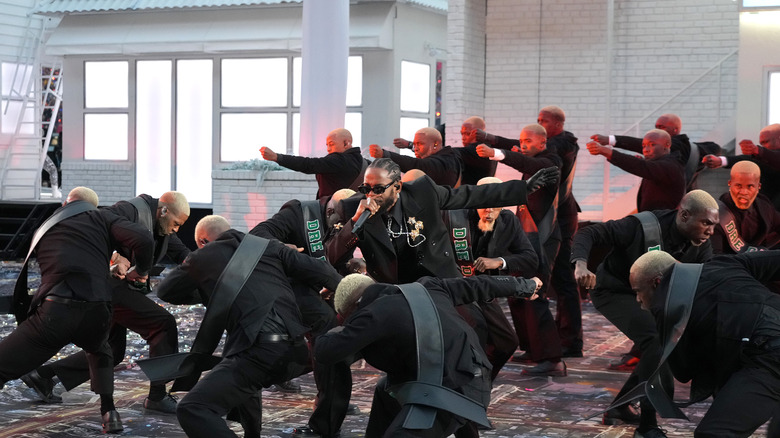 Kevin Mazur/Getty Images
Kendrick Lamar is a prodigious artist who has drawn comparisons with Rakim and other hip-hop legends. His tally of 13 Grammys is only the beginning of his talent and range.
According to NBC, Lamar is 34 and hails from Compton in Los Angeles, California, the cradle of many rap grandees. His first major album, "Good Kid, M.A.A.D. City," came out in 2012. In addition to his 13 wins at the Grammys, he boasts 39 nominations and has collaborated with everyone from Rihanna to Maroon 5, and Drake to Taylor Swift. Lamar's range is enormous, not only as a rapper but in the genres in which he deploys his talents. He has pioneered the fusion of hip-hop and jazz, particularly in his 2015 album, "To Pimp a Butterfly." More impressive still, Lamar won a Pulitzer Prize for his album "DAMN.," a work of lyricism that evaded easy categorization and featured "vignettes capturing the complexity of modern African-American life."