Noor Inayat Khan: The Truth About The Courageous WWII Spy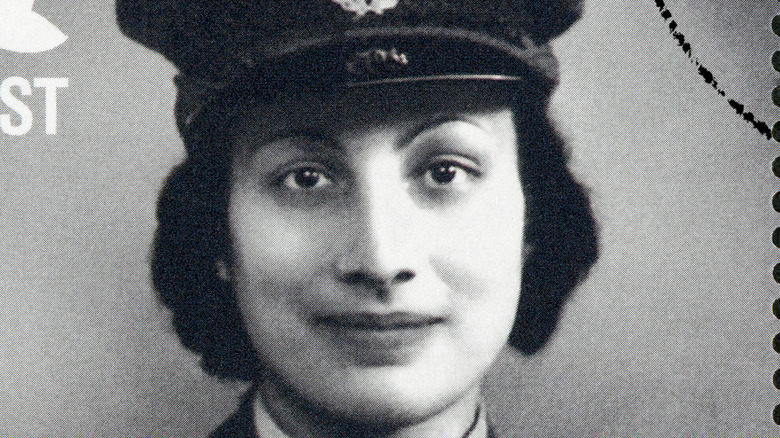 Olga Popova/Shutterstock
Princess, pacifist, pianist, spy? It seems incredible that so many different attributes can sum up one person, but Noor Inayat Khan proved it to be possible. 
Noor's mother was an American poet who fell in love with her father, a descendent of famed Indian ruler Tipu Sultan, per Factinate. Noor's father had been traveling across the United States to preach about Sufi Islam, a sect that emphasizes pacifism and art. The pair married and moved to Europe — first to England and later France — and had four children, of which Noor was the oldest. 
It was clear even from a young age that Noor was special, and she earned a spot at the prestigious Paris Conservatory for both piano and harp. She also pursued other artistic talents and became a regular contributor to children's magazines and French radio programs. 
Noor's father died when she was just 13, and the tragedy meant she had to help care for her siblings. Even with such responsibility, she flourished and published a children's book, titled "Twenty Jakarta Tales," in her mid-twenties.
However, her world turned upside down when the Nazis invaded France in 1940. Noor escaped with her family to England, and upon arrival immediately volunteered with the RAF's Women's Auxiliary Air Force to fight the fascism that had gripped her adopted country. She was assigned to train as a wireless operator, and quickly caught the attention of the Special Operations Executive — a.k.a. the espionage unit at the time.
Noor's dangerous return to France
Noor's finesse with wireless operations and her fluency in French made her an ideal candidate for espionage, and she immediately accepted a mission to go undercover, despite its obvious dangers. Though Noor still believed strongly in her father's philosophy of pacifism, she was desperate to liberate France. According to Al Jazeera, she also hoped that Indian participation in the war would help the nation win its independence from the British.
Noor was sent into France in June of 1943 with the code name "Madeleine." The timing was particularly dangerous, as the Nazis began seriously implementing a policy of deporting all rebels to concentration camps instead of facing justice with the Vichy French tribunal system (via SciencesPo).
Noor's mission was to help operate the wireless networks between the resistance French group "Prosper" and the United Kingdom. She was the first woman to hold the position. However, when Noor arrived in Paris, tragedy struck almost instantly when all high-ranking members of Prosper — as well as their equipment — were discovered and captured by the Germans. As a result, Noor was the sole operator in Paris for months.
Despite the dangers, Noor persisted, sending information to the British that eventually helped lead to the success of D-Day, per The Guardian. However, a target was on her back, and she was betrayed and arrested by the Gestapo in October 1943. It is still unknown who divulged her identity to the Nazis.
Noor's final "liberty"
After her arrest, Noor was sent to the Nazis' SS Headquarters in Paris. She attempted an escape attempt but was quickly discovered. Undeterred, she tried again and almost succeeded, but an air raid unluckily forced guards to check on jail cells. After this, Noor was sent to Pforzheim prison in Southwest Germany and given the label of "highly dangerous" prisoner (via The Second World War Experience Center).
As described by the BBC, her conditions at Pforzheim were deplorable, and she was shackled and sentenced to solitary confinement. Even worse, though, was the torture she endured after she refused to give up information about her mission. She was repeatedly beaten and deprived of food, but worse was still to come. Noor was transferred to Dachau concentration camp, and on September 13, 1944, she was executed with a shot to the back of her head. Her last words were "liberté."
According to The Second World War Experience Center, the night of her death, Noor's mother and brother both described having the same dream, in which Noor, surrounded by blue light, came to them and told them she was free. But though Noor called herself free, the rest of the world called her a hero. In January 1946, the French awarded her the Croix de Guerre, the highest civilian honor, for her service. The British followed suit three years later with the George Cross to commemorate her bravery and sacrifice.