The Oscar Statuette Was Made Of A Different Material During WWII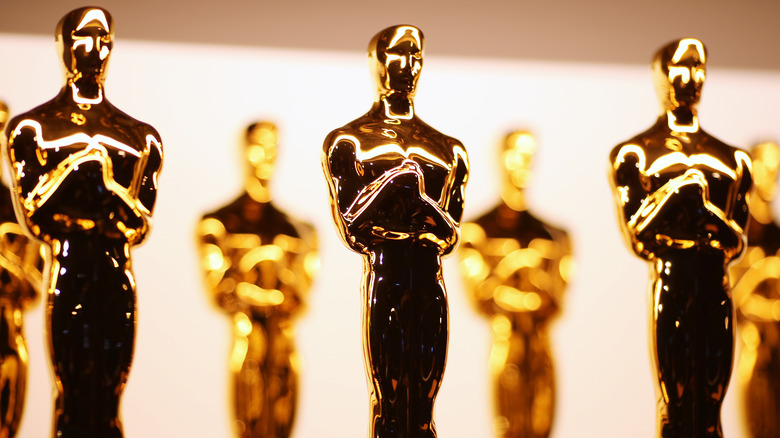 Christopher Polk/Getty Images
The little gold statuette given to winners at the annual Academy Awards ceremony has undergone several changes throughout the years. When German actor Emil Jannings won the first Academy Award for best actor at a private ceremony in 1929, he was presented with the figure of a knight holding a downward pointed sword, standing upon a reel of film (via Britannica). This design was the idea of MGM art director Cedric Gibbons, who was commissioned to create it. Sculptor George Stanley then took Gibbons' design and made the bronze figure, plating it with 24-carat gold. 
The Academy of Motion Picture Arts and Sciences (AMPAS) increased the height of its "Oscar" statuette in 1945, but since then the only change made to the award has been a change in materials used to craft it. In 1982, Chicago-based manufacturers R.S. Owens & Co. began producing the award. Moving away from the bronze, this company opted for a Britannia core — which is similar to Pewter — that was coated with gold (via Alliance for American Manufacturing). 
But in 2016, AMPAS wanted to return to the original material for the Oscar. Not having the capability to mold bronze, production moved away from R.S. Owens & Co. and was sent to Polich Tallix. This Rock Tavern, New York business has made the awards ever since (via CNBC). And while there is a long history of using precious metals to craft this award, there was a short period that alternative material was used as the U.S. entered WWII.
Plaster replaced bronze for several years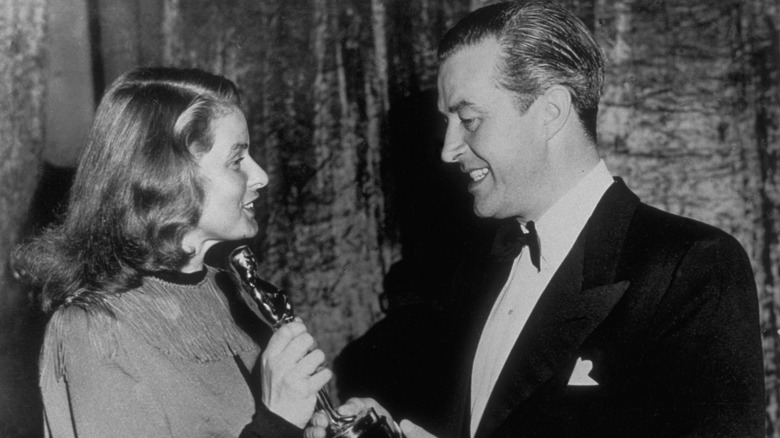 Keystone/Getty Images
With virtually the entire world at war between 1941 and 1945, certain resources needed to be conserved while others needed to be delegated to the war effort. Industrial nations like the United States were forced to ration everything from meat to fuel to coffee. 
Metals began to be especially important, and the U.S. Department of Defense couldn't get the necessary materials needed for ship and airplane construction, helmets, ammunition, and other vital vehicles and equipment to assist with the war effort. It seemed like no individual or industry was immune to the rationing, and that included the annual Academy Awards ceremony (per National Park Services). 
With precious metals in high demand for the military, the bronze core and 24-caret gold plating of the Oscars were eliminated. From 1943 until 1945, those who clutched their Oscar in triumph at the annual ceremony held in their hands ones made of plaster and sprayed with gold paint (via Vulture).