Where Is Lizzie Borden Buried?
As the nursery rhyme goes, "Lizzie Borden took an ax, and gave her mother 40 whacks. When she saw what she had done, she gave her father 41" (via Smithsonian Magazine). History writes that on August 4, 1892, Lizzie Borden's father Andrew and stepmother Abby were found brutally murdered in their Fall River, Massachusetts, home. Suspicion quickly fell on Lizzie, as she and her sister, Emma, often argued with their parents about finances (per Britannica).
Despite being arrested and put on trial for the killings, Lizzie always maintained her innocence. The evidence against her was circumstantial, and she was acquitted of the murders. The case remains unsolved to this day.
According to Biography, Lizzie chose to remain in Fall River after her acquittal. As Lizzie and Emma had inherited their father's fortune, they were now wealthy women. Per Mental Floss, they subsequently purchased a large house in a nicer part of town and named the residence "Maplecroft."
Although she had been legally cleared of the slayings, many people were unconvinced of her innocence. Lizzie's friends abandoned her and the townspeople avoided her at all costs. Bustle reports that children taunted her and defaced her home. Simply put, she was ostracized. New England Today writes that Lizzie spent the majority of her life isolated and alone. In June 1927, Lizzie died at the age of 66 in Fall River (via Biography).
Lizzie Borden's grave has been vandalized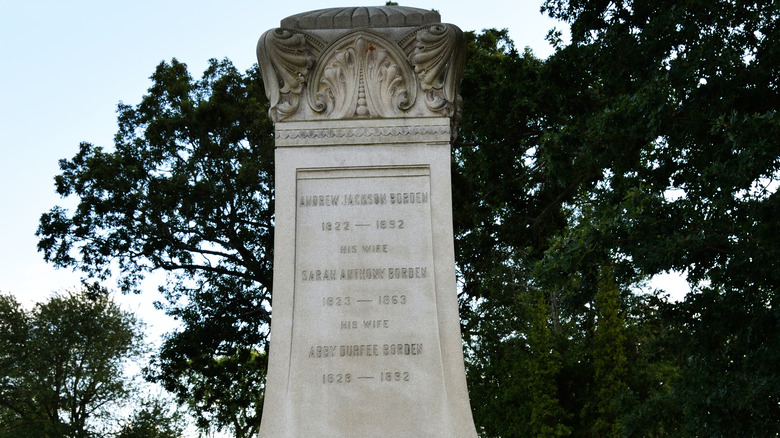 WanderRoamRove/Shutterstock
According to Mental Floss, no one was invited to Lizzie's funeral; her sister, Emma, died a few days later (via New England Today). The Herald News reports that all of her family members, including her slain father and stepmother and her sister, are buried in the 100-acre Oak Grove Cemetery, in Fall River, Massachusetts. Lizzie's biological mother, Sarah, is buried next to them (per Find a Grave). The family plot (seen above) dates back to 1855.
Lizzie's grave is immensely popular and widely visited; it's as close as anyone can get to the acquitted. To aid the curious, the cemetery painted white arrows to guide visitors to the Borden family plot. Not everyone visits to pay respects; in April, 2015, WBUR reported that the Borden grave was defaced with green and black paint.
The cemetery director, Tony Eaton, noted that this was not the first time this had occurred. However, he did blame "The Lizzie Borden Chronicles," a Lifetime miniseries that had recently aired, for the vandalism. Besides graffiti, visitors often leave pennies and flowers on Lizzie's grave.
Want to spend a night where Andrew and Abby Borden were murdered? The Historic Lizzie Borden House is now a museum and an inn with breakfast.