When Did Marvin Gaye Try Out For A Spot In The NFL?
Armando Gallo/Getty Images
Every once in a while, we hear about celebrities wanting to try their luck in the world of professional sports. To cite a rather famous example from the past, rapper Master P entered training camp with the Charlotte Hornets ahead of the lockout-shortened 1998-99 NBA season but was ultimately cut with less than a week to go before the start of regular-season play. And as far as current examples go, most of us are probably aware that social media celebrities Jake and Logan Paul have stepped into the boxing ring multiple times in recent years, with the former boasting wins over former UFC fighters Ben Askren and Tyron Woodley.
That brings us to the topic of Marvin Gaye and his pro football ambitions. At the time he tried to break into the NFL, he was one of the biggest names in popular music, having recorded his fair share of hits for Motown Records and established himself as a soul singer extraordinaire. Decades before the aforementioned examples of celebrities with potential (or actual) side hustles in pro sports, Gaye thought that the gridiron might serve as a nice change of scenery as he dealt with a number of personal and professional challenges. And it all started with the singer's friendship with a couple of star players from the NFL team that operated in the same city as Motown ...
Gaye tried out for the Detroit Lions in 1970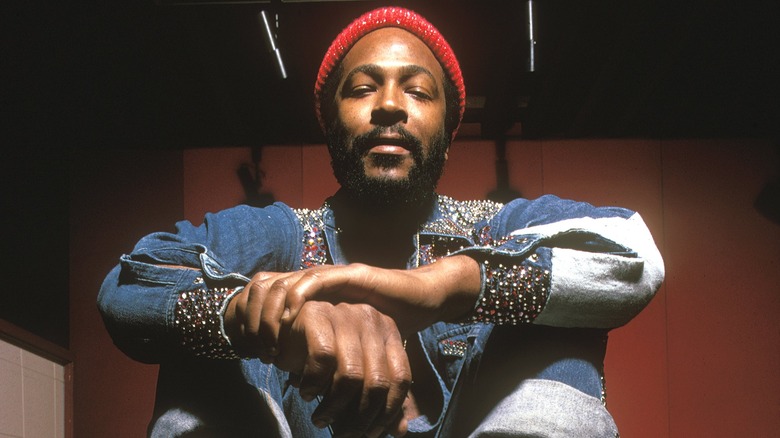 Jim Britt/Getty Images
The story of Marvin Gaye's attempt to crack an NFL lineup starts in the summer of 1968, which is when the singer struck up a friendship with Detroit Lions defensive back Lem Barney and running back Mel Farr, as reported by The Undefeated. This notably took place just months after Gaye's singing partner, Tammi Terrell, collapsed in his arms during a show and was later found to have a brain tumor. When Terrell died in March 1970, Gaye was devastated, and as Farr recalled, the Motown star was "sort of in a funk" and in no mood to make no music. Not helping matters was the sociopolitical climate in the U.S. at that time, which made Gaye less inclined than ever to sing the romantic ballads he was best known for.
Eventually, Gaye returned to the studio and recorded a socially conscious tune in "What's Going On," insisting that he would only do the song if Barney and Farr were allowed to sing backing vocals. But there was another music/sports crossover being cooked up after the recording session for "What's Going On," and that was Gaye's tryout with the NFL's Lions. Unlike those who came after him, including former high school basketball star Master P (via Complex), Gaye didn't have any relevant experience in the sport he was trying out for, having dropped out of high school at 17. As such, even his own brother, Frankie, wrote in his book, "Marvin Gaye, My Brother," that he felt Marvin's NFL aspirations were preposterous.
Gaye, however, was 100% serious about wanting to make the Lions' lineup. "I'd rather catch a pass and score a touchdown in Tiger Stadium than rack up another gold record," Frankie Gaye quoted his brother as saying.
Gaye got himself in shape, but it was far from enough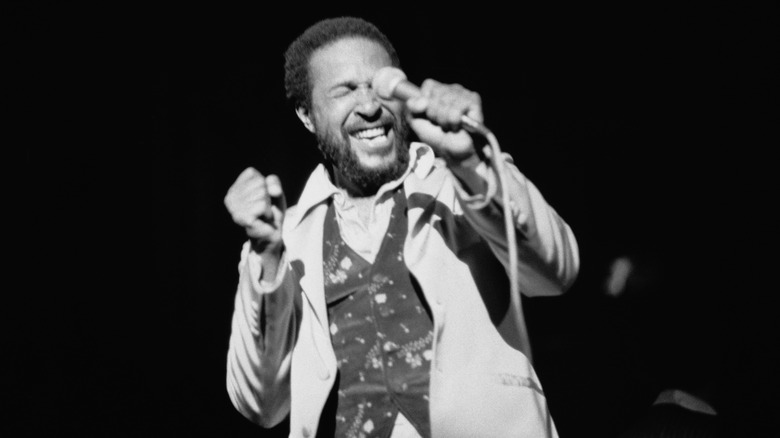 Angela Deane-drummond/Getty Images
To be fair, Marvin Gaye put a lot of effort into his potential tryout with the Detroit Lions. According to The Undefeated, the soul/R&B legend trained rigorously, lifting weights, running up to five miles a day, living a healthier lifestyle, and gaining close to 30 pounds in the process. He also practiced regularly with Lions buddies Mel Farr and Lem Barney, who, just like Gaye himself, understood how slim the singer's chances were of cracking the lineup. "Marvin wasn't a gifted athlete. Marvin was a great singer," Farr recalled. "You know how the things that you really can't do, you either stick with it or try something else? That's kind of who Marvin was. But he was sincere about it."
Given Gaye's celebrity status and lack of experience, Lions coach Joe Schmidt was understandably reluctant to give the musician a tryout, but he eventually agreed. \When the day of the tryout came, Schmidt gave Gaye a shot at several positions — wide receiver, tight end, running back, and fullback — with no guarantees of making Detroit's opening-day lineup whatsoever. He gave it his all and performed decently for someone who never played high school or college football, but in the end, he didn't even get a training camp invitation. And with that, Marvin Gaye's NFL journey was over.
"Coach just told him, 'I love you, Marv. I love your attitude,'" Farr related. "But it just wasn't enough to push him over the level where Coach would want to put him in pads and add that really physical contact and ruin his life."