This Is The First Person To Refuse An Oscar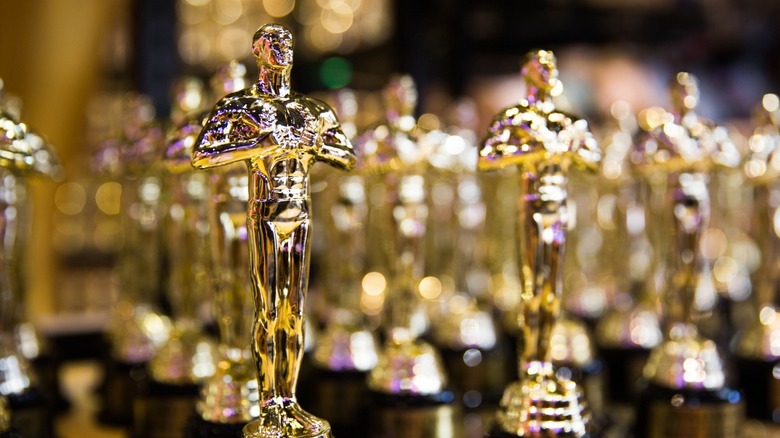 Valeriya Zankovych/Shutterstock
One might be surprised to know that there have been multiple winners of the annual Academy Awards that have not only missed the ceremony, but have also outright refused their awards. George C. Scott refused his Best Actor Oscar for "Patton" (1970), stating that the industry's awards only pitted actors against one another, and referring to the entire ceremony as a "two-hour meat parade" (per Screen Rant).  Before Scott refused his gold statue, Richard Burton and Elizabeth Taylor announced their boycott of the awards ceremony in 1966, largely due to Burton being nominated four previous times without a win.
And in probably the most famous instance of an Oscar winner refusing their statue, Best Actor winner Marlon Brando surprised viewers and attendees by not only snubbing the ceremony but by sending a stand-in to give a speech in his place. Her name was Sacheen Littlefeather, who Brando sent to protest Hollywood's racist depiction of Native Americans in films (per History). 
The first person to refuse their Oscar happened decades before Brando's political statement in 1973. Though not a household name today, this up-and-coming screenwriter made some waves before the 1936 Academy Award ceremony by becoming the first winner of this fairly new award to reject their prize. Like Brando, this winner's motives were political. His name was Dudley Nichols, and he was protesting the way  screenwriters were being treated by the Academy.
The Academy once refused to recognize independent labor unions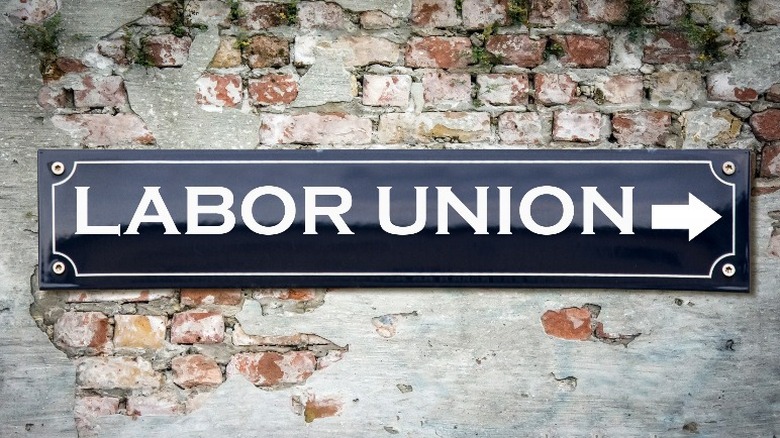 Pixelvario/Shutterstock
With nearly 30 screenwriting credits under his belt, Nichols headed into the 1936 Academy Award season upset about labor relations between screenwriters and the Academy of Motion Pictures of Arts and Sciences. The union Nichols belonged to, the Screenwriters Guild (SWG), was having a hard time getting the pay and treatment that they felt their members deserved (per Screenwriters Guild Foundation). With a rival union that was sympathetic to the motion picture studios was threatening to put the SWG out of business, it was time for action.
Nichols, though relatively young, was a known name among screenwriters in the 1930s. He decided to protest the 1936 Academy Award ceremony in response to the Academy not recognizing the legitimacy of the SWG and other unions. The Academy's stance on unions at that time was that they weren't necessary for the business, as the Academy already functioned as a union of sorts for those involved in the industry (per History). 
Nichols was that year's winner for Best Screenplay, and he was the only winner who refused to attend the award ceremony. Nichols not only refused to attend the event, but also rejected the award. On two separate occasions, his Oscar was mailed to him, to which he promptly mailed back both times. 
Nichols finally accepted his award several years later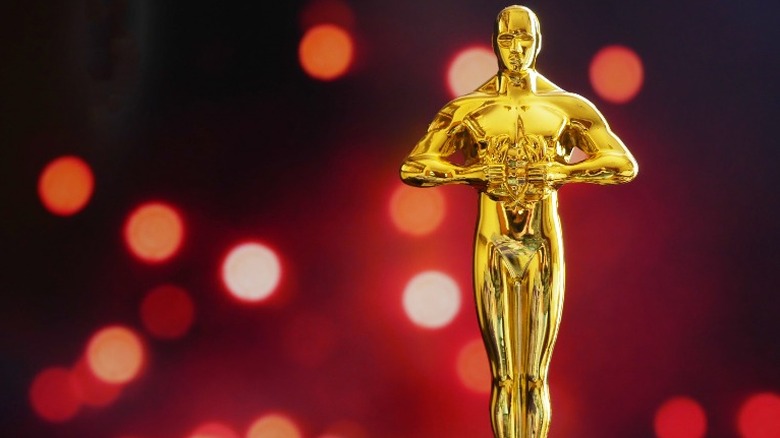 LanKS/Shutterstock
But the Academy wouldn't refuse to recognize Nichols' union forever. In 1938, the newly formed National Labor Relations Board finally concluded that the Screen Actors Guild was the labor representative of the writers in the film industry (per History). With the only reason for Nichols to have protested the awards finally resolved to his satisfaction, he ended his boycott and accepted his Academy Award in 1938. 
Nichols went on to have a lengthy career as a screenwriter, chalking up a total of 76 writing credits to his name. In addition, he worked as a director on three films and as a producer for four (via IMDB). 
Before he passed away in 1960, Nichols garnered another three Academy Award nominations for Best Screenwriter. But while his work on the films "The Long Voyage Home" (1940), "Air Force" (1944), and "Tin Star" (1957) was well received, it failed to yield the veteran screenwriter any additional Oscars.