This Is How Much Money Snoop Dogg Is Actually Worth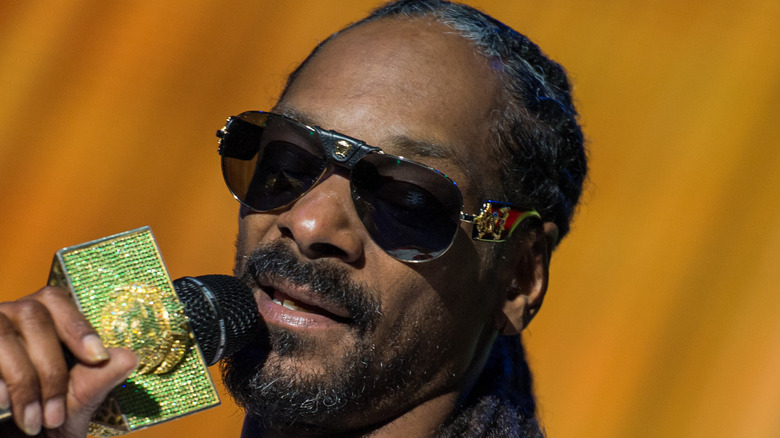 stedalle/Shutterstock
The up-and-coming Snoop Dogg, Britannica reports, was mentored by the iconic Dr. Dre himself. Dre's 1992 album "The Chronic" featured some of Snoop's vocals, and publicity like that is something most new rappers could only dream of. Snoop rode the wave to the utmost, and the very next year his first album, "Doggystyle", dropped. It was the start of a remarkable career, and the accumulation of equally remarkable wealth.
The Recording Industry Association of America states that Snoop has sold in excess of 12.5 million albums in the United States. Per All Music, he has made 23 albums, including 2022's upcoming "BODR," and he has transferred some of this success to other ventures such as acting. Not everything Snoop touches has turned to gold over the years, but when it has, he's certainly made it count. Celebrity Net Worth reports that the rap star is actually worth an estimated $150 million.
Hard work is key in the music industry, and sadly, so many who dedicated themselves to their craft just don't make it. Thanks to the mentorship of Dr. Dre (who himself is worth a cool $500 million, per Celebrity Net Worth), however, D-O-double-G was set up for success. 
Snoop Dogg is worth an incredible $150 Million
agwilson/Shutterstock
Snoop Dogg has never been a man to rest on his laurels. He enjoys pushing himself further to continue to excel. As he stated in a 2011 interview (via TheCelebFactory on YouTube), "my career, my music life, my movie life... just business in general... [I'm] just trying to get bigger and better as I go."
Business is the key factor, it seems, and the icon has his fingers in a lot of pies. As Film Daily reports, he created the studio Snoopadelic Films in 2005. The Snoopermarket states that the company creates musicals and movies on the life and works of — you guessed it — Snoop Dogg. There's also his company Leafs, which offers a wide and varied selection of cannabis. In short, if there's a cause close to his heart (recreational drugs and himself, to name two), Snoop has dedicated some of his fortune to a business promoting it.
Music remains his biggest passion, however. He's still a tremendous crowd-pleaser, as he made clear at the Super Bowl half time show in February 2022. Prior to the performance, he told the Associated Press, "We're just going to wait for that moment and put something together that's spectacular, and do what we're known for doing and add on to the legacy." There's no doubt that he did just that, and will continue to enjoy his place atop the hip-hop food chain.