How Aileen Wuornos Was Finally Caught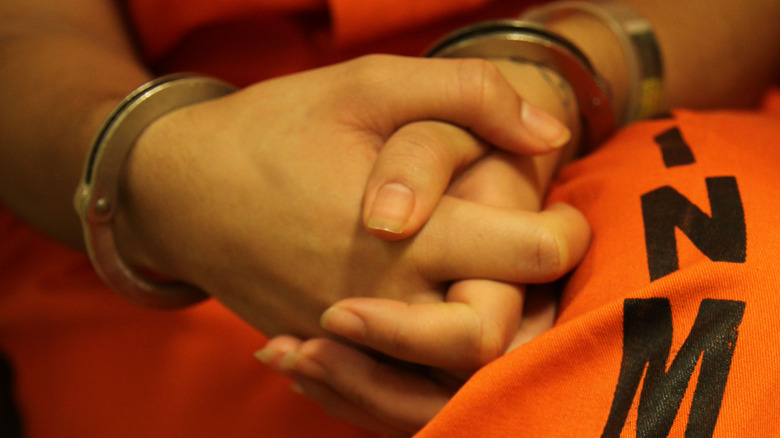 Lee Ph/Shutterstock
Deemed the first ever female serial killer by the press after her arrest, Aileen Wuornos became something of a cult hero in addition to being an infamous murderer. A childhood victim of abuse and sexual assault, a number of onlookers sympathized with Wuornos' troubled, tortured upbringing and pleaded for mercy on her behalf (per Vice). However, despite asserting that the six men she murdered were killed in self-defense — a testimony she later rescinded — a jury found her guilty of first degree murder in 1992 and she was placed on death row (via Britannica).
Wuornos was a sex worker along Florida highways at the time of her arrest. Biography reports that her victims were primarily men who had picked her up with intention to engage in the sexual services she was offering. Her killing spree began in 1989 and ended just before authorities apprehended her in January of 1991.
Her arrest and conviction
Police and investigators were already in pursuit of someone they believed was responsible for the killings, but no tangible leads were within view for some time. It wasn't until they discovered the abandoned vehicle of a missing man, Peter Siems, that contained fingerprints and palm prints belonging to Wuornos that they finally had a suspect and sufficient means to identify her and track her down (she'd been using a number of aliases). Authorities apprehended her at a local bar in Port Orange, Florida and took her into custody. While evidence was still too weak to draw a connection between her and the victims, Wuornos' girlfriend and accomplice, Tyria Moore, had been arrested in Pennsylvania around the same time Wuornos was taken by police in Florida. After agreeing to a plea deal from legal entities, Moore extracted a confession from her girlfriend over the phone and Wuornos was officially charged (per Biography). 
Despite several pleas on the basis of insanity, Aileen Wuornos was convicted of first degree murder and received the death penalty. She died by lethal injection on October 9, 2002 in a Florida prison.