Why James Dean's Car From His Fatal Crash Is Said To Be Cursed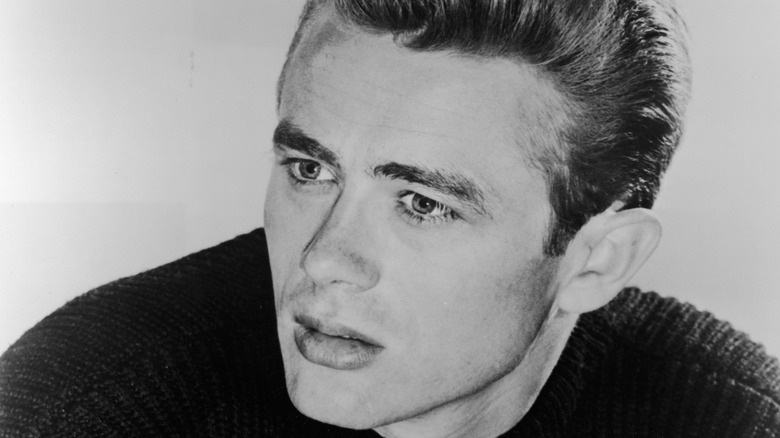 Hulton Archive/Getty Images
James Dean was once America's ultimate heartthrob. He was handsome, charismatic, and was possibly on his way to becoming one of the biggest Hollywood stars ever, as the Sunday Post notes. Prior to his tragic death in 1955, the original rebel without a cause reportedly had quite the predilection for anything that went fast, according to Skoda Motorsport. As history already knows, it was a deadly car crash that took the life of the young star. The now-legendary story of his fatal automobile accident has become a tale of fearless youth, unapologetic angst, and poetic tragedy. Also, a curse could have been involved as well. Wait ... what?
Maybe it's merely an urban legend, maybe it's real. According to History, Dean's infamous Porsche 550 Spyder – nicknamed "Little Bastard" — has a peculiar saga of its own that extends beyond the life of its original owner. The iconic car, after being totaled in the wreck, was sent off to a repair shop owned by one George Barris. Following its arrival, Barris reportedly wound up cleaning more than just motor oil off the floor of his shop — there was some blood to attend to as well. 
The curse of Dean's car
There were several instances of inexplicable misfortune that George Barris noted after he started working on Little Bastard. The car reportedly trundled off the ramp and crushed the legs of a shop employee the moment after it arrived at Baris' shop — luckily, the man wasn't killed. After a thief broke in and tried to nab the steering wheel, he slipped and broke his arm on the way out. Barris also said that those who bought parts from the car mysteriously wound up in lethal wrecks themselves (per History). 
One such tragic case took place when professional racer Troy Lee McHenry added Little Bastard's suspension system to the apparatus of his own Porsche for a race in 1956, a year after James Dean's death. Shortly after the race began, McHenry slid off the track and collided with the only tree on the racetrack. He was killed upon impact. Several other deaths have been loosely attributed to the legendary Porsche Spyder. And, in 1960 the car went missing while being transported from Miami to Los Angeles. Its whereabouts remain unknown (via Motorious). Curse or no, that is pretty weird.