The First Song Led Zeppelin Ever Played Together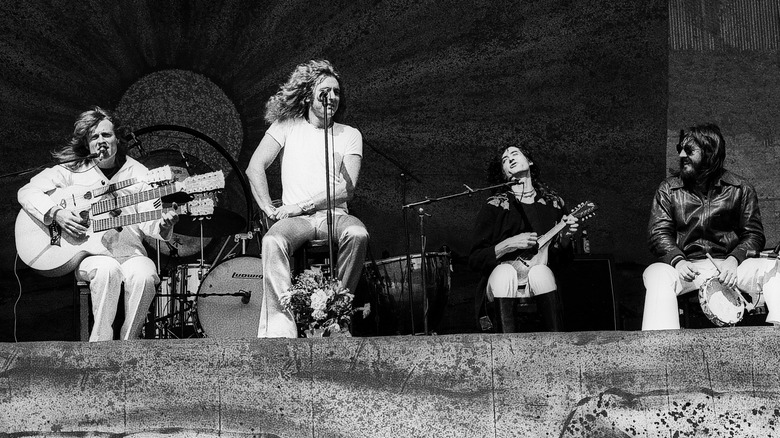 Larry Hulst/Michael Ochs Archives/Getty Images
The endless roster of Led Zeppelin songs is something you can easily get lost in. Between "Kashmir," "When the Levee Breaks," "Stairway to Heaven," and beyond, fans certainly have no shortage of tunes to rock out to. Since their formation in 1968, the legendary rock 'n' roll band has toured the globe countless times over and sold more than 300 million records worldwide, making them one of the most successful and iconic groups of all time (via Forbes). 
Despite being a titanic force within the British Invasion that descended upon the United States in the 1960s, Led Zeppelin had a genuine appreciation for American blues and soul music. In fact, the first time they played together, they launched into a supercharged, impromptu version of the 1951 classic, "Train Kept A-Rollin,'" by Tiny Bradshaw. The convergence took place in a small practice room on Gerrard Street in the West End of London on August 12, 1968 (via Ultimate Classic Rock). 
Train Kept A-Rollin'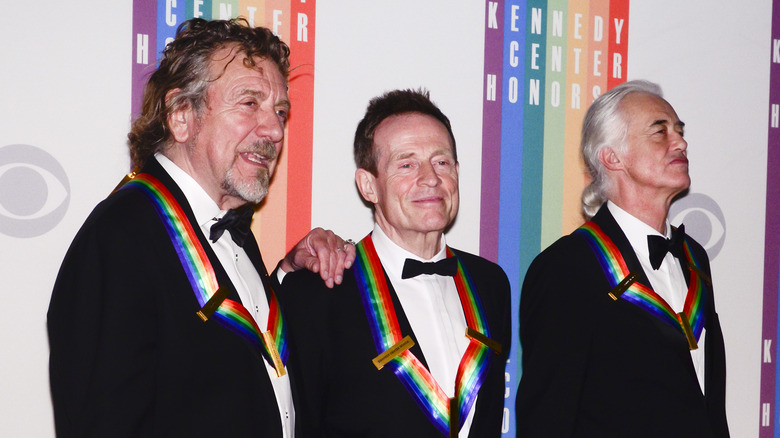 Kris Connor/Getty Images
Bassist John Paul Jones said, "We first played together in a small room, a basement room. There was just wall-to-wall amplifiers and a space for the door — and that was it. Literally, it was everyone looking at each other — 'What shall we play?'" (per Ultimate Classic Rock). Up until that point, guitarist Jimmy Page had been performing alongside musicians Eric Clapton and Jeff Beck in The Yardbirds. "Train Kept A-Rollin'" was one of the group's more popular go-to songs during their concerts and appeared on their 1965 album, "Having a Rave Up with The Yardbirds," as Song Facts notes.
Singer Robert Plant said of his first jam with what would become the legendary Led Zeppelin, "It felt like we'd found something that we had to be very careful with because we might lose it. But it was remarkable, the power." Page added, "At the end, we knew that it was really happening, really electrifying" (via Ultimate Classic Rock).