Kat Von D's Indiana Mansion Is Said To Be Haunted. Here's What We Know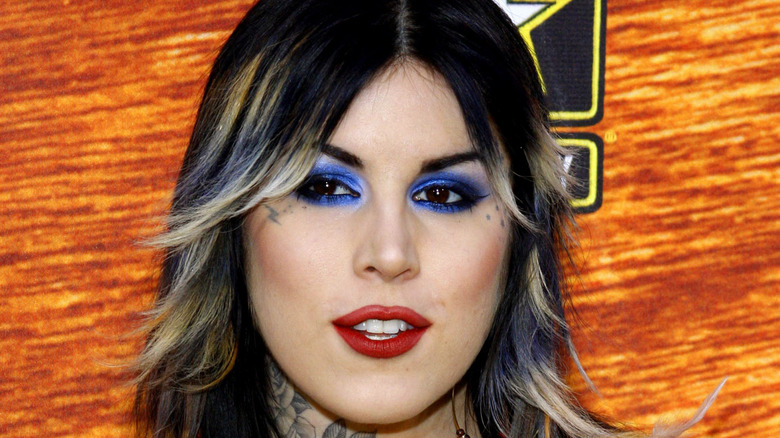 Tinseltown/Shutterstock
Renowned tattoo artist and beauty guru Kat Von D is leaving Los Angeles for good. According to USA Today, Von D made the announcement on Instagram in October 2021. This news came nearly a year after she purchased a historical home in Vevay, Indiana. Although Von D did not cite specific reasons for her relocation in her Instagram post, she did note that the midwest feels more like "home" to her than Los Angeles. With that said, she also stated she would be closing her famed studio, "High Voltage Tattoo," and would most likely be opening a new studio in Indiana (via WLWT).
Von D is also saying goodbye to her gothic-inspired Victorian mansion. Insider reports that the Los Angeles home was built in 1896 and is anything but subdued. It features a blood-red pool, a library, a grand lounge, and much more. In January 2022, Von D listed the intricately detailed property for $15 million.
Per the Courier & Press, she bought her new Vevay, Indiana, home in December 2020, and it was listed at nearly $2 million. At the time, Von D stated that she had bought the property as she wanted to get away from California's "tyrannical government" without selling her LA home (per Yahoo!). Now listed on the National Register of Historic Places, Von D and her family might not be the Indiana mansion's only occupants.
Kat Von D's new home is 147-years-old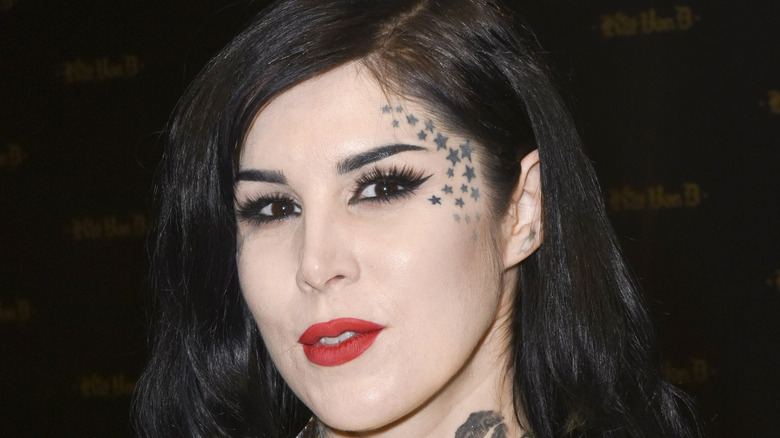 Vivien Killilea/Getty Images
According to Loudwire, Kat Von D's Indiana home is known as the Shenck Mansion. Courier & Press reports that the property has a whopping 35 rooms and sits on 10 acres. It has previously been used as a bed and breakfast and for rental apartments. Per the South Bend Tribune, Vevay, Indiana, is a small river town located on the Indiana-Kentucky border. Both Cincinnati and Louisville are only an hour away.
As for its hauntings, former innkeeper Michele Thompson, who was there when the property was a bed and breakfast, stated that things "just ... happen" (per Visit Indiana). The mansion has had a long history and sat empty in the early 1900s. By 1923, the Schenck family allowed the Indiana Baptist Convention to use the home. In 1945, it was sold to the Wiseman family. All in all, the mansion has gone through several owners throughout the 20th century.
Cincinnati Refined writes that one former owner, Lisa Fisher, said the mansion is home to seven ghosts. She told the publication that they are "wonderful souls" who don't mean to intentionally scare anyone. They include a young woman named Sarah, a soldier, an older woman, and even Benjamin Schenck himself. Despite this, Fischer said her unusual living circumstances were "not at all" scary. Perhaps Von D agrees.