Inside Elton John And David Furnish's Marriage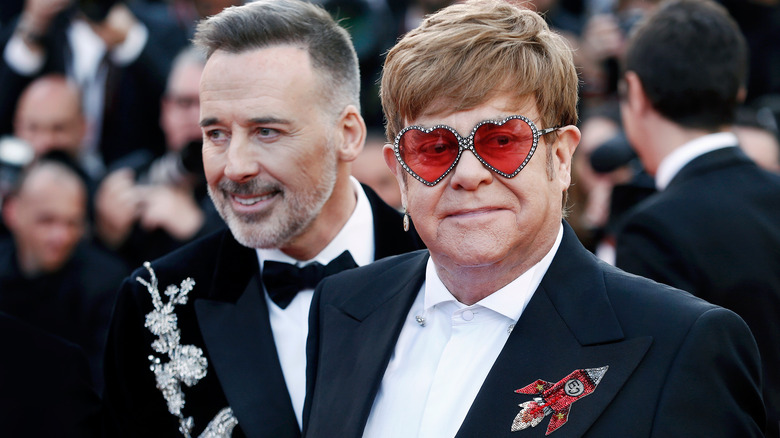 Andrea Raffin/Shutterstock
It was love at first sight — almost. Singer Elton John and David Furnish, a former advertising executive and TV producer and filmmaker, met at a dinner party in 1993. "I was attracted to David immediately. He was very well dressed, very shy. The next night we had dinner," John said to Parade in 2010. "... We fell in love very quickly." 
For John, the relationship was different that the ones in his past. "He had a real job, his own apartment, a car," he said to the publication. "He was independent. I didn't need to take care of him. I thought, 'God, this is new territory for me—someone wants to be with me just because he likes me.'" The couple, who are raising two children, are still together after almost three decades. John and Furnish work hard at maintaining their connection. "Every Saturday for 16 years, we've sent each other a card, no matter where we are in the world, to say how much we love each other," said John.
Furnish never minded John's fame, said Biography. Furnish accompanied John to parties and events, and used John's life as an inspiration for his own work, making his directorial debut in 1997 with a TV documentary, "Elton John: Tantrums and Tiaras," which received a BAFTA award nomination. He also co-produced "Rocketman," a biopic about John, starring Taron Egerton. Furnish also produced movies like "Gnomeo & Juliet" and "It's a Boy Girl Thing." Both John and Furnish are passionate about activism, too.
Marriage and parenthood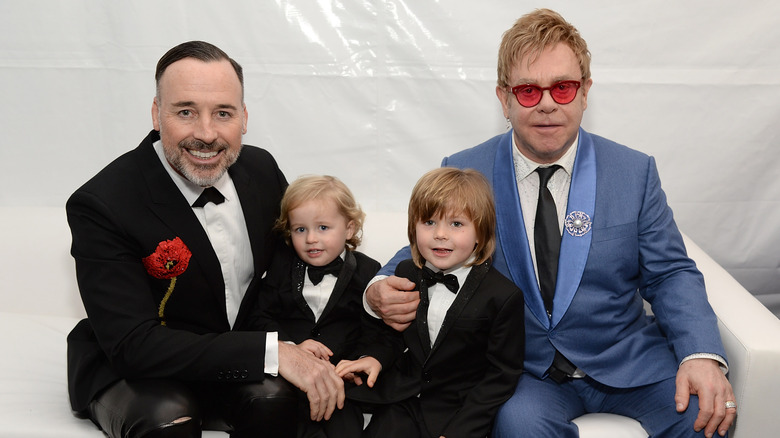 Michael Kovac/Getty Images
The Elton John AIDS Foundation supports various HIV programs around the globe and has raised more than $400 million for the cause, said Biography. Furnish is committed to cause as much as John, and serves on the organization's board. Furnish and John solidified their relationship with a 2005 civil partnership ceremony in England. When Britain legalized same-sex marriage in 2014, the couple changed their status from partnership to marriage, getting hitched on December 21, the date of their first official union. "When we married in 2014, it felt like that fact was accepted by the world," John wrote on his Instagram in 2017. "For David and I, being able to openly love and commit to one another, and for that to be recognized and celebrated is what makes life truly worth living."
The two began thinking about parenthood during a 2009 trip to the Ukraine, in which they visited HIV-positive children in an orphanage. They met a 14-month-old boy that they tried, but failed, to adopt. "He stole our hearts," John said to Parade. The country wouldn't approve the paperwork because of John's age and the fact that the country didn't consider the couple's marriage legal.
John and Furnish continued their quest to become parents, and their son, Zachary Jackson Levon Furnish-John, was born in 2010 through a surrogate. Elijah, their second son, entered the world on January 11, 2013, via the same surrogate. "She is a wonderful, kind, and loving woman," said John in The U.S. Sun.
Ups and downs, but still standing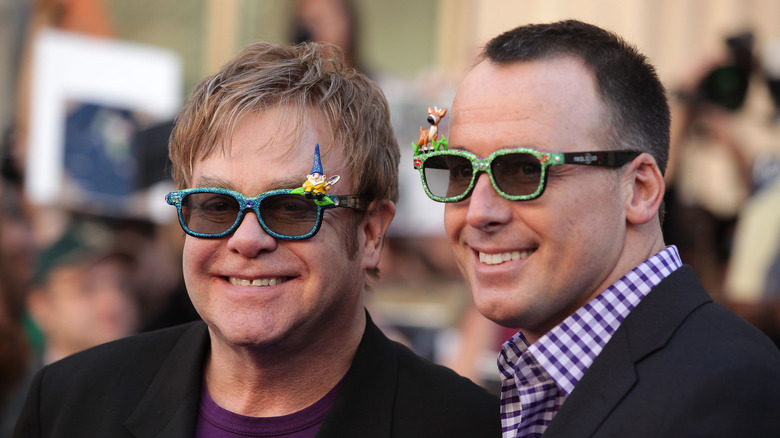 DFree/Shutterstock
"It's fantastic being a dad," John said to The U.S. Sun. "Ten years ago if you'd have told me that, I'd have said you're crazy." John also told the media organization that he expects not to have any more children with Furnish. "That's it," he said, "I mean, we're too old to have any more. If we were 20 years, 15 years younger, we'd have probably had another one at least. But with the boys we've got enough on our hands."
The couple hopes to offer their children a normal life, said Good Housekeeping, and plan to encourage them to have a good work ethic so they can create their own careers. "Our life is the same as anyone else's," Furnish said to CTV News (posted on YouTube). "You know, sitting around the breakfast table, looking at the newspapers, drinking coffee, watching television, playing with the dogs, and playing with the kids."
Rumors cropped up last year about the couple divorcing, reported Music Times, with some blaming John's hectic schedule as a cause. Nothing definite seems to be problematic in the marriage. John, in fact, told Beats 1's Zane Lowe in an interview quoted in People that his relationship with Furnish only gets "better and better" with time despite their "ups and downs like every other couple." The two work on their marriage and the result is that "our love has grown stronger and stronger."