Why Lauren Bacall Says She Was Lucky To Have Married Humphrey Bogart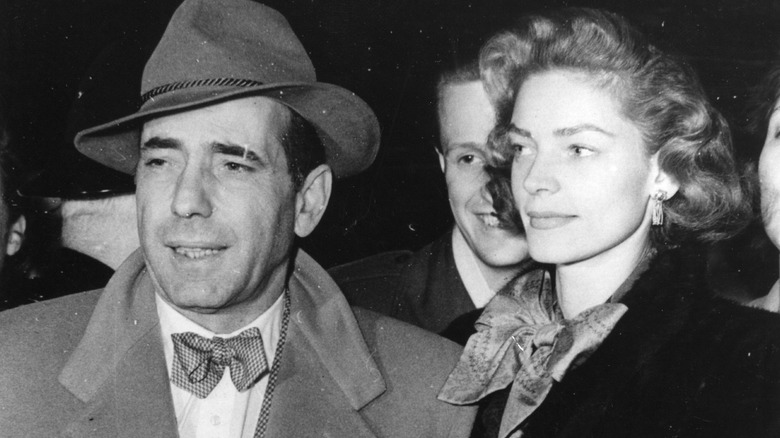 Keystone/Getty Images
Humphrey Bogart and Lauren Bacall were a famous Old Hollywood couple married for just 11 years, until Bogart's death in 1957. An unlikely pair with 25 years between them, their real-life romance grew alongside a string of popular costarring roles in the 1940s. But the relationship between this impressionable young actress and a beleaguered noir superstar was fraught with trouble from the start. Nevertheless, Bacall considered herself a lucky woman to be with Bogart even for a short while. According to Biography, she remarked in her memoir that "no one has written a romance better than we lived it."
During their relationship, the two actors starred opposite one another in four feature films that helped define the sultry noir and thriller styles of their era. Even late in her life, Bacall fielded questions about her marriage to Bogart with grace and gratitude. "What happened to me then sometimes happens to people when they're older," she once said, per Biography. "And sometimes never happens. So I feel lucky that I had it at all."
Bacall overcame her nerves with Bogart's help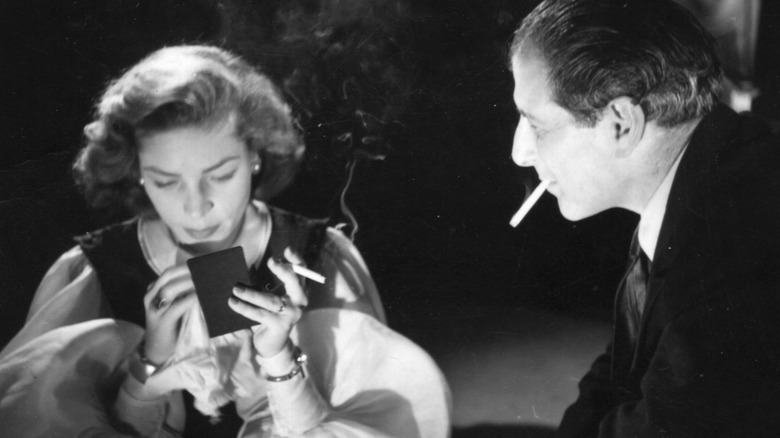 Baron/Getty Images
Much like a classic romantic comedy, Lauren Bacall didn't much like Humphrey Bogart when she met him in 1943. A drama student and fashion model, Bacall was just 19 when she landed in Hollywood to star in "To Have and Have Not" opposite a 43-year-old Bogart.
At first, the prospect of working with the famed "Casablanca" star was a disappointment. After all, Bogart was an older established talent who was known more for his hardboiled detective roles and etched-in-stone face than for his warm demeanor. Bacall felt no spark between her and her costar, and her nerves overwhelmed her on set. But Bogart was an encouraging presence for the young actress, offering helpful tips for her in her debut role. Bacall's signature gaze — a chin down, eyes up glance soon known as "The Look" — blossomed from a little technique she used to hide her nervous tremors.
Off-screen love leads to marriage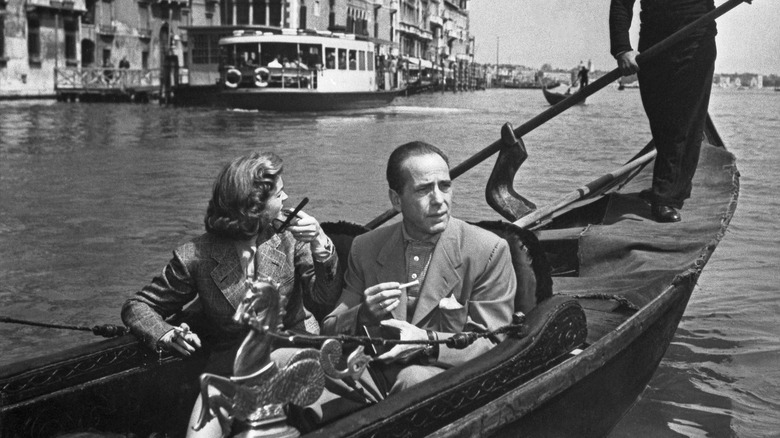 Archivio Cameraphoto Epoche/Getty Images
Lauren Bacall and Humphrey Bogart lit up the screen in their first shared billing. Per Biography, their chemistry was so strong that director Howard Hawks made the surprising choice to alter the script to focus more on the actors' on-screen romance. Within two years, their Hollywood affair transformed into a real-life tryst between Bacall and the star 25 years her senior — a married man.
As the pair reunited for 1944's "The Big Sleep," outside tensions threatened their relationship. Bacall's mother was concerned with her daughter's attraction to the thrice married Bogart, and Bogart himself was regrettably devoted to his current violent marriage with the alcoholic actress Mayo Methot. Worse still, Bacall was fending off threats from director Hawks, who was also on board for "The Big Sleep" and was trying to convince the actress by any means necessary to distance herself from Bogart.
In the end, Bogart made the decision to confront Hawks directly and divorce his wife. He and Bacall were married in 1945 in Ohio. But while the pair collaborated on two other films, once Bacall gave birth to two children she put her career on hiatus. While Bogart was "an old-fashioned man" who insisted his new partner be a housewife, Bacall said she didn't regret the brief retirement. She told Elle in 2014, "[T]hank God I did put our marriage first, because it didn't last too long."