Who Is The President Of Ukraine?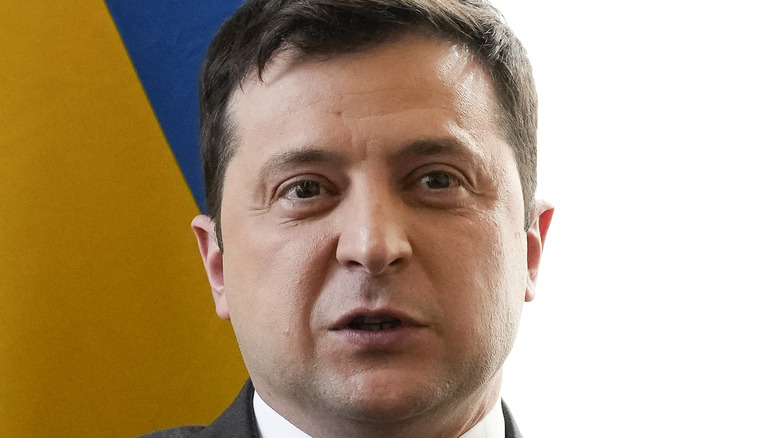 Pool/Getty Images
Ukraine is a country that has found itself in the headlines quite frequently in recent memory, and often accompanying these stories is the name of the nation's president, Volodymyr Zelensky. According to Britannica, Zelensky was elected as Ukrainian president in 2019, and the career trajectory that led him to the office is surprising. Before becoming president, Zelensky had no prior political experience and was known as one of Ukraine's most popular comedians and actors. 
He was born in Kryvyy Rih, Ukraine, which at the time of his birth on January 25, 1978, was part of the Soviet Union. During his childhood, Zelensky's family spent several years living in Erdenet, Mongolia, but they returned to Ukraine, and he began schooling in his native country. Zelensky went on to graduate with a law degree from Kiev National Economic University in 2000, but he instead chose to pursue a career in entertainment.
Zelensky's comedy career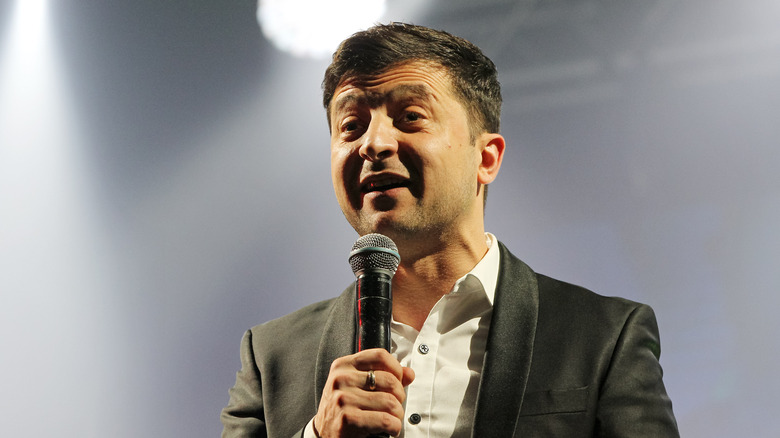 viewimage/Shutterstock
While still in college, working toward his law degree, Volodymyr Zelensky started dabbling in theater. Over time, his theater dabblings took over as his primary focus, and he went from being a law student moonlighting as a comedian to becoming a comedian who happened to have a law degree. His comedy group, Kvartal 95 — which was named after the neighborhood where he grew up — appeared on a Ukrainian televised improv comedy competition called "KVN." Zelensky and Kvartal 95 continued appearing on the show until 2003 (via Britannica).
Zelensky and his comedy partners started an entertainment company called Studio Kvartal 95, which became one of Ukraine's most successful. He served as the studio's artistic director until taking a job as head producer for a Ukrainian television channel, Inter TV — a job that only lasted a year before he and Kvartal 95 struck a deal with another network.
Amid political unrest in Ukraine, the Zelensky led series "Servant of the People" premiered in 2015. In the series, Zelensky plays a history teacher who becomes an unlikely president after a student posts one of his lectures in which he rails against the corruption facing the nation. The show was a huge hit, and it may also go down as political history's greatest example of life imitating art.
Zelensky's ascension to the presidency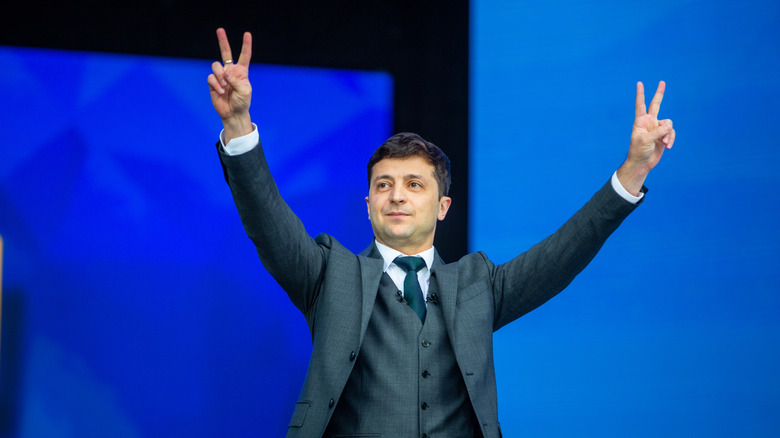 Alexey Lesik/Shutterstock
It looked as though the 2019 Ukrainian presidential election would be a cakewalk for incumbent president Petro Poroshenko, but on New Year's Eve 2018, Zelensky announced that he would be entering the crowded field of presidential candidates, per Britannica. Almost immediately, he became one of the front-runners. He ran as a member of  "Servant of the People," a political party named after his hit show that he and Kvartal 95 had registered before his announcement.
Zelensky used his show's anti-corruption message as his platform, and the Ukrainian people ate it up. He defeated Poroshenko in a landslide. According to his official government bio, Zelensky was sworn in as the 6th President of Ukraine on May 20, 2019. Just a few months later, Zelensky found himself all over international headlines when a telephone conversation he had with United States President Donald Trump became a central piece of an impeachment inquiry by the United States House of Representatives.
Zelensky is married to Olena Zelenska, and the couple has two children.