Ukrainian President Volodymyr Zelensky Has A Message For Citizens Of Russia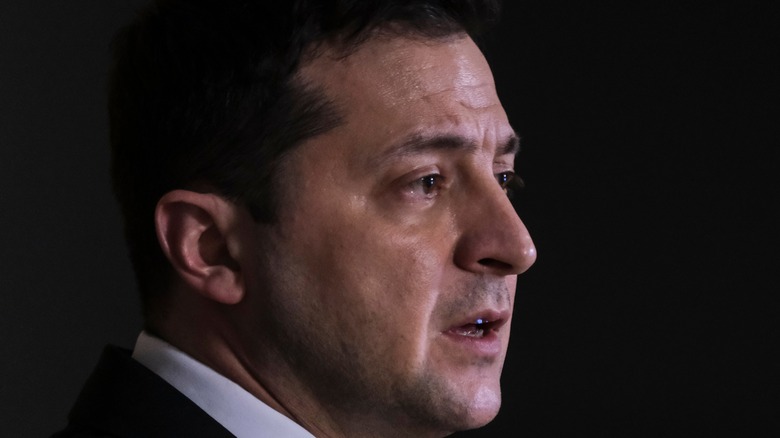 Alexandros Michailidis/Shutterstock
In the early stages of Russia's invasion of neighboring Ukraine, Ukrainian President Volodymyr Zelensky took to television — a medium he has great familiarity with after years spent as an actor and comedian — to deliver an emotional message to the citizens of Russia.
According to an NBC News transcript of the Ukrainian president's remarks, Zelensky opened by mentioning how he had attempted to contact Russian President Vladimir Putin. "Today I initiated a phone call with the president of the Russian federation. The result was silence. Though the silence should be in Donbass." Donbass is an industrial and mining region in eastern Ukraine, which Russia laid claim to in February 2022, per Reuters.
He continued, warning Russian citizens of the grave repercussions of their nation's actions: "That's why I want to address today the people of Russia. I am addressing you not as a president, I am addressing you as a citizen of Ukraine. More than 2,000 km of the common border is dividing us. Along this border your troops are stationed, almost 200,000 soldiers, thousands of military vehicles. Your leaders approved them to make a step forward, to the territory of another country. And this step can be the beginning of a big war on European continent. "
Zelensky stated that the Ukrainian people are prepared to defend themselves against Russian forces.
Zelensky assured Russian citizens that Ukraine doesn't present a security threat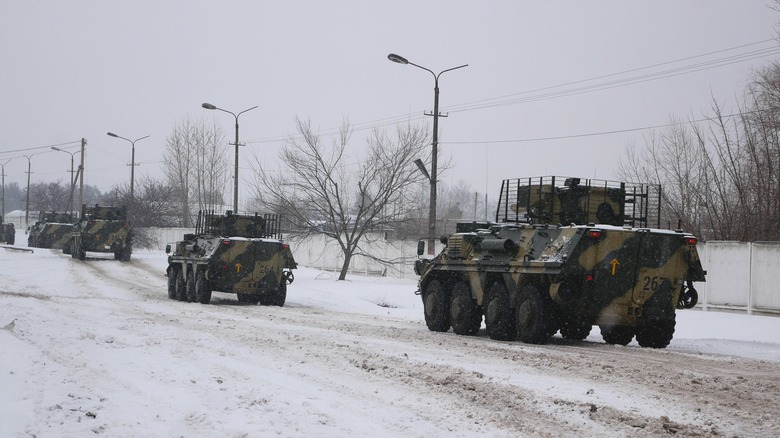 Seneline/Shutterstock
President Volodymyr Zelensky used his address to try and quash the arguments Russian citizens may have been told by their government as justification for the invasion of Ukraine (via NBC News).
"They told you that Ukraine is posing a threat to Russia," he said. According to Zelensky, this is not — and has never been — true. The leader claimed that the security guarantees Russia is demanding from NATO mirror the guarantees that Ukraine wants from the Kremlin. He went on to reiterate that his country's goal is to maintain peace. "For that we are ready to have talks with anybody, including you, in any format, on any platform," he said.
Zelensky closed his address with one last appeal to the Russian people, even acknowledging the unlikelihood that his remarks would be broadcast within the country: "I know that they [the Russian state] won't show my address on Russian TV, but Russian people have to see it. They need to know the truth, and the truth is that it is time to stop now, before it is too late. And if the Russian leaders don't want to sit with us behind the table for the sake of peace, maybe they will sit behind the table with you. Do Russians want the war? I would like to know the answer. But the answer depends only on you, citizens of the Russian Federation."