Vladimir Putin Received Controversial Praise From Donald Trump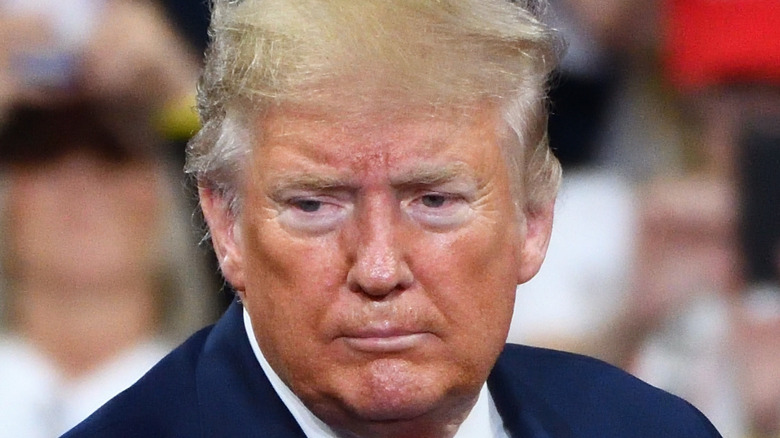 Evan El-Amin/Shutterstock
During the first hours of Russia's 2022 invasion of Ukraine, former U.S. President Donald Trump appeared on the conservative radio program, "The Clay Travis and Buck Sexton Show," for an interview. The three men's conversation covered a variety of topics, notably the unfavorable comparison of Joe Biden's administration to his own. None of this was unusual or particularly controversial. However, what Trump said about the war in Ukraine shocked some of the show's listeners. 
Referring to Russian Vladimir Putin's recognition of Ukrainian cities Donetsk and Luhansk as independent countries, Trump said, "I went in yesterday and there was a television screen, and I said, this is genius. Putin declares a big portion of the Ukraine — of Ukraine. Putin declares it as independent. Oh, that's wonderful."
Donetsk and Luhansk are regions of eastern Ukraine, heavily Russophone and sometimes alienated from Kyiv and the west, as Time explains. In 2014, Putin armed and encouraged an insurrection in Donetsk and Luhansk, leading to eight years of low-grade civil war; he occupied Ukraine's strategic Crimean Peninsula that same year. The 2022 Russian invasion of Ukraine began with Putin's formal recognition of these regions as countries, as well as moving Russian troops into them to prepare for the next phase of the assault. 
Contradictory statements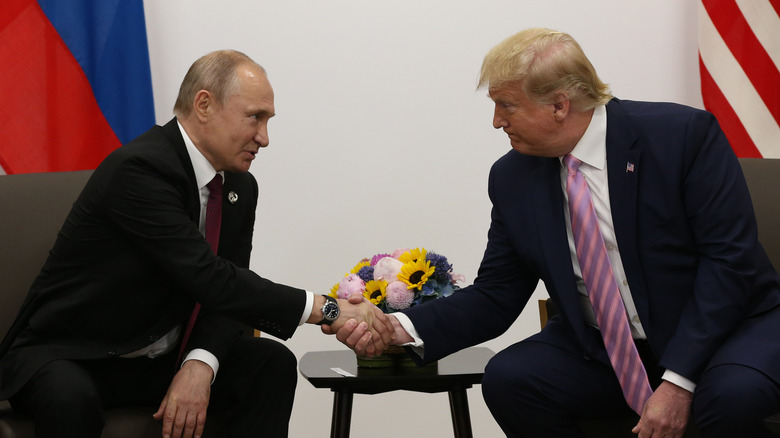 Mikhail Svetlov/Getty Images
Trump would go on to refer to Putin as "very savvy" and that "I know him very well, very, very well." His comments earned the censure of some his fellow Republicans, like Congress members Liz Cheney and Adam Kinzinger (via the Guardian) and former national security advisor H.R. McMaster (via The Hill). But others have joined the former president in his tacit support of the invasion, including Fox News personality Tucker Carlson.
Trump has never been afraid to demonstrate his affection for Vladimir Putin, a former prime minister and four-term Russian president, even well before his own one-term presidency. In 2013, he tweeted, "Do you think Putin will be going to The Miss Universe Pageant in November in Moscow –- if so, will he become my new best friend?" (per Yahoo! News).
However, between 2013 and his election in 2016, Trump made a variety of contradictory statements about the Russian, including that he knew him well, that he didn't know him at all, that he would be tough on Putin as a president, and that the two could and should be friends. Then, in 2016, rather than state an opinion about Putin, Trump told attendees at one of his rallies that he had the endorsement of Putin.  
According to CNN, he said, "I have no relationship with him other than he called me a genius. "He said, 'Donald Trump is a genius ... he's going to be the leader of the world,' or something."