What Was The Result Of Joe Biden's Latest Meeting With Vladimir Putin?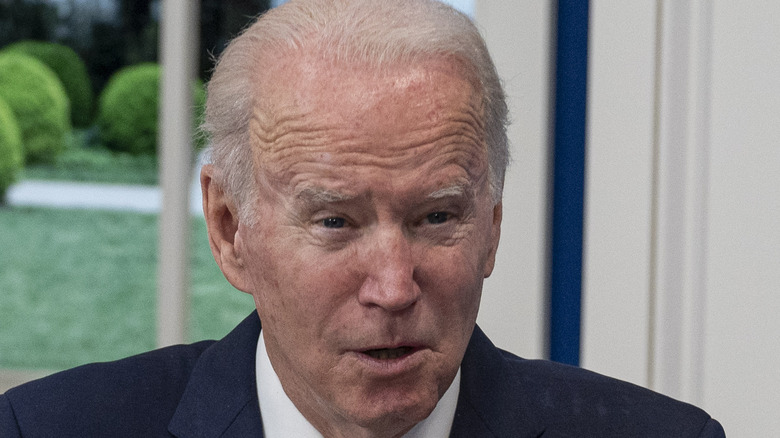 Bloomberg/Getty Images
When Vladimir Putin invaded Ukraine in February 2022, world leaders scrambled to their conference rooms to try to come up with something like a consistent response. The European Council rushed to organize a summit 48 hours after the war began (per ABS-CBN News). Before that, leaders of the G7 countries — France, Italy, Germany, the U.S., the U.K., Canada, and Japan — met with European Commission President Ursula van der Leyen and NATO Secretary-General Jens Stoltenberg the morning after war broke out (via Reuters). U.S. President Joe Biden was on the Thursday morning call, and later spoke directly with Ukrainian President Volodymyr Zelensky by phone.
But just before the breakout of violence, on February 12, Biden and Russian President Vladimir Putin spoke directly by phone. According to the White House, it was their first live talk since December 2021, when they discussed "a range of issues on the U.S.-Russia agenda."
Threats and promises
Drew Angerer/Getty Images
The February call, as described by a White House readout, built on their December discussions, specifically Biden's firm reaffirmation of support for Ukrainian sovereignty. Biden reiterated his early threat of "strong economic and other measures in the event of military escalation," saying this time that the U.S. and its allies would "respond decisively and impose swift and severe costs on Russia."
Stronger still was the implication that Biden was prepared to send materiel or even troops to Ukraine. "While the United States remains prepared to engage in diplomacy," reads the briefing, "we are equally prepared for other scenarios."
Putin had begun amassing troops on the Ukrainian border just as, or just before, the two leaders spoke in December. CBS News, for example, reported on the movement of well over 100,00 Russian troops only two days after the call on December 9. However, unlike the February call, the December call covered more than just Ukraine. The two men discussed ransomware, an endemic problem in Russia (per Dark Reading), and the two countries' Iran policy.