How Many Pets Did George Washington Have?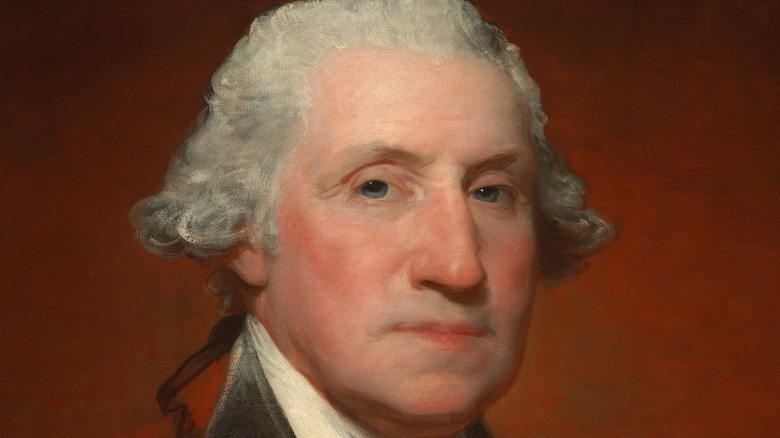 Heritage Images/Getty Images
From Richard Nixon's dog Checkers to Joe Biden's German shepherd Commander, presidential pets are a long-standing tradition; Theodore Roosevelt even counted a bear as one of his many pets in the White House. In fact, as Alabama Public Radio points out, pets in the White House have outnumbered presidents almost 10 to 1.
When did the tradition of presidential pets begin? Well, with George Washington. Though he didn't live in the White House, Washington owned an impressive assortment of pets at his Virginia plantation, Mount Vernon, and it's nearly impossible to count how many. Even the organization that preserves Washington's Mount Vernon does not attempt a count, simply stating on its website that the first president had "many horses," along with dogs, cattle, and mules.
Washington's mules were the result of gifts from heads of state and dignitaries abroad. Royal Gift was a donkey presented to Washington by Charles III, the King of Spain, and the Knight of Malta was a donkey from the Marquis de Lafayette. Both of these donkey stallions were bred with Washington's horses to produce sturdy mules to work American farmland. This is how Washington earned the unlikely nickname "Father of the American Mule" as well as "Father of the Country."
Horses and hounds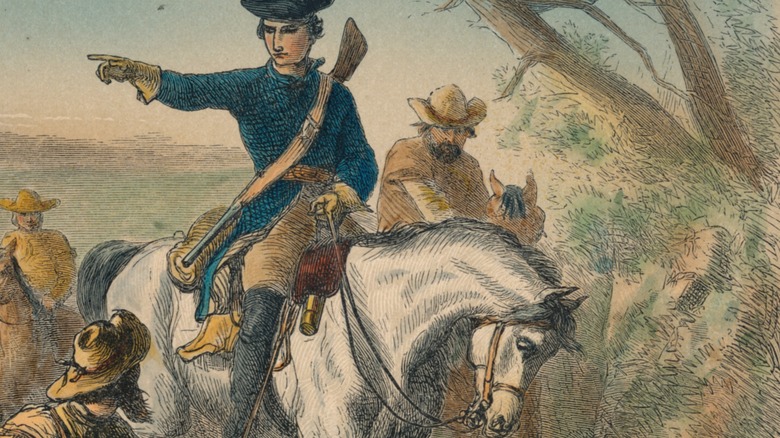 Print Collector/Getty Images
George Washington's horse Nelson was already in retirement by the time Washington was president, according to Alabama Public Radio. But Nelson had earned his retirement as a warhorse — he was the horse Washington rode as he accepted the British resignation in Yorktown, Virginia, at the end of the Revolutionary War. After that day in 1781, Washington never rode Nelson again.
An avid horseman, Washington rode both for work (whether on the battlefield or surveying crops) and pleasure, according to George Washington's Mount Vernon. He also loved fox hunting, a sport that is traditionally done on horseback with hounds. In fact, it was Washington's passion for fox hunting that made him interested in breeding dogs, according to historian Heather Voight. He developed a new breed of American foxhound ⁠— crossing a large hound given to him by the Marquis de Lafayette with one of his own Virginia hounds ⁠— and wrote (via Heather Voight) that his goal was to create "a superior dog, one that had speed, scent, and brains."
Tipsy, Tiplar, and Drunkard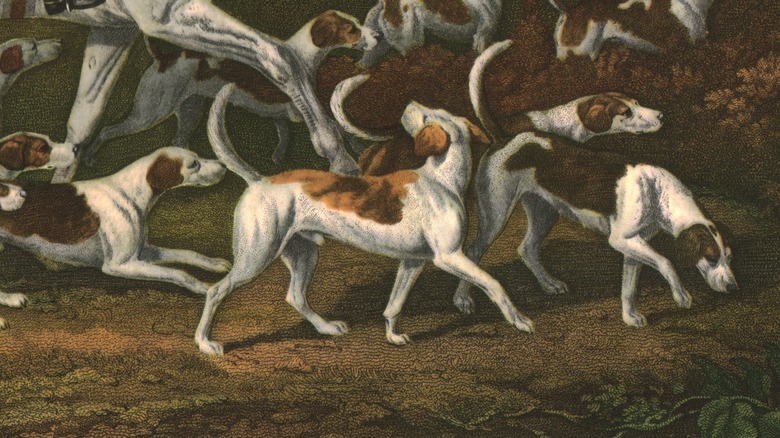 Print Collector/Getty Images
George Washington had many dogs at Mount Vernon, and each one had its own job to do. His terriers were good at hunting rats around the plantation, according to historian Heather Voight. A poodle named Pilot was the preferred companion on duck-hunting expeditions, while the Black and Tan hounds were working and hunting dogs, known for their skill in hunting raccoons. 
Washington had several Black and Tan hounds with names like Tipler, Tipsy, and Drunkard, as well as three Staghounds named Scentwell, Vulcan, and Sweet Lips. These large hunting dogs looked like a cross between a Greyhound and Scottish Deerhound. Elsewhere, the former president had a Dalmatian named Madame Moose. Voight points out that Washington, a well-known enslaver, did not let the people he enslaved own dogs, and any dogs found in their quarters were confiscated and hanged.
The history of dogs at Mount Vernon can be explored on a special tour for dog lovers, according to Alabama Public Radio. Today, dogs are allowed at the National Historic Landmark, provided they are on a leash.