The Truth About SNL's Controversial Vladimir Putin Skit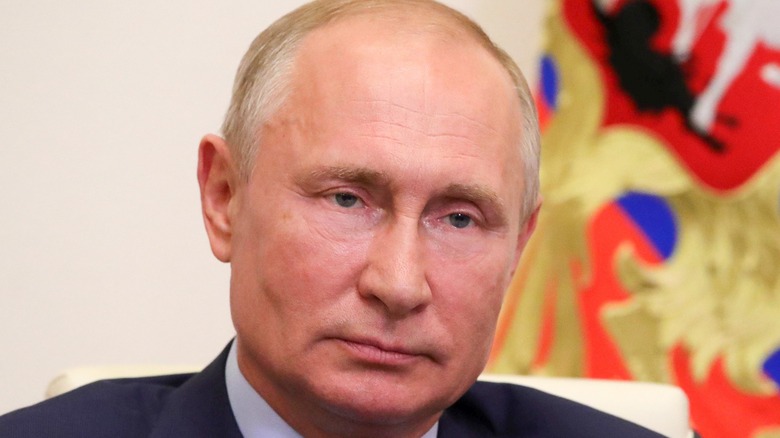 Photographer RM/Shutterstock
Political satire from the long-running, late-night comedy show "Saturday Night Live" dates all the way back to the Watergate scandal, as Hollywood Insider reports. More recently, Alec Baldwin gave the venerable series a much-needed ratings boost when he lampooned then-President Trump (per CNN). With Biden now in the White House and Russian forces massed on the border neighboring Ukraine, the January 29, 2022 "SNL" episode hosted by actor Willem Dafoe offered its own comical take on the crisis. Even though Russia had yet to invade at the time that the episode aired, the satire could have gone farther, according to one Atlantic staff writer. And with Russian troops now on the ground in the country, the point is particularly relevant.
The "SNL" episode in question was not without funny moments. It touched on the Ukraine crisis several times, most successfully in the show's iconic Weekend Update segment hosted by Colin Jost and Michael Che. It was in the show's signature cold open segment, though, that the real opportunity for political insight was lost, as the Atlantic writer insists.
The risks of war were not taken seriously
During the cold open to the January 29 "SNL" episode, President Joe Biden, played by cast member James Austin Johnson (pictured above), receives an update on Ukraine, but instead of serious satire of the real global calamity, SNL turned its sights on internet-based disinformation, much of which originates in Russia in the opinion of experts, via Politico. In what could be the worst ground war in Europe since World War II, the show seemed to say that memes and fake news are what we should be worried about, according to Spencer Kornhaber, an Atlantic staff writer. In his opinion, that was a miss.
Kornhaber also critiqued the segment's implication that America's best recourse in the Ukrainian conflict would be to enlist a teenage cyberbully to go after Putin. "'SNL"s focus on disinformation highlighted a real and salient tactic that Russia is using in its military buildup," Kornhaber wrote. "But the concept mostly just let the show clear out some unused ideas about other trending topics. The sketch itself also felt propagandistic at times: a pro-Russia commercial," he continued (per The Atlantic). After the Russian invasion of Ukraine took place, "SNL" did earn high marks for a cold open without any jokes at all, but instead a performance from a Ukrainian choir, according to USA Today.