The Famous Song Led Zeppelin Made Up On The Spot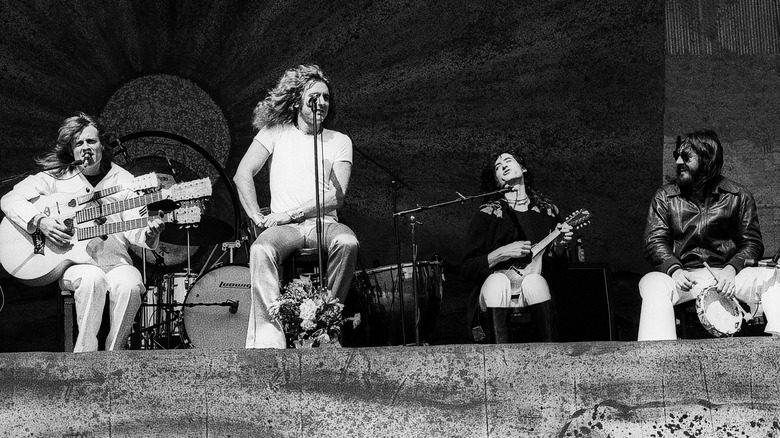 Larry Hulst/Getty Images
Led Zeppelin have inspired songwriters from all walks of life and music for many generations. The legendary British quartet gave birth to some of the most epochal and spellbinding rock songs in the history of modern music, as Rolling Stone notes. They are firmly placed within the annals of rock 'n' roll as an unrivaled force of artistic influence. 
As any musician knows, inspiration is a fickle thing. Sometimes, the perfect song just seems to present itself out of thin air, and other times one finds him/herself poking through the ashes of old ideas for hours in desperate pursuit of a creative place to start. It can be maddening, but when it strikes, it strikes. 
"The Battle of Evermore" is one of the band's most beloved tracks, and the story behind its conception is a perfect example of inspiration striking like a bolt of lightning. According to Jimmy Page, the two wrote the song on the spot without any idea as to what might follow the first few notes of a mandolin being strummed (via Far Out).  
The Battle of Evermore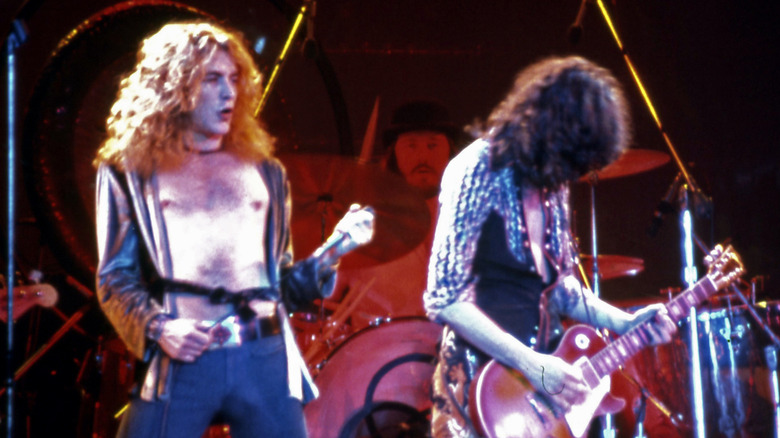 Bruce Alan Bennett/Shutterstock
Jimmy Page recalled, "'The Battle of Evermore' was made up on the spot by Robert (Plant) and myself. I just picked up John Paul Jones's mandolin, never having played a mandolin before, and just wrote up the chords and the whole thing in one sitting," (per Far Out). The five-and-a-half-minute track seems to drift and bloom into itself tenderly, and the lyrics read like a timeless medieval poem. It's astounding to think that such a supreme and finely crafted piece of music could forge itself so naturally without any attempt to consciously construct it — especially with two different minds at play at the same time. But, such was the case with "The Battle of Evermore."
Sound engineer Andy Johns recalls witnessing the experience from the outside-in: "The band was sitting next to the chimney in Headley, drinking tea, when Jimmy grabbed a mandolin and started playing. I gave him a microphone and stuck a Gibson echo on his mandolin. Jimmy had brought this stuff before and had asked me to take a look at it. Suddenly, Robert started singing and this amazing track was born from nowhere (via Song Facts).