Why Marilyn Monroe's Fans Were Upset Hugh Hefner Was Buried Next To Her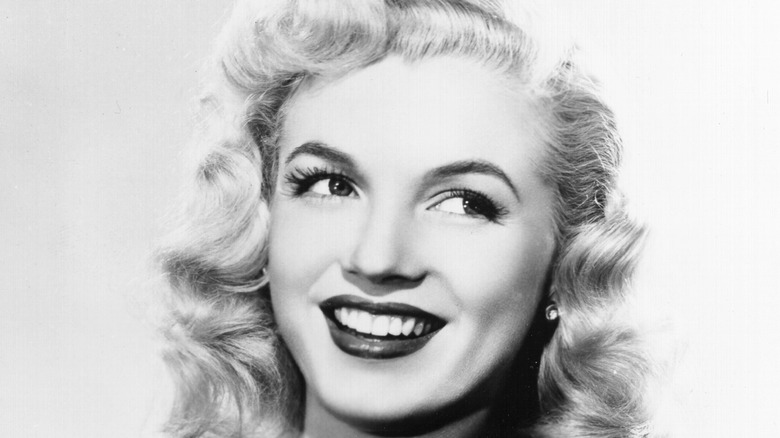 Michael Ochs Archives/Getty Images
There might not be a greater sex symbol or more iconic actress in Hollywood history than Marilyn Monroe. While her acting career lasted only a little more than a decade and a half, during those years, Monroe starred in some of the most renowned films of the era, such as "Some Like it Hot," "The Seven Year Itch" and "Gentlemen Prefer Blondes." Despite her talents, Monroe's face and figure drew audience goers more than her acting skills, and a young gentleman living in Chicago understood this and decided to build an empire with Monroe's unknowing help.
In 1953 Hugh Hefner had a dream of creating a magazine that catered to a male audience (via NPR). For the first issue of his new magazine, "Playboy," the 27-year-old Hefner needed to make a big splash to generate interest with the viewing public. He decided to follow a tip he heard and drove to a local company to try to buy the photos of Monroe that he'd seen in a calendar, in the hopes they would grace his inaugural issue. 
It worked. Hephner bought the rights to the photos for $500, per NPR. On the front cover of the first Playboy magazine released in December 1953, a smiling Marilyn Monroe riding an elephant at Madison Square Garden graced the front cover. Captioned under the cover was the text, "First Time in any magazine Full Color the famous Marilyn Monroe Nude." And like that, an empire was born.
Marilyn Monroe hated that Hugh Hefner had her Nude Photos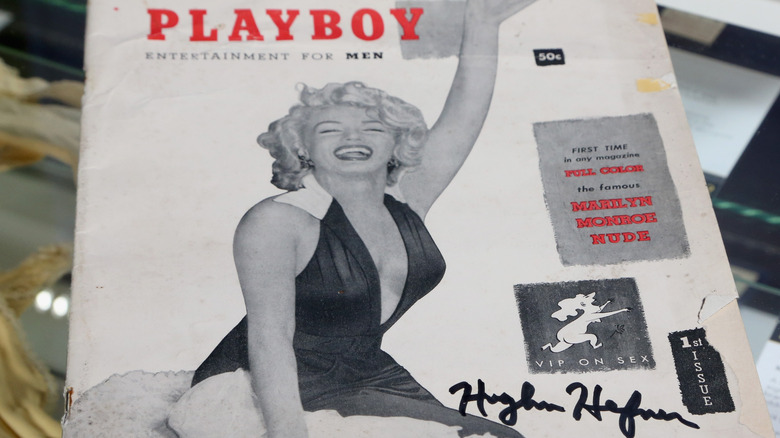 Gabe Ginsberg/Getty Images
In 1948, before she was Marilyn Monroe, the glamorous Hollywood actress envied by women and desired by every man in the United States, Norma Jeane Baker was a struggling actress who was desperate for money (per NPR). The actress decided to pose nude for photographer Tom Kelley. The photos were eventually sold to Western Lithograph Co, which featured the photos in a calendar titled, "Golden Dreams."
Monroe did not want the photos to be traced back to her. The young actress signed the release forms under a different name, Mona Monroe, and she reportedly told Kelly, "You must promise to never tell anyone about my posing for you in the nude. I want you to promise me that you will take the pictures so that I wouldn't be recognizable in them" (via Marie Claire).
Yet, the Western Lithograph Co. wasn't concerned with Kelly's promise to Monroe. They took the money and Hefner in turn built his "Playboy" empire off Monroe's body. The first copy of the new magazine sold an outstanding 50,000 copies. In her biography, " Marilyn: Her Life in Her Own Words," the actress had this to say to the author, George Barris:
"The magazine, I was told, thanks to my photos, [was] an instant sellout all across the country, an instant success. I never even received a thank you from all those who made millions off a nude Marilyn photograph. I even had to buy a copy of the magazine to see myself in it."
Hugh Hefner Bought the Burial Drawer Next to Marilyn Monroe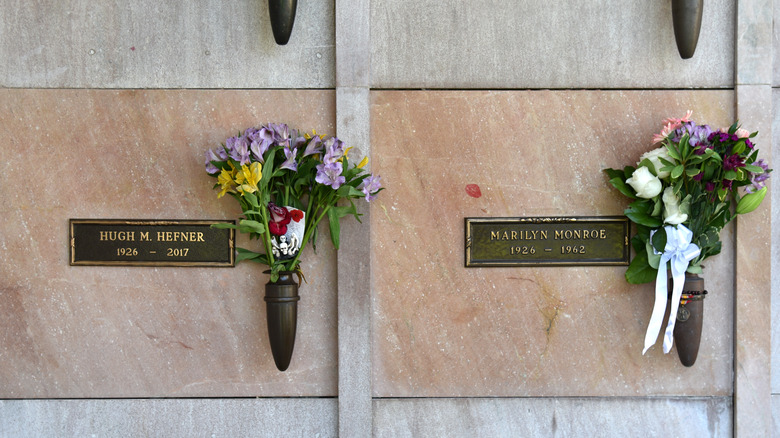 MSPhotographic/Shutterstock
Unfortunately, Marilyn Monroe would die just nine years after the first publication of "Playboy." While there remains much controversy around her death and the cause, the 36-year-old actress' official stated cause of death was a drug overdose (via Biography). On the other hand, Hugh Hefner would live another 55 years before passing away at 91-years-old. While Hefner sparked controversies throughout his life, he sparked one more from beyond the grave.
According to NPR (via the LA Times), Hefner bought the drawer next to Marilyn Monroe's in the Westwood Village Memorial Park cemetery for $75,000. Hefner said of the purchase, "I'm a believer in things symbolic ... Spending entirety next to Marilyn is too sweet to pass up."
However, fans of the actress and others question the morality of Hefner who built his empire off nude photos of Monroe, who herself had no say in their publication in "Playboy" nor was compensated in any way by the magazine mogul (via Marie Clare). The photos today have been likened to revenge pornography or the 2014 iCloud phone hack, where a number of female celebrities in Hollywood had their naked photos on their phones stolen and leaked online. Actress Jennifer Lawrence, who was one of the celebrities hacked, said, "it is not a scandal. It is a sex crime. It is a sexual violation."