The Long History Of Yale's Mascot, Handsome Dan, Explained
The latest Yalie canine, Handsome Dan XIX, may have arrived in March 2021, but the tradition of maintaining a resident bulldog goes back to the 1890s, when the school became the first institution to embrace a live animal as an athletic team mascot.
When the newest incarnation of Handsome Dan appeared, even as a young pup he already showed the "spirited commitment to Yale embodied by his predecessors — not to mention a remarkable ability to bring delight to all whose paths he crosses," said Yale President Peter Salovey. Salovey himself came to the Ivy League College in 1981 as a psychology graduate student when Handsome Dan XII inspired the campus, says a Yale news release. "We're lucky to have found a worthy and, indeed, handsome dog to carry on the legacy."
Handsome Dan is an Olde English Bulldogge, like his predecessor who retired to New York. The breed usually lives longer than the traditional English variety. While at Yale, Handsome Dan will live in New Haven with Kassandra "Kassie" Haro (class of 2018), a staff member at the Yale Visitor Center. Besides caring for the pooch, she'll manage his social media and public appearances, which include everything from sporting events to fundraisers to commencement. "We are so excited for everyone to meet Handsome Dan XIX," said Victoria M. Chun, the Thomas A. Beckett Director of Athletics. " ... Come cheer on our student-athletes with a very handsome pup at our athletics events."
Legend says that Handsome Dan had humble beginnings.
The original Handsome Dan
The idea for Handsome Dan began when Class of 1892 member Andrew B. Graves saw a bulldog sitting at a local establishment's storefront. An athlete on the crew and football teams, Graves bought him from a blacksmith for $5 and dubbed the canine Handsome Dan. The pet became a mainstay at football and baseball games, said Yale news. The furry mascot walked across the field before collegiate battles to offer good luck and confidence to the participants. Eventually Graves graduated and left for England, but he left Dan I (see above photo) with William Leon Graves, the younger brother of Andrew.
When the first Handsome Dan died in 1898, his body was preserved and sealed into a glass case. He still resides in the Payne Whitney Gymnasium as "the perpetual guardian of the treasures which attest to generation of Yale athletic glory," said former Yale history professor Stanton Ford.
The Ivy League university would not replace the mascot until 1933 when the class of 1937 gathered pennies from students to purchase another bulldog named Dour Doruna or Handsome Dan II. Now Yale University has their 19th Handsome Dan. Other canines have celebrated major campus events, such as Bingo, who became the only female bulldog to represent the school, to commemorate when women were allowed admittance to the institution in 1969.
The Handsome Dan name may have a legacy at Yale, but a pup named Harper might have been the first canine the campus embraced.
The short legacy of Harper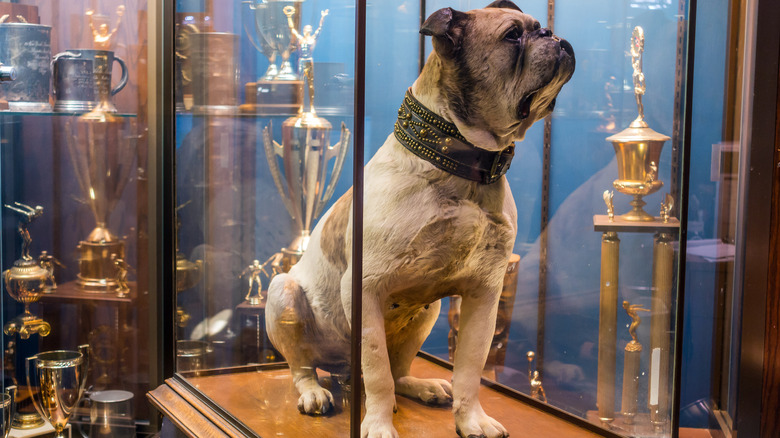 f11photo/Shutterstock
While Handsome Dan gets all the press and Dan I still resides amid athletic awards in the Yale gymnasium (see above photo), the first bulldog on the university's campus might actually have been named Harper. The Yale Alumni magazine reported that a November 22, 1890 article in the Yale Daily News wrote: "Harper the Champion English bulldog will be taken to Springfield today as a mascot to the Yale team." It would be another year or so before any reference to Handsome Dan in the same role. A June 23, 1892 note in "Forest and Stream" announcing that Dan would replace Harper as mascot seems to confirm that Yale celebrated another bulldog before the Dan dynasty.
Harper's owner was R.B. Sawyer, a pug and bulldog breeder with a kennel in Derby, Connecticut, and cofounder of the Bulldog Club in 1890. He had colleagues with ties to Yale, and it might be one of them who helped bring the first bulldog to the institution. Still, Handsome Dan deserves credit for becoming an important part of Yale mythology, even if another bulldog preceded him. According to the Yale Alumni Magazine, the Philadelphia Press described the dog's charm: "Dan was particular to himself in one thing — he would never associate with anyone but students. Dan implanted himself more firmly in the hearts of Yale students than any mascot had ever done before."