How The Members Of Aerosmith Were Injured Onstage Twice In The Same City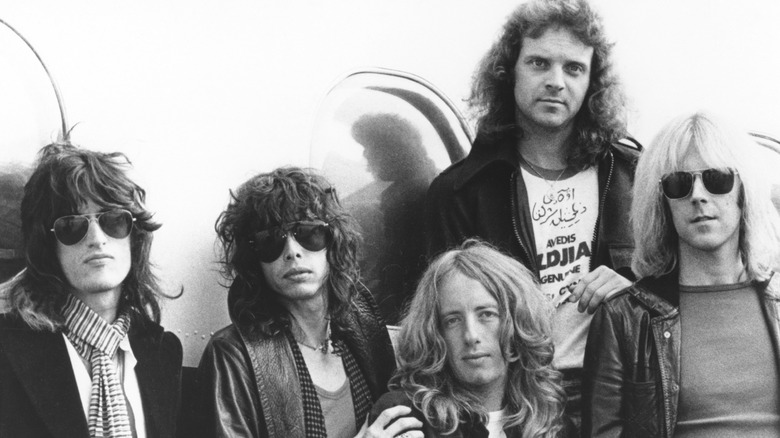 Ron Pownall Photography/Getty Images
Grammy award-winning band Aerosmith has been known for its wild performances since the 1970s. With lead singer Steven Tyler and guitarist Joe Perry at the helm, Aerosmith became a major arena-rock act (via Britannica). In fact, for the entire decade of the '70s and into the '80s, the only time the band wasn't touring was when they were recording more music, as detailed by RYM. As Aerosmith scored hits on the charts even into the 21st century, Tyler and Perry, along with guitarist Brad Whitford, bassist Tom Hamilton, and drummer Joey Kramer, continue to perform live to this day.
It should come as no surprise that not all of the band's concerts over the past five decades have gone off without a hitch. When you rock as hard as Aerosmith, some concerts are bound to go awry. One time, members of the band were even injured onstage twice in the same city.
Band Members were injured onstage in Philadelphia twice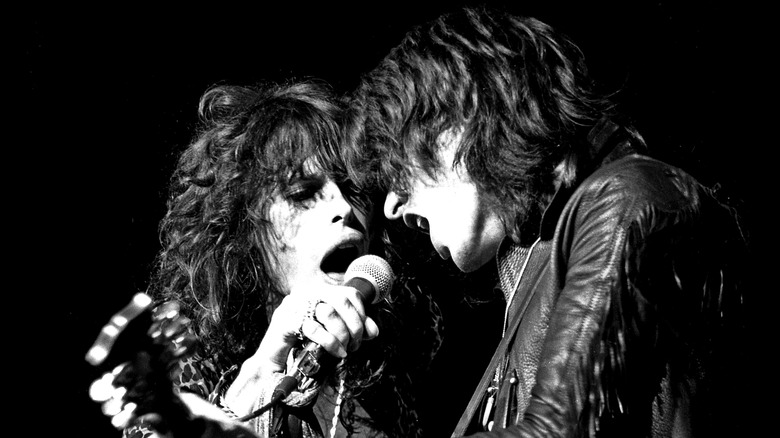 Cleopatra Records/Getty Images
In October of 1977 at the band's concert in Philadelphia, a fan threw a cherry bomb (a type of explosive firecracker) onstage. "I felt the concussion of the cherry bomb going off," explains guitarist Brad Whitford. "Steven [Tyler] immediately covered his face and there was blood shooting out of Joe [Perry's] arm." Tyler was left with a burnt cornea and Perry with a ruptured artery (via Ultimate Classic Rock).
Again in Philadelphia, just over one year later, a bottle shattered in front of Tyler. According to 107.3 Popcrush, multiple shards cut him in the face rather severely. After just 20 minutes of performing, the band had to stop the show and leave the venue due to Tyler's injury. 
Though these incidents both occurred in Philadelphia, guitarist Brad Whitford told Goldmine that unfortunately, onstage injuries were not limited to just this city. Whitford stated that such behavior from the crowd was common. "We've had everything thrown at us," he explained. 
Years of touring definitely brought some wear and tear for Aerosmith. However, the band is still going strong. Aerosmith plans to perform at Fenway Park this September.