How A Failed Experiment Led To Bubble Wrap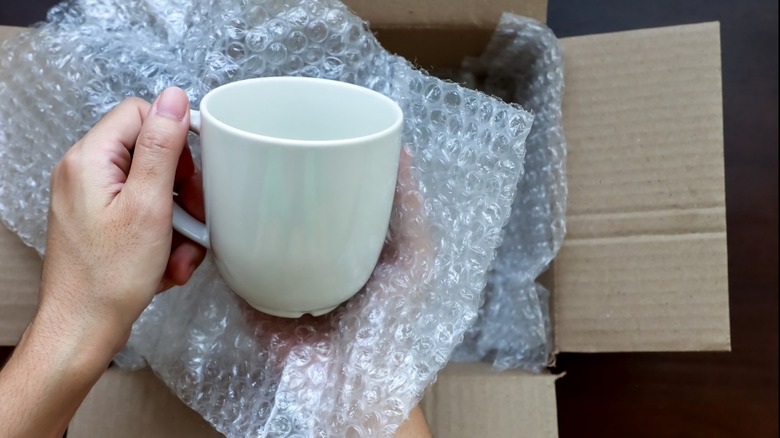 agencies/Shutterstock
It is undeniable that the pandemic of 2020 has changed how the world functions in many ways. One of the most obvious is the rise in things that can now be delivered to your doorstep. According to a CNN report, online sales have skyrocketed due in large part to the pandemic. Though it seems that you can get just about anything transported directly to you, what is equally important is the condition in which your item(s) arrive at their destination.
When merchandise is considered either valuable or fragile, you hope there will be extra emphasis on protecting it during transport. While there are multiple options these days for securing items during shipment, The Packaging Company says that one of the most popular is the use of Bubble Wrap. Though these air-filled sheets are now used all the time to wrap or stabilize various objects, the fact is that Bubble Wrap was never even supposed to be a thing at all. According to Smithsonian Magazine, the "product that revolutionized the shipping industry" was created by accident, the result of a completely failed experiment.
A happy accident changed everything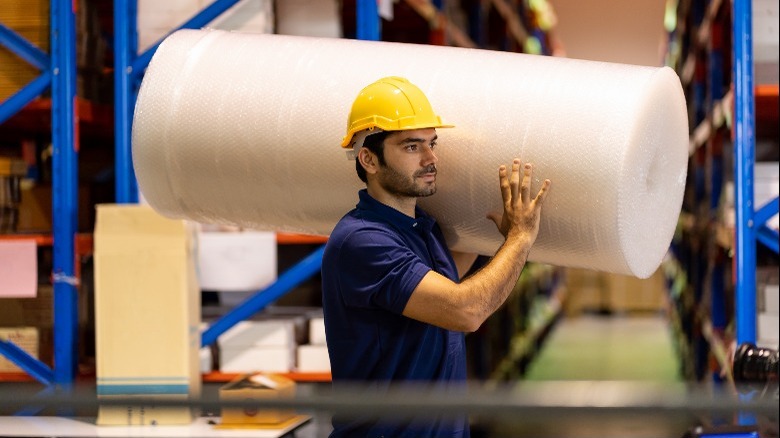 Amorn Suriyan/Shutterstock
In 1957, Alfred Fielding and his business partner, Marc Chavannes, set out to create their own textured wallpaper. They attempted this by placing two parts of a plastic shower curtain though a heat sealing machine, but what they got were air bubbles trapped between the layers. They tried marketing it as insulation, specifically for greenhouses, but that wasn't terribly effective. The results were disappointing, although one use emerged early.
Smithsonian Magazine reports that the first child — Fielding's son, Howard, who was about 5 years old — may have been the first to pop the bubbles on a sheet of Bubble Wrap. "They were really fun to pop," he said. "The bubbles were a lot bigger then, so they made a loud noise."
In addition to the entertainment factor (who doesn't like to pop Bubble Wrap bubbles?), the inventors eventually came up with more than 400 uses for their air-pocket-filled sheet (per Smithsonian Magazine). They did not give up on their accidental product and founded the Sealed Air Corp. in 1960. Fortunately for them, a year later, the technology company IBM released their 1401 data processing system ("considered the Model-T of the computer industry," says Smithsonian) and needed a way to protect the delicate equipment during shipping. It was a match made in heaven. Other businesses followed suit and began using Bubble Wrap to protect their products as well. Sealed Air is a Fortune 500 company today and has hit billions in sales worldwide.