A Look Into The Tragic Death Of Elizabeth Taylor's Husband Mike Todd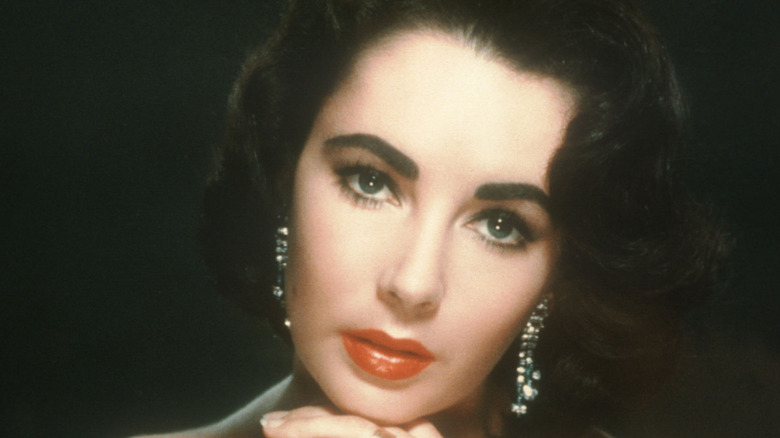 Getty Images/Getty Images
Hollywood icon Elizabeth Taylor was memorably married a total of eight times (via People). Perhaps her most well-known marriage was to actor Richard Burton. Vogue writes that the pair was married not once but twice. However, before Burton and Taylor's previous husband, Eddie Fisher, there was Mike Todd. According to the Hollywood Reporter, Todd was a film and theater producer who is known for his 1957 Academy-Award-winning film "Around the World in 80 Days." He was also previously married to actress Joan Blondell.
Taylor and Todd met when he hosted a sailing party. Despite having recently separated from her second husband Michael Wilding, Taylor fell hard for Todd and the feeling was mutual. He heavily pursued her and even told her "You are going to marry only one guy, see, and his name is me." Per Chicago Magazine, he was right (at least about the marrying him part) and they exchanged vows on February 2, 1957. Taylor was only 24 years old and was already pregnant with their daughter, Liza. Biography describes the marriage as fairytale-like. Todd spoiled Taylor and spared no expense when it came to his wife. He even bought and named his private plane "The Lucky Liz" after her.
Mike Todd and the unlucky Liz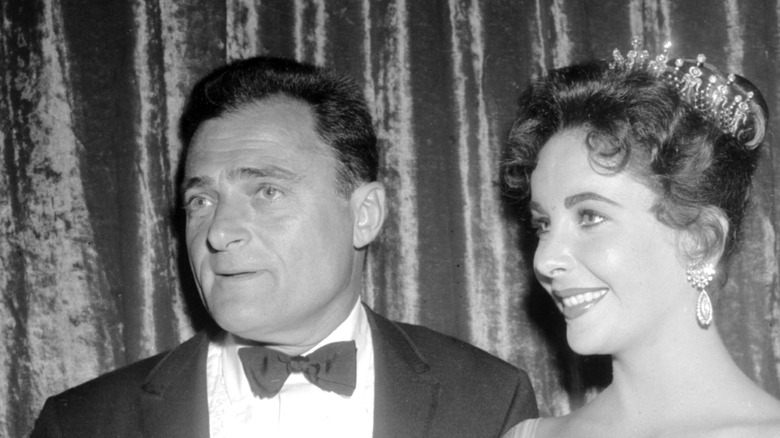 Michael Ochs Archives/Getty Images
Chicago Magazine writes that in 1958, Todd was chosen as Showman of the Year by New York City's Friars Club. He decided to fly "The Lucky Liz" to the ceremony from California. Taylor was supposed to accompany him but was sick with a cold (via Biography). Todd then asked his friend and neighbor actor Kirk Douglas to join the trip (per People). Despite being excited about the excursion, Douglas's Wife, Anne, was not. She later said, "I don't know what came over me, but I had a strange feeling."
In the end, she prohibited Douglas from flying with him and saved his life. Per the Hollywood Reporter, Todd said goodbye to Taylor and boarded "The Lucky Liz"  with three others on a rainy March night. He told Taylor that he would call her when he stopped to refuel. Tragically, the flight never made it to New York City. Turbulent weather caused the plane to crash in New Mexico's Zuni Mountains on March 22, 1958. There were no survivors.
Upon hearing the news, Taylor became despondent. She and Todd had only been married a year before his untimely death. He was buried shortly after at Waldheim Cemetery in Forest Park, Illinois. Taylor reportedly threw herself at his casket as it was being lowered into the ground. Even with her numerous marriages, Taylor stated that "I was happiest with Mike Todd" in one of her final interviews (via ABC News).