Why Lauren Bacall Once Stalked Bette Davis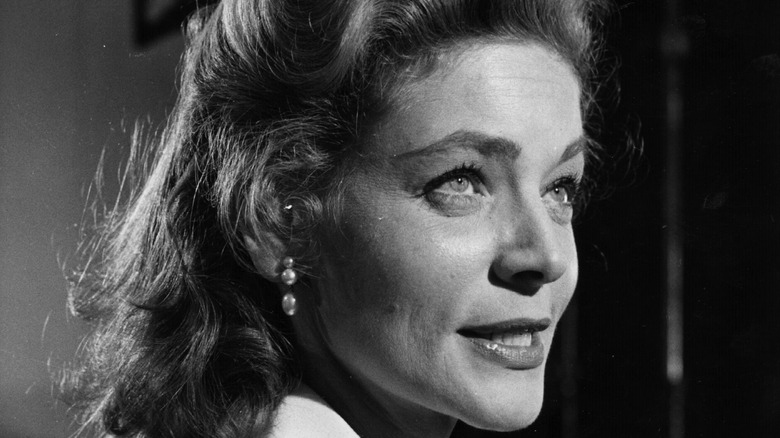 Keystone Features/Getty Images
Both Lauren Bacall and Bette Davis are bona fide Hollywood legends. Davis was one of the Golden Era of Hollywood's biggest names and leading ladies, and the roles she often took on challenged the day's societal norms (via Biography). This led to Davis earning Academy Awards for her performances, and as one of the period's most celebrated actresses, it should come as no surprise that the next wave of actresses would look up to her.
One of those actresses was Bacall. According to Biography, Bacall started her career in theater and modeling but transitioned to film when a magazine cover featuring her earned her a Hollywood screen test and a role in her first film, 1944's "To Have and Have Not," in which she appeared alongside her future husband, Humphrey Bogart.
Bacall was always open about her immense admiration for Davis. According to TV Party, she told television host Dick Cavett in 1979 (posted on YouTube) that "Bette Davis was my heroines from the time I was in my early teens." So, it should come as no surprise that a young Bacall was willing to do whatever it took to meet her idol.
Lauren Bacall waited outside Bette Davis' hotel
Lauren Bacall told the story of how she stalked Bette Davis (above, in 1938) in her 2010 autobiography "By Myself and Then Some." Bacall — who was born and raised in New York City, per Biography — caught wind that Davis would be visiting the city's Gotham Hotel with her friend, Robin Byron. It just so happened that Byron was also friends with Bacall's Uncle Jack, and she begged him to set up a meeting for her with Davis.
Apparently, she couldn't wait, because she and her friend, Betty Kalb, waited outside Davis' hotel. On one of those days, the two were hanging around the Gotham Hotel's lobby when they spotted Davis, who stepped into the hotel elevator. The girls got in as well and stood there starstruck as Davis got off on the 10th floor. Bacall and Kalb then got off on the 11th floor and raced to the stairwell and down one floor just in time to see Davis walk into her hotel room.
Bacall's Uncle Jack was able to set up a time for her and Kalb to meet Davis, despite the actress' busy schedule, and Bacall and Kalb spent hours on the phone leading up to it discussing their game plan of what they'd say, wear, and do when the moment came.
Lauren Bacall meets her idol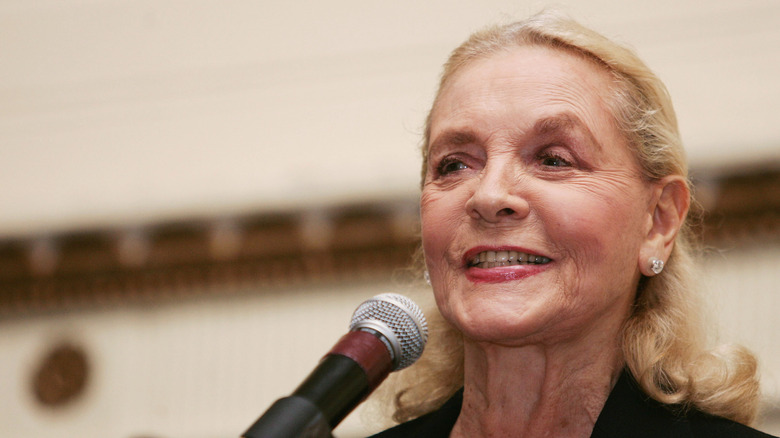 Peter Kramer/Getty Images
In her autobiography, Lauren Bacall writes about experiencing intense nerves upon meeting Bette Davis, even finding herself tongue-tied while speaking with the legendary actress. She does, however, mention that Davis was very patient with her and talked to her about what steps she should take if she wanted to become an actress.
After their meeting at the Gotham Hotel, Bacall wrote a letter to Davis and sent it to Maine. Thanks to magazines, Bacall knew was where Davis spent a lot of time when she wasn't working. About a week later, she received a letter in return from Davis, who thanked her for the letter and mentioned how much she had enjoyed meeting the girls. She concluded by wishing Bacall luck in her career and saying that she hoped they would meet again.
According to TV Party, in 2008, the Bette Davis Foundation awarded Bacall the Bette Davis Medal of Honor, which was presented to her by Davis' son. "There have been other great actresses, but no one else could ever touch her, and no one else ever will," Bacall said in her acceptance speech.