What Was The Last Movie Clark Gable Starred In Before He Died?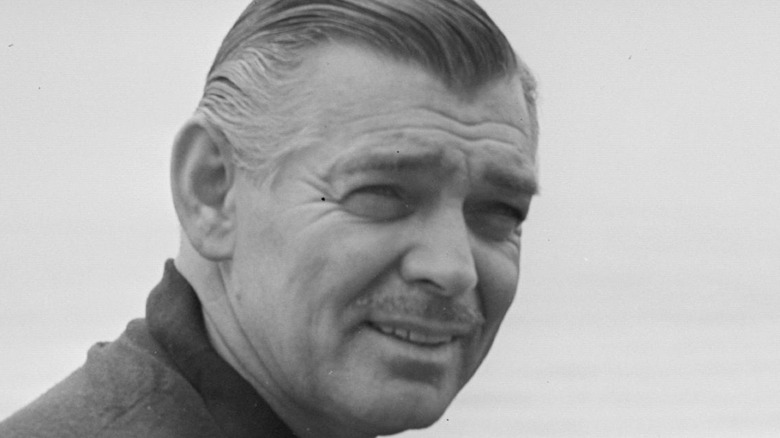 Jay/Getty Images
Some performers end their storied careers going out on top, starring in iconic roles that are unforgettable endcaps to their portfolio of films. Who could forget Jason Robards' portrayal of a dying patriarch in Paul Thomas Anderson's "Magnolia," or Humphrey Bogart's swan song in the 1956 film "The Harder They Fall"?
Not all actors have careers that are packed with memorable performances that end on a high note. Once at the top of his game for roles that spanned genres from westerns to horror to drama, Lon Chaney Jr. went out with an unforgettable role in 1971's "Dracula vs. Frankenstein" (per IMDb). And then there's Bela Lugosi, whose career seemed to spiral downward from the late 1930s until his last role in the laughable Ed Wood film "Plan 9 From Outer Space" (per Britannica).
Some actors do recover from substantial dips in their careers and go out on top by having one last memorable onscreen performance. Clark Gable manage to salvage what was left of a brilliant career as a Hollywood star after years of mediocre roles in subpar films. Helping him do so was legendary film director John Huston, who was hired to bring playwright Arthur Miller's screenplay to life for the 1961 film "The Misfits." It was to be Gable's last role (also per Britannica). 
An acting career beset by tragedy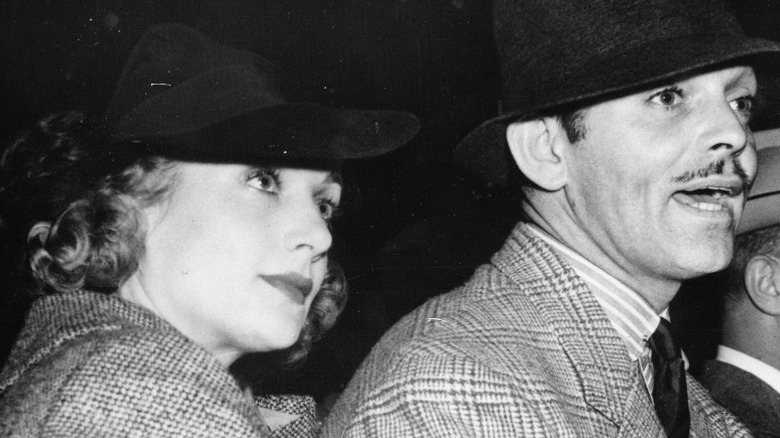 Imagno/Getty Images
Breaking out in the 1932 film "Red Dust" in which he starred opposite Jean Harlow, Gable's career began to soar. He landed coveted roles in "It Happened One Night" (1934) (for which he won an Oscar), "Call of the Wild" (1935), and "Mutiny on the Bounty" (1935). He acted masterfully in all of them. This led to Gable, now MGM's top billing actor, to be given the role of Rhett Butler in the 1939 film adaption of the Margaret Mitchell novel "Gone with the Wind." Still considered a cinematic masterpiece, this film might have been the last great role for Gable, as his films began to flounder a few years later. 
Following a tragic plane crash in 1942 in which his wife, actress Carole Lombard (above), was killed, Gable was stricken with grief and began drinking heavily (per History). To rebuild himself, Gable joined the Army Air Corps later in 1942, serving three years during WWII and earning several decorations. 
His film career was hard to recover in the post-war era. Though acting in just over 20 roles over the subsequent 15 years (per IMDb), none were of the same caliber as his MGM roles before the war. But opportunity knocked for Gable in 1960 when he was cast in the modern era western drama "The Misfits," in which he would portray an over-the-hill cowboy who falls for a recently divorced woman. Though "The Misfits" was critically acclaimed and would have been a career saver for Gable, he didn't live long after its release, dying of a heart attack.
The Misfits was also the last film for this famous Hollywood blonde
oneinchpunch/Shutterstock
Sadly, Huston's "The Misfits" is almost as well known for the tragedies that accompanied it as much as it is for its cinematic brilliance. While being Clark Gable's last film credit, "The Misfits" also served as the final role for one additional iconic Hollywood performer. Bombshell actress Marilyn Monroe portrayed divorcee Roslyn Taber, who fell in love with Gable's Langland. Monroe died in August of 1962 while filming a remake of the 1940 classic "My Favorite Wife" under its new name, "Something's Got to Give." Released as a comedy short, it co-starred Dean Martin and Tom Tryon (via IMDb).  
Adding more tragic circumstances already surrounding a film known as the last roles of two of Hollywood's greatest careers, "The Misfits" was also one of the last performances by veteran actor Montgomery Clift. After completing only three more films, Clift (per Britannica) died from a heart attack in 1966 at the age of 45.